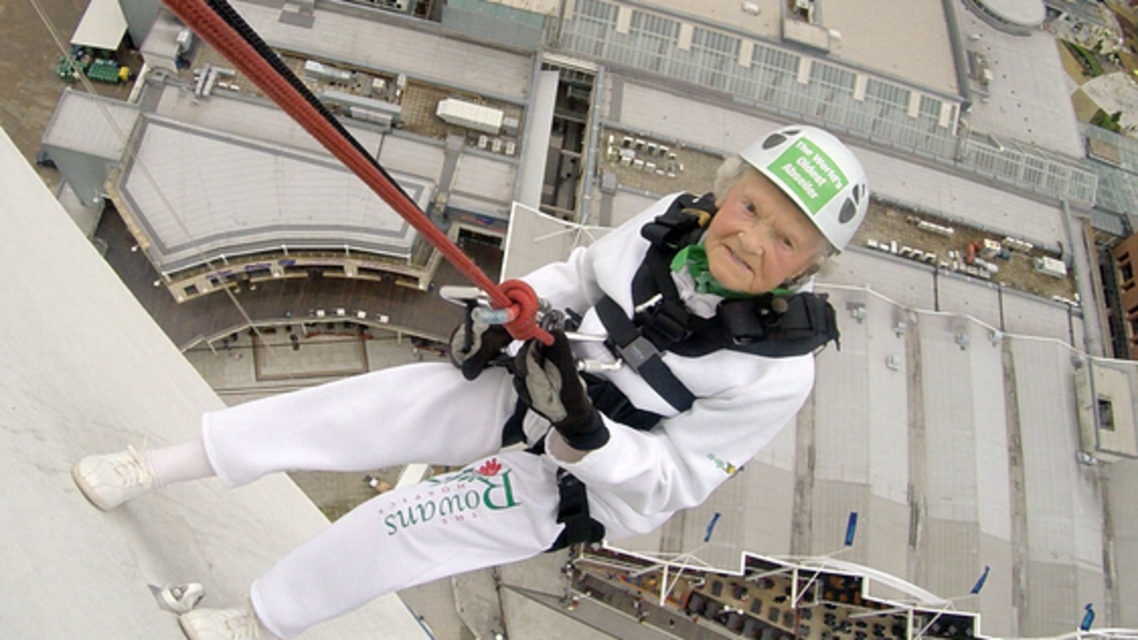 Showing no fear, 101-year-old woman abseils from tower
This is not the pensioner's time in the air
A 101-year-old British woman swung from a 94-meter tower disregarding any feelings of fear as she suspended from the tallest building in the UK outside of London, the Guardian newspaper reported on Monday.
"I don't feel afraid and never have – I just have a placid nature," Doris Long told the British daily.
This is not the pensioner's time in the air. Nicknamed Daring Doris, she started abseiling at 85 and has even abseiled alongside broadcaster Chris Evans. Long's stint is part of an effort to raise money for the Rowans hospice in Waterlooville, Hampshire.
"I have a look down at the crowd. I am normally looking to see how the other person is getting on," she said in reference to any accompanying daredevils.
"It was very hard work, much harder than last year," she said after touching ground.
"It was so windy I swung about a bit but oh yes, I enjoyed it, I feel it's well worth it. My legs ache like anything – and my right arm where I hold the rope – and my hair is all sticking out."
Despite the inconveniences posed by the weather, Long said she was "living to hope" to go through suspend from the tower next year, at the age of 102.
Long's fundraising efforts have gained her a coveted Order of the British Empire, or MBE, an award given to those who have provided distinguished service to the arts and sciences and public services.
A 42-year-old mother of two, who completed the abseil earlier in the day, commended Long and described her as a "real inspiration."
"I think she's amazing, a real inspiration. You have to be quite agile to get the ropes down, but it's the bravery more than anything. How she does it I have no idea," Jennie Watson said.
Event fundraiser Karen Kay said "Doris is an amazing lady and a huge inspiration. She has been abseiling for the Rowans hospice for more than 10 years now and has raised over £11,000."
"We can't thank her enough for supporting local hospice care. Everyone at the Rowans hospice wishes Doris all the best for this epic challenge."