New Indian dance troupe is brainchild of 12 working mothers
Their unique production intertwines Indian classical and semi-classical dance forms
A love of traditional Indian dance has led 12 women to form the dance troupe Nupuradhwani.
For the past two months, each woman has journeyed across New Jersey to meet at unsociable hours of the night while juggling careers and home life to choreograph and rehearse the production Karnataka Vaibhava, which premiered this week at the South Asian International Performing Arts Festival (SAIPAF).
Their unique production intertwines Indian classical and semi-classical dance forms, with the aim of taking viewers through the cultural heritage of the southern Indian state of Karnataka.
They sold the most tickets of any dance show at the festival, and also won the audience choice award.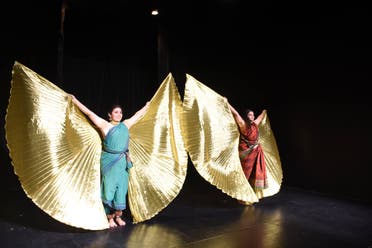 Classical dance forms such as Bharatanatyam, and folk arts such as Kolata (dancing with sticks), Keelu Kudure (dancing with a handheld horse prop) and Kamsale (an acrobatic dance usually performed by men using cymbals) were infused into the performance.
Gayathri Higashide, a 28-year-old mother of two and director at the Shiva Tala Institute of Bharatnatyam, explained the motivation behind getting together.
"We all seemed to need some kind of a collaborative effort to come together. Dancing and performing alone is fun, but there's a limit to one's progress when their only influence is themselves," she told Al Arabiya News.
"We all needed exposure and motivation. What better way to do it than with other freelance dancers and dance teachers?"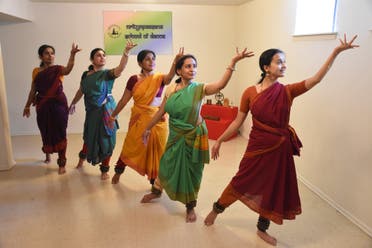 Bhargavi Seshadri, 27, director at the Nrityaranga Performing Arts Academy, said: "We believe in dance being the language of our soul. It's the medium for enlightenment. This feeling is the common factor that brought us together as a group."
Amrutha Laxmisan, one of the dancers, said they had to clear their social calendars until Aug. 8, the day of their final performance:
"We usually practiced at night, starting at 8:30pm all the way until 2am. It was a little taxing on all of us at times," she said.
"I'm a mom, wife, and own a custom cake business. Some days were harder than others, but when you're part of a committed and passionate group of ladies who all share a common love for dance, that synergy gets you through those tough days."
Pointing out the team effort involved, dancer Sushama Shreyas said: "If some members contributed in choreography, some pitched in making props while others were involved in marketing"
She added: "All the props for the production were handmade, adding to an already packed schedule of rehearsals."
Dancer Deepti Gad made a short video to celebrate the husbands and wider family members who helped the women balance their family and work commitments.
"I'm an analyst at an investment bank. Work is crazy and so are the hours. With two kids, and a strictly home-cooked vegetarian meal plan, it was really tough squeezing in additional commitments," she said.
"Without the support of my husband and kids, it would've been impossible for me to be part of the team.
"My husband Vinod would rush back from work every day so I could leave for dance at 8pm. He'd take care of work, feeding, dishes, laundry etc while I was away. I'd return home at 3 am."
Now that the festival is over, the dance troupe is keen to take the show further afield. After taking a month off from rehearsals, the group will start practicing again in September.
"We have a couple of invitations from a few cultural organizations that we're considering," said Laxmisan.
"If everything goes well, we'll be performing on Sept. 13 and 19, and yes the grueling schedule will restart."