'A bountiful start:' Turkish newlyweds who served Syrian refugees speak out
This month, Fethullah and his bride Esra Polat, shared a meal with 4,000 Syrian displaced people in the centrally-located city of Kilis
A Turkish couple who celebrated their wedding by serving up a feast to 4,000 Syrian refugees earlier this month – and gained global media attention by doing so – have spoken of their surprise at their new-found fame
"We received messages of congratulations from various corners of the world. We never thought we would get so much interest," Fethullah Uzumcuoglu, the groom, told Istanbul-based paper Today's Zaman earlier this week.
This month, Fethullah and his bride Esra Polat, shared a meal with 4,000 Syrian displaced people in the centrally-located city of Kilis.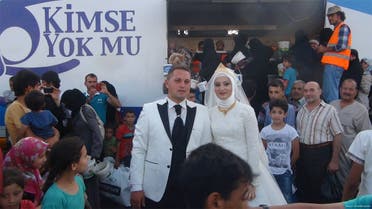 They got the idea when Fethullah's father thought that holding a banquet was "unnecessary" when people living "next door" did not have enough food, and arranged with a local charity to distribute meals to Syrian refugees living nearby.
"I think we did what being a Muslim requires. We will continue with this useful act with which we made a bountiful start to our marriage," Fethullah told the Turkish paper.
The newlyweds hope their unorthodox wedding plan will set an example to other couples.
Syria's conflict, which began in March 2011, has created the world's worst humanitarian crisis.
More than four million Syrians have fled the country, and some estimates suggest that there are some 3 million Syrian refugees in Turkey.

(With AFP)