Heart-stopping moment Egyptian feeds lion holding blade in his teeth
Audiences were stunned when Egyptian circus performer fed a lion using a blade between his teeth
Top Egyptian lion tamer Mohamed Sayed Elhelwe stunned audiences when he performed his lion stunt, at the National Circus in Mersa Matruh, west of Alexandria, the Daily Mail reported on Sunday.
Dressed in his circus performance outfit, the animal trainer fed a circus lion using a blade that was placed inbetween his teeth.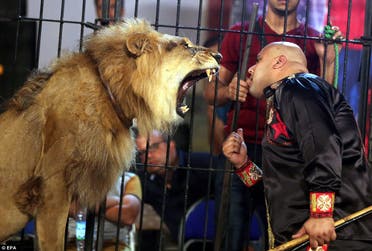 He later used two long sticks to make the lion perform a number of other tricks within a caged area in the middle of the circus tent.