Saudis, Moroccans are the biggest 'cheaters,' Ashley Madison hack reveals
The leak, courtesy of a hacking group, spewed the details of its 35 million users across the internet on Wednesday
Data revealed from a massive leak from U.S. adultery site Ashley Madison suggests that Saudis, followed by Moroccans, are the Arab world's biggest cheaters.
CybelAngel, a French monitoring firm, revealed that among Arab countries, 1,230 users registered with the site had used Saudi email addresses, which end in the .sa suffix.
The leak, courtesy of a hacking group, spewed the details of Ashley Madison's 35 million users across the internet on Wednesday.
The second highest number of users from Arab countries using email addresses ending in their country's suffix was Morocco, with 999 entries on the database. Of the countries which appeared on the list, Iraqis seemed to be the least interested in pursuing an extramarital affair, with only 33 addresses registered.
Curiously, tiny Bahrain, which with a population of 1.3 million has 23 times less people than its neighbor Saudi, has 730 registered users revealed by the data dump.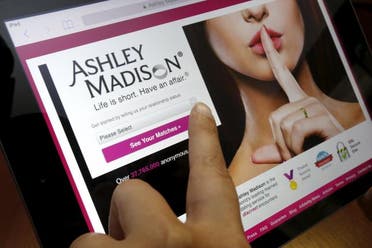 However, as a CybelAngel spokesman pointed out, the data only indexes users with country-linked suffixes. Ashley Madison users with an email address ending with the generic ".com" would be harder to trace.
The massive leak has left husbands and wives around the world struggling to explain to their partners why they signed up for the site, which markets itself as the premier venue for cheating spouses.
Journalists around the world have been combing the data in hopes of finding names of politicians, celebrities or religious leaders. But their task is tricky, as many of the site's profiles were linked to fake or borrowed email addresses, which users did not necessarily have to validate.
The rundown: (Data courtesy of CybelAngel)
Bahrain : 730
Egypt : 209
Iraq : 33
Jordan : 685
Kuwait : 239
Lebanon : 359
Morocco : 999
Qatar : 53
Saudi Arabia : 1230
Tunisia : 173
United Arab Emirates : 301
(With AP)