Flower named in honor of Egyptian President Sisi
The naming of orchids after visiting heads of state and global leaders is a long-practiced tradition in Singapore
Egyptian President Abdelfattah al-Sisi had an orchid named after him during a trip to Singapore which saw the leader tour the city state's botanic gardens, the state-owned daily al-Ahram reported on Monday.
At a Monday morning ceremony at the massive gardens, which are listed as a UNESCO World Heritage Site, the Egyptian president was shown a bunch of "Dendrobium Abdelfattah al-Sisi's" named in his honor.
The naming of orchids after visiting heads of state and global leaders is a tradition in the wealthy Southeast Asian trade hub.
Sisi "expressed appreciation and gratitude for the gesture," a presidential spokesman was quoted as saying on state-run news agency MENA.
Later on Monday, Sisi met with his Singaporean counterpart Tony Tan at the presidential palace.
He also met the city state's premier Lee Hsien Loong to and discussed regional issues and future cooperation – including in the field of ports, al-Ahram reported.
Shipping makes up a vital part of the economies of both states. Earlier this month, Sisi inaugurated a new section of the Suez Canal. Singapore, meanwhile, is on the main trade route for ships passing through Asia.
Sisi's Asian tour is expected to primarily focus on economic cooperation.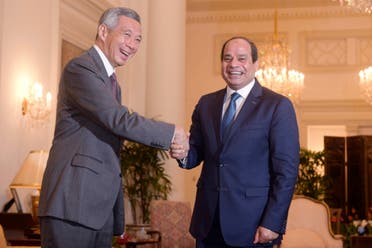 From Singapore, Sisi will then visit China to meet President Xi Jinping, followed by a visit to Indonesia to meet President Joko Widodo.
With his pledge to revive Egypt's sunken economy, battered by a half-decade of political unrest, Sisi could be hoping to emulate Singapore's much-vaunted "economic miracle."
Since the 1970's, Singapore saw a dramatic turnaround in its fortunes, transforming from an impoverished colonial backwater to major Asian trading hub.