Three times lucky! U.S. twins meet Saudi king in 3rd royal encounter
Saudi King Salman bin Abdulaziz met 86-year-old twin sisters Jackie Voskamp and Joyce Kriesmer
During his official visit to Washington last week, Saudi King Salman bin Abdulaziz met 86-year-old twin sisters Jackie Voskamp and Joyce Kriesmer, whose history with the Saudi royal family dates back to 1947.

The twins' first meeting with King Salman is considered their third royal encounter with a Saudi monarch after having met with founding King Abdulaziz al-Saud in Dhahran in 1947 and later with the late King Abdullah bin Abdulaziz in 2008.

The sisters had their first brush with Saudi royalty when they met with King Abdulaziz at a compound for American oil workers in Dhahran where their parents, Roy and Pauline, were among the families who lived there at the time.
Royal encounters
They were one of the first families to travel to Saudi Arabia who were exploring natural resources in the Saudi desert during the early 1930s, helping to build the company that would one day become Saudi Aramco, the richest and largest oil company in the world.

The twins would later return to Dhahran as the guests of the late King Abdullah in 2008.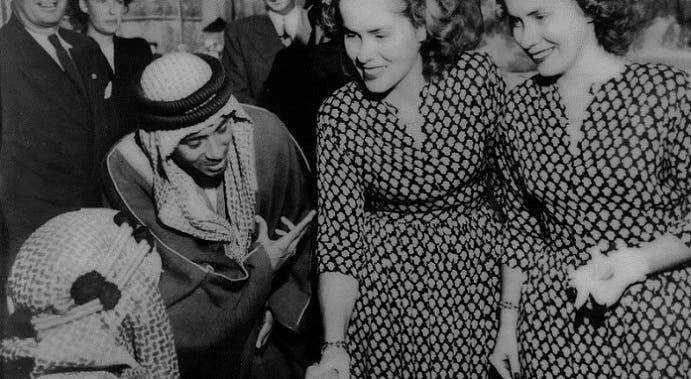 On Saturday evening, both sisters presented King Salman with a memento of an old photograph that showed both sisters during their meeting with his father 68 years ago. It was reportedly taken by famed Life magazine photojournalist David Douglas Duncan.
New photo
Nearly seven decades later, a new photograph of the sisters with King Salman has gone viral on social media and the local Saudi press, with The Arabian Sun, an English-language newspaper circulating in and around Aramco, placing them on their front page.

Many were quick to compare both photographs as a symbol of Saudi Arabia's long-standing history with the U.S.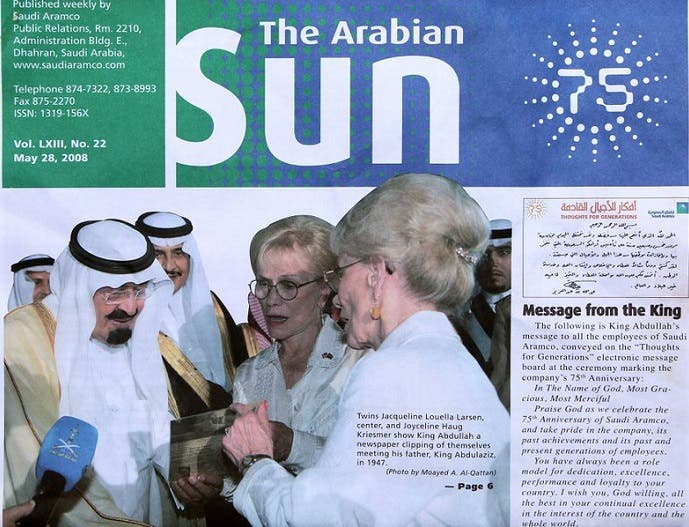 According to the San Diego-based Union-Tribune, both sisters continued their adult lives in Saudi Arabia, with Jackie marrying Aramco employee George Larsen in 1949 and spending the next spent 27 years in the kingdom with their children, before spending three more years in Nigeria and Beirut.

Meanwhile, Joyce married John Kriesmer, also based in Saudi Arabia, in 1951 and had three children. They spent the next 35 years in Saudi Arabia before returning to the U.S.