Dog's best friend: canine consoles, seeks help for trapped U.S. hound
Phoebe, the trapped basset hound, and Tillie, a setter mix, were found together earlier this week
A wayward dog stuck for days at the bottom of a concrete cistern in a Washington state ravine was rescued after a canine companion made frequent trips to find human help when she was not laying next to the well, an animal shelter said on Friday.
Phoebe, the trapped basset hound, and Tillie, a setter mix, were found together earlier this week on Vashon Island, in the Puget Sound southwest of Seattle, after being reported missing on Sept. 8, Vashon Island Pet Protectors said.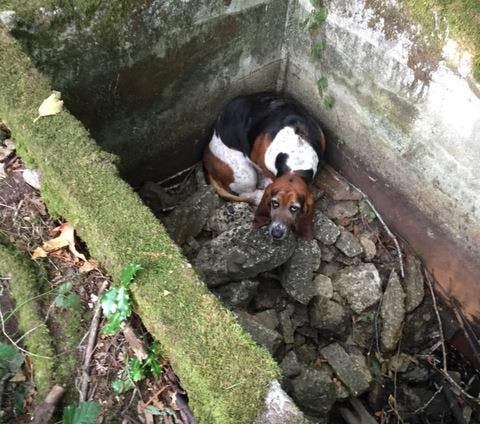 "For nearly a week, Tillie stayed by her side with the exception of the few minutes of each day when she went for help," the shelter wrote on Facebook.
It said they were rescued when the shelter received a tip that a reddish dog had approached a local resident several times over a number of days before scurrying back toward the ravine.
Shelter volunteers traced its path and found Tillie with her head resting on the side of the well, and below her the basset hound, perched on rubble that held her above the water, Vashon Island Pet Protectors said.
A person listed by the shelter as the owner of one of the dogs did not immediately return a call seeking comment.