Riyadh's Souk Al-Zal: a shopping trip through time
The oud-filled artisan market in the Saudi capital traces its history back to 1901
When first driving around Riyadh, you'd be forgiven for thinking it's just a jumble of skyscrapers and megamalls.
But look a little closer, and you'll find the Ad Dirah neighborhood, the old heart of the Saudi capital. There are no glistening towers here, no designer boutiques. The streets are narrower. It feels like you've stepped back in time.
Locals come to the area to shop, to relax, to socialize. They might come to pray at the Imam Turki Bin Abdullah Grand Mosque – the city's largest – or to stroll with their family in Salam Park. Perhaps they're attending a Ramadan celebration in Al Safa Square. Many will drop by the Souk al-Zal – the biggest, oldest artisan market in Riyadh.
Traditional Eastern artefacts
The market can trace its history back to 1901, to the beginning of modern Saudi Arabia. It sits within a stone's throw of the Masmak fortress – the site where, in 1902, a young Ibn Saud and a small band of his most trusted soldiers crept up after dawn prayers, rushed the gate, captured the governor, and announced the return of the Al Saud family.
A treasure trove of traditional Eastern artefacts, the souk is one of the major tourist attractions in Riyadh. The word 'zal' means 'carpet' or 'floor rug', referring to the patterned textiles so central to Middle Eastern imagery.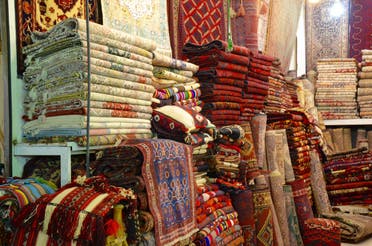 Inside the souk, merchants recline in chairs, chatting to one another across the tiled walkways. It's a relaxed shopping experience – the salesmen aren't too pushy, and they generally speak good enough English to communicate comfortably with non Arabic-speakers.
Antique charm
Locals bring their foreign visitors to showcase the cultural items for sale: handmade carpets; glinting swords and hooked daggers; mysterious perfumes from far-flung lands.
There's also an open-air live antiques auction every Friday and Saturday – the Saudi weekend – for a few hours following the asr (afternoon) prayers.
You'll smell the oud before you see its pungent smoke emerging from redolent woodchips and hot coals. This substance, also known as bakhoor, is usually imported from Indonesia or Cambodia. The real deal comes at a premium price, and many of the products on offer are synthetic substitutes, so shop carefully.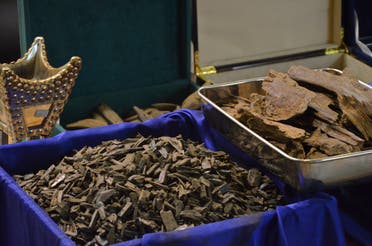 An elderly salesman, Musaad Muqrin al-Mujahed, remembers the souk back in 1950. As a boy, he helped his father in the family business. After middle school, when he'd learned to read and write, he came to work here full-time.
The Mujaheds sell the bisht, a gauze-like woolen cloak worn by men to formal occasions. It can be a lucrative business – the garments range in price from 300 to 5,000 Saudi riyals ($80–$1,300).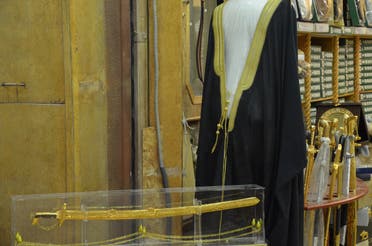 Buying a boy's first bisht is a coming-of-age event, akin to getting one's first suit. Usually a teenage boy will go with his father to pick one out from the black, white, cream and beige offerings.
Musaad manages the shop himself, but his 75-year-old father still visits every morning. "The souk is a social gathering as much as a place for business. A few of the guys here just keep their shops for fun, they don't make a lot of money."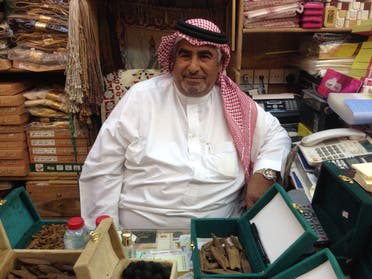 Only a few can afford such a luxury, however, as competition has become fiercer. "There used to be only two or three shops selling bisht; now there are many," says Musaad. "We manage because people respect our name."
The Mujaheds are also in the sword business, selling ornamental weapons used for the ardha, Saudi Arabia's national dance. According to Musaad, these can go for anywhere between 20,000 and 250,000 riyals ($5,300-$66,600).
At the souk you'll find carpets from Saudi Arabia, Yemen, Iran, Kashmir and Afghanistan.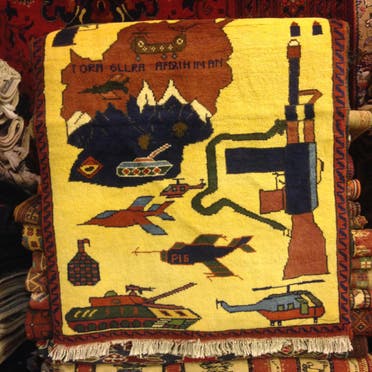 Al Arabiya News spoke to Hussein Hamdani, a seasoned Yemeni carpet dealer. He started out here 40 years ago as an apprentice, and took over the store when his boss retired.
"In the time of King Khalid, sturdy wool rugs with floral and geometric patterns were popular," he said. "After King Fahd came to power, it became easier to obtain high-quality Iranian silk carpets. Saudis were getting richer, and their tastes became more expensive."
The souk is also known for its antiques. Ali Omar Binjahlan is a Yemeni dealer who has been selling in the souk for 30 years. He used to import his wares, but now he's more interested in tinkering around with his finds from the local auction.
If he comes across a broken old record player, he'll fix it and sell it. If he's in a good mood, he might play out a few tunes.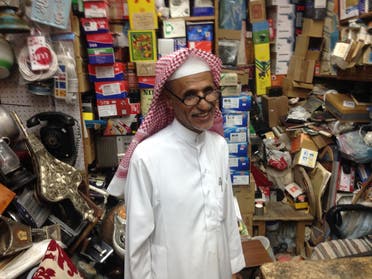 He remembers the days when the market area was much larger. "It used to reach King Fahad St., but some parts have now been closed down or converted. Next-door was Al Sidra market, selling gold and watches," he said.
Nowadays, the market covers an area of 39,000 square meters, and is confined between Al-Madinah Rd. in the south, Sheikh Mohammed bin Abdulwahab St. in the west, and Sheikh Mohammad bin Ibrahim al-Sheikh St. in the east.
Improvements to the Souk al-Zal are ongoing. The Arriyadh Development Authority has been removing mud buildings and carrying out tiling and lighting improvements in the market's interior. It does feel as though they're keeping the traditional character intact, however. So if you find yourself in Riyadh, be sure to visit.