Polluted Paris goes car-free for a day in breath of fresh air
Parisians and tourists had an opportunity to see the French capital in a new light this weekend: a Paris without cars
Parisians and tourists had an opportunity to see the French capital in a new light this weekend: a Paris without cars.
French motorists had to give up their love for cars on Sunday as the capital launched its first-ever car-free day in a bid to raise awareness of its alarming pollution levels, which briefly topped those of smog-plagued Shanghai earlier this year.
Thousands of Parisians and tourists strolled, skated and cycled down the city's famed Champs Elysées, a boulevard usually heaving with traffic, embarking on the chance to smell the freshness of the city free of car exhaust.
The event came after zestful lobbying from a citizens' collective called "Paris Sans Voiture" (French for "Paris Without Cars"), which is "made up of scientists and high-profile individuals, residents aged 7 to 89 years old.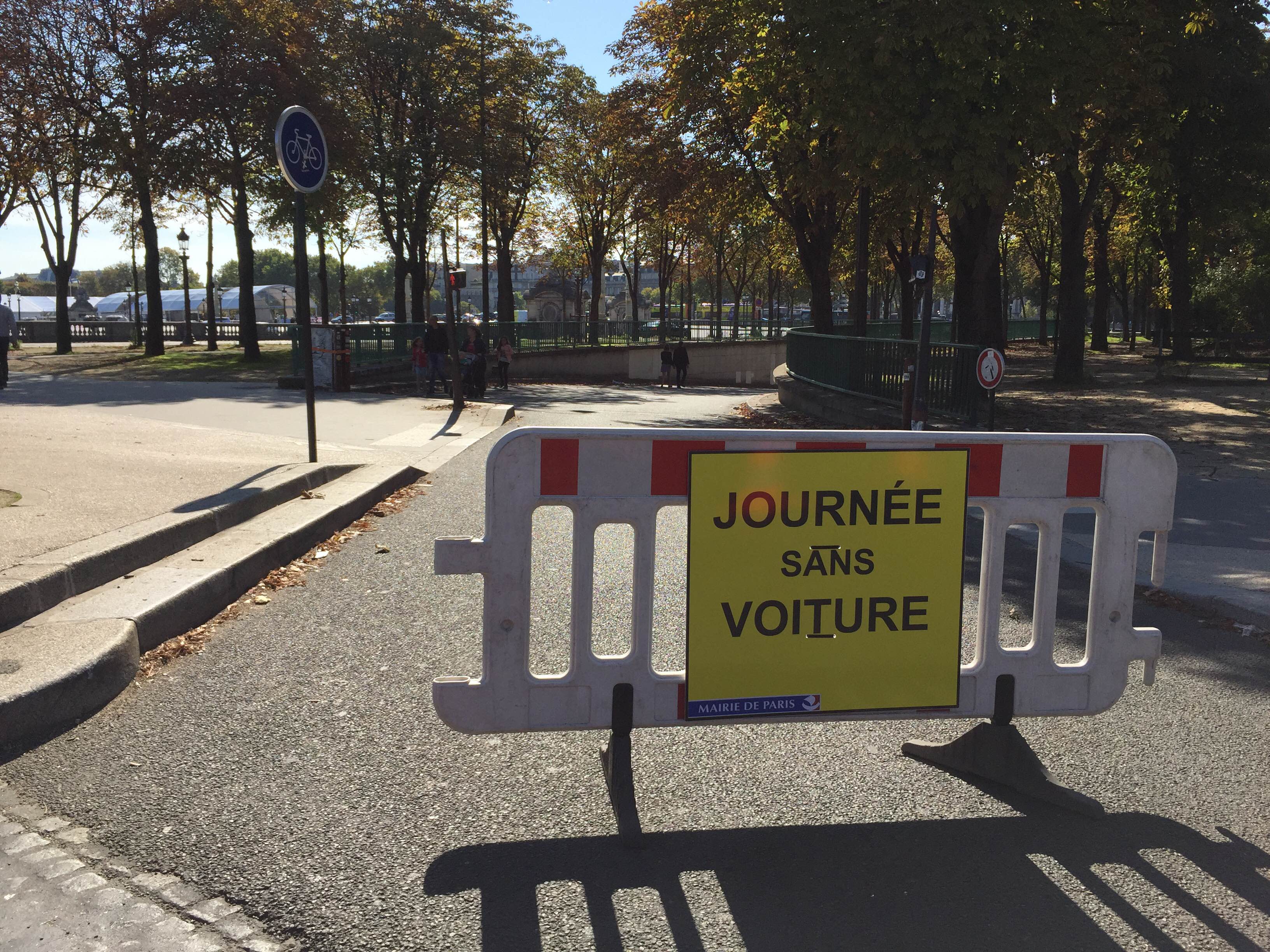 Among the huge crowds were Maria Nathan and her family. They had cycled their way to the Champs Elysées, enjoying not having to worry about safety on Paris' usually bustling roads.
"This is one of the first days we can go with our kids and not feel like they are going to get run over by a stressed driver," Nathan told Al Arabiya News.

"How nice it would be if at least the Sundays were like this. The city would be totally different," Nathan said. "I think it would be really nice if the city could make sure that it would actually be more free for people."

With the exception of taxis, buses and emergency vehicles, the car ban was imposed on a third of the city. Elsewhere in the capital, cars and trucks were forced to slow down to a plodding 20km per hour.
The initiative showed people "are not obliged to move around in a personal car, there are other ways to approach mobility in a city," Le Parisien quoted Paris Mayor Anne Hidalgo as telling reporters during the event's launch.
After a stalemate with police, the mayor's office was only able to ban cars in certain parts of the city center, stretching between Bastille and the Champs Elysees, and the outer Bpos du Boulogne and Bois de Viencennes between 0900 GMT and 1600 GMT.
But the next time around, the car-free zone "will include a much larger perimeter," Hidalgo told reporters.
Also taking advantage of the car-free day, cyclists from Velair, a retail that promotes more ecological alternative solutions for cars and sells electric bicycles.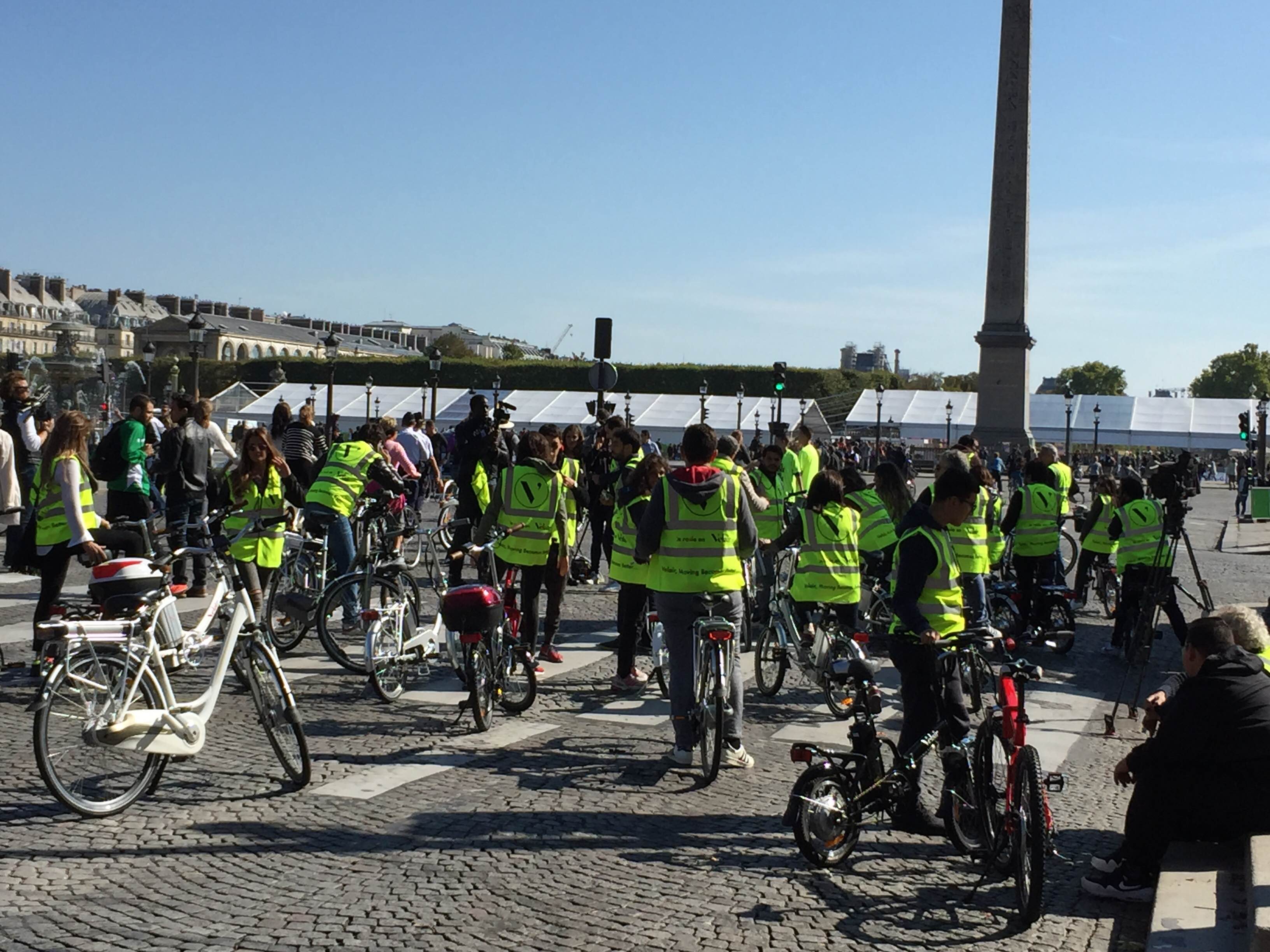 Dhery David, the general manager of the company, said that if people were convinced "that using a car is not the best way to move," they could be inspired to look for more eco-friendly solutions on a daily basis.
"There are solutions. They [people] have bicycles, subways, or electric products like the ones we promote,' Dhery said.

France has the highest percentage of diesel cars on the road in Europe, according to Reuters, mainly due to successive government's efforts in subsidizing diesel and making it 15 percent cheaper than gasoline.
Despite constant denial from carmakers arguing that diesel vehicles account for only a fraction of the pollutants in the air, the fuel emits a large amount of little particles that health experts say effect people's health.
Last December, Hidalgo proposed to ban any diesel vehicles built before 2011 to circulate the streets of Paris by 2020.
But the mayor was forced to impose emergency measures, such as a partial car-ban and free public transportation, in March this year when Parisians woke up to an Eiffel Tower and other city landmarks completely enveloped in smog.
As the city prepares to host the United Nations' World Climate Conference (COP21) due to begin Nov. 30, and in light of the recent Volkswagen diesel-emissions scandal, the capital had to make a move.
Inspired by the success of Brussels' first car-free Sunday, which dates back to 2008, Paris Sans Voiture proposed the idea to Hidalgo back in August 2014.
In March 2015, Hidalgo announced Sept. 27 to be Paris' first car-free day, telling Le Parisien the initiative's goal was to show that "Paris can operate without cars."
"A car-free Sunday, at least once a month, would be a good start," said Nathan, noting that a car-free Paris would be "ideal" but "not realistic."

"It would put some pressure on the politicians to build good working commuting systems, and maybe investing more money in the metro to make it a little bit nicer," she said.
"That would be the long-term plan that could reduce pollution in this city, which is beautiful but very polluted."