Meet Gaya, a Dubai singer-songwriter in tune with the world
Gaya is one of the highest rated unsigned artists to date
Independent singer-songwriter Gaya shares her two-cents with Al Arabiya about her growing musical career here in the UAE. Her music oozes of highly electric, but deeply personal sounds, steering her away from most artists in the Middle East who seem to follow more commercial vibes. With a growing fan base, her debut album "The Unknown" was the result of a highly successful crowd funding campaigning which raised over $23,000 in just ten days According to RollingStones ME, Gaya is one of the highest rated unsigned artists to date, which was proven during her tours of the USA and Asia in the past year. Born in India and raised in Dubai, Gaya is creating a name for herself in a wave of mainstream artists.
Tell us a bit about yourself. Give us a little insight on your background, and who you are as a person. How did you get into music?
I'm a singer/songwriter, a hardcore sentimentalist, lover of cats and everything vintage and believe that music is the best cure and companion for every kind of mood or situation. Born in a south Indian home with music-nuts for parents, singing and performing were highly encouraged. Besides that, my dad and mom's relationship with music has had a deep influence on me.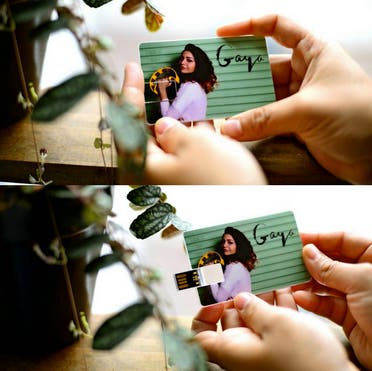 Not only do the carnatic classical melodies from my childhood seep into my songwriting every time without fail , but their passion for music that can pierce through the surface and speak right to the core of who you are, is something I have gladly and proudly adopted. Their ability to identify the timbre of countless singers' voices, die over the simplest of tonal inflections or be truly moved by the eloquence of a lyric is a master class in music appreciation.
So in that kind of environment, music was a glorious inevitability. I have been singing since I can remember really. Combining that with new influences that I discovered on my own; like that of Ella Fitzgerald, Nina Simone, Jewel, Joni Mitchell, Jeff Buckley, Bob Dylan, Alanis Morisette and more recently Feist, Regina Spektor, Ron Sexsmith etc; with the music of my upbringing, songwriting happened quite naturally. When the well of inspiration is filled to the brim, the creation of something new happens naturally. So I started writing when I was about 17 and pursuing my degree in English Literature and I haven't stopped since.
How would you describe your sound and what inspired it?
My sound is something I believe is ever-changing and hopefully evolving too. It always starts at the voice and tonal delivery, experimenting with choral melodies and layering voice over voice. But I'd like to think that my sound is like a big magnet picking up and grabbing all kinds of inspiration continually. I gravitate towards everything from a cheeky pizzicato violin to a crude beating of a tin can with spoons. I like using instruments where you can hear the human touch, or creating sounds out of everyday things and manipulating them to sound completely out of their everyday context, creating beats or bass lines out of them. I've used typewriter keys, hard-case books, and the rustling of my own hair in my songs to add rhythms and textures. So it is a world where everything is musical and any substance, living or not can have a raw power and quality worth recording.
What was your musical experience like while being based in the UAE? What type of feedback have you received from the community here in the Middle East?
Dubai in many ways has given me confidence serving as the right setting to make some glorious mistakes to learn from. There are definitely challenges within the system, like not having enough funds for music-related projects, different kinds of venues that serve various genres of music, there's an egregiously low to zero support from radio for local artists, strict licensing laws, the stigma attached to local musicians, which is that if you're local, you're not very good and you should probably play for free. That being said, those challenges have pushed me personally to find solutions, because complaining about them is a futile exercise. There are many brands and initiatives that passionately support local artists & their story, so I tend to gravitate in that direction.
Having grown up in this city, I have a deep attachment to it. It holds the key to some of my favorite memories, people and places, so even if it has a smaller scene, it is one that comes with a wonderful sense of community, creative drive and desire to make something original. I have had the fortune of meeting some incredible people who have supported me and really put their faith in me, so that stands above everything for me.
Where have you performed your music? Concerts/events etc.
In Dubai, I did a residency at The MusicHall, performed at Music Room, Fridge Concert Series, Chillout Festival, Jazz Festival, Floating Stage (festival city), BOLDTalks, TedX and TV performances on Dubai One & MBC. I've also performed live on 92 FM & 103.8 Nightline.
Internationally I've performed at Joe's Pub NYC (part of the NY Public Theatre), Sidewalk, NYC; In london I've performed at Hope & Anchor, Halo, Half Moon & Green Note, The Highlander amongst others in Paris. In India, I've performed as part of Behind the Console series & BlueFrog in Mumbai along with the Sula Festival. Those are just some of the highlights!
What would you say was your biggest break so far in your music career?
I think it's a series of milestones and every year beautiful new opportunities come to life. But some of the biggest highlights have been - Performing at Joe's Pub on my first tour to the States, collaborating with Joss Stone while she was on her world tour, crowd-funding my debut album and raising over $23,000 in ten days, becoming the first campaign of the type in the region, speaking and performing at Tedx in Dubai. I also released a new EP independently in June and released it on USB flash drive instead of CDs which has never been done here before.
We have read that your husband, Reiner Erlings, is also your producer. Tell us a little more about that and what it is like.
Reiner & I met because of music. In the course of producing my first ever EP, and finding him to be the kind of producer and collaborator I had always been looking for, we also fell in love. The combination of understanding each other on those dual levels has always been such a gift. His musical sensibilities and his ability to understand what I'm trying to create as an artist is immense and above all creating with him is such fun! There's a lot of trust and natural chemistry in our creative process and I find there's no better way to make music.
What are some of the obstacles you have faced throughout your career?
Besides the regular challenges of trying to find funding for projects and long-term partnerships to sustain the creative process, one of the biggest challenges I face is the fact the there is no ONE way to success; especially with the whole music industry being in such a flux state since the internet became the biggest avenue for listening, buying and experiencing music. Unlike the corporate world, at no point in time do a set number of steps surely lead to success. There are so many uncontrollable factors involved. It is truly trial and error, a lot of unreturned emails, phone calls and rejections. The lack of formula is the biggest challenge & also the beauty of it. It is truly rewarding when things progress and what you're putting out there receives appreciation and attention. It's the little victories of everyday that help you gain confidence as an artist and get better at understanding your own path.
What accomplishments do you hope to achieve with your music?
I create to connect. I love knowing that even things that are created in isolation could unite me with someone in some inexplicable way. That maybe one song could be someone's first aid kit, the soundtrack to their first kiss or just simply the song they can fold their laundry to. But being honest, I think I hope to have a really wide audience who cares about what I'm creating and wants to witness it, tour and make records that can change the world in some way, meet incredible artists along the way, collaborate and create constantly & just spend my life making art.
Are there any set future plans coming your way?
I'm working on a lot exciting projects at the moment. I will be doing a home concerts tour in the Middle East starting in October promoting my most recent EP titled 'Gaya', arranging concerts in the homes of listeners, I will be shooting a music video for my song 'Fake it till you Make it' & going back on tour in January with my band in the States spanning all across the East Coast in the States, all the way from New York to Chicago and back. I'm also writing music for a lovely indie film titled 'Black Sheep' that will be doing the festival circuit come this fall.
Tell us an interesting fact about you:
Being an independent artist comes with its set of highs and lows. The biggest take away for me is that you end up picking up all these other skills along the way that really help you to zone in on who you are as an artist and what you want to communicate. Applying myself in various other creative fields and keeping my mind engaged has become a great way to sustain myself financially and creatively. With the experience of doing these things for my own musical pursuits, I personally do everything from being a freelance writer , building websites, editing films, composing jingles and styling photo shoots in the time that I am not recording, writing new material or touring. I recently set up my own interior design studio called 'Darling Let's Go Home'. So being an independent, pursuing music full-time, I'm able to delve into all these other fields of work that require the same part of my brain to work.
What social media platforms can people hear your music on?
www.listentogaya.bandcamp.com
www.gayamusic.com
www.soundcloud.com/listentogaya
www.facebook.com/gayathrimusic
www.twitter.com/gayamuses