Netanyahu gives U.N. 45 seconds of 'death stare' treatment
On social media, it was described as a 'death stare', 'fierce' and "typical of any dark lord'
Israeli Prime Minister Benjamin Netanyahu on Thursday relentlessly excoriated the United Nations for its "deafening silence" over the threat he said Iran posed to his country.
His speech contained a 45-second silence, during which he stared at world leaders gathered at the 70th U.N. General Assembly.
"Seventy years after the murder of 6 million Jews, Iran's rulers promised to destroy my country, murder my people, and the response from this body, the response from nearly every one of the governments represented here, has been absolutely nothing. Utter silence. Deafening silence," Netanyahu said before his 45-second silence.
On social media, it was described as a "death stare", "fierce" and "typical of any dark lord."
I watched that Netanyahu death stare at the UN. Don't think I can sleep with the lights off for the next few weeks.

— Vijay Prashad (@vijayprashad) October 2, 2015
Netanyahu's 'death stare' at the UN. Hahah typical of any dark lord.

— bunyaminkhair (@bunyaminkhair) October 2, 2015
This is not the first time Netanyahu, who reiterated his condemnation of the Iran nuclear deal, has lashed out at the United Nations.
At the 2012 General Assembly, he made headlines by trying to explain Iran's nuclear program using a cartoon drawing of a bomb.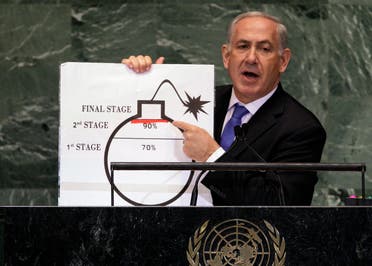 No high-level U.S. representation
During Netanyahu's speech, Washington was represented by Ambassador Samantha Power's deputy, David Pressman, and the U.S. ambassador to Israel, Daniel Shapiro.
Power and Secretary of State John Kerry are both in New York, but Reuters reported Power's spokeswoman Hagar Chemali as saying that they had to join a video conference call with U.S. President Barack Obama that ended up coinciding with Netanyahu's speech.
Obama's relations with Netanyahu worsened when the latter vigorously campaigned against the Iran nuclear deal.
In March, Netanyahu delivered a speech in Congress outlining the need for a tougher stance against Tehran.
On Thursday, he said once international sanctions were lifted as part of the nuclear deal, "unleashed and unmuzzled, Iran will go on the prowl."