'Longest legs' model mistaken for Russian who bombs ISIS
How fabrications online transformed a Brazilian model into a Russian fighter pilot
For those who Google and searches for "Balislava" will read an article titled "Russian fighter pilot Captain Balislava bombed the hell out of ISIS," and would find a blonde woman attached to the headline.
The "beautiful blond Russian" as she has come to be known is seen leaning on her helmet wearing a pilot uniform with an emblem on one sleeve belonging to some country's air force while a training plane is stationed behind her.
Balislava has been written about in many Arab websites, among which our sister channel website Alarabiya.net also published her picture but then removed it once discovering that the woman is "only the ghost of a Russian pilot who does not exist."
The photo belongs to a real woman who lives at the other end of the world. It appears that she is an international star as well as a fashion model and a TV presenter in Brazil named Ana Hickmann.
Hickmann, 33, was born in Santa Cruz Do Sol in south of Brazil. She presents a well-know Brazilian TV show called "Hoje em Dia" meaning "In these days."
The picture that transformed her into a Russian fighter pilot was taken when she was learning to fly airplanes in 2005, according to the findings of AlArabiya.net staff who searched for news archives in Brazil. Moreover, the emblem that appears on her sleeves belongs to the Brazilian Air Force Academy.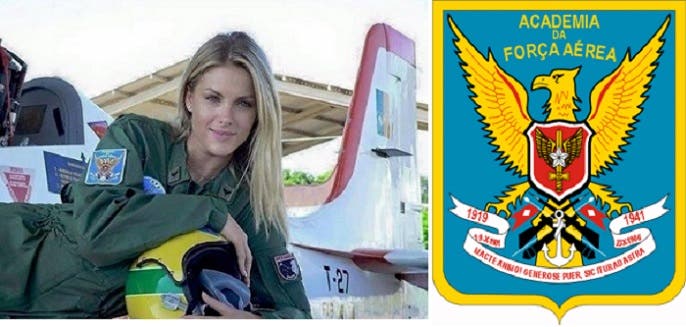 Model with the longest legs
But as the photograph went viral online, dozens of tweets called to doubt the authenticity of the fake Russian pilot. A quick search of the words "Brazilian Balislava" in on Twitter yields hundreds confirming her identity.
On the other hand, when searching on YouTube for "Le Capitaine Balislava", one would find a French man confirming in the video that the picture is fabricated followed by Elminieh website after 24 hours.
One website claims the photograph belongs to a Russian pilot who bombs Syrian opposition and ISIS in Syria is a Russian website in English called hallsofkarma.com according to other websites Al Arabiya contacted. However, the website has no been either closed or the original fabricator of the photograph decided to have it taken down.
Hickmann who is of German origins and mother of a child named Alexander is famous in and out of Brazil. She was added to the Guinness book as having the "longest legs in the modelling world" but that title has been discontinued by Guiness World Records since 2002, according to her personal website.