Dubai ruler takes a drive with Sisi through the city
Sheikh Mohammed bin Rashid al-Maktoum accompanied Egyptian President Abdel-Fattah al-Sisi for a tour in his car in Dubai
Sheikh Mohammed bin Rashid al-Maktoum, Vice President and Prime Minister of the United Arab Emirates and Dubai's ruler, accompanied Egyptian President Abdel-Fattah al-Sisi for a tour in his car in Dubai.
Egyptian presidential spokesperson Alaa Youssef said Sheikh Rashid accompanied Sisi on a tour in Dubai on Tuesday to show him the city's landmarks and developmental projects.
Youssef added that Sisi and Sheikh Rashid met to discuss bilateral relations and regional developments.
According to Youssef, Sheikh Rashid emphasized Egypt's role in the Arab world saying: "Egypt is a supporter for all Arabs.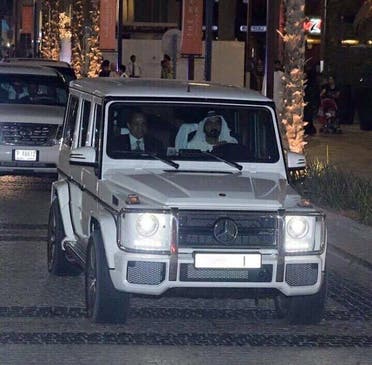 Egyptian-Emirati ties are not ordinary diplomatic ones but are relations of brotherhood and partnership. This brotherhood is further enhanced today thanks to the solid relation between the two governments and to the mutual interests between the two brotherly countries.
The Dubai ruler also commended bilateral ties saying: "Egypt, its people and leadership have always been the Emirati government's partners in educational, cultural, economic and governmental fields. The exemplary relations which the U.A.E. established with Egypt represent Arab relations among brothers just like Sheikh Zayed, may God have mercy upon him, wanted them to be."
Dubai's ruler also said that he's optimistic about the Egyptian leaders' success to achieve what's best for Egypt and establish a new phase in which it resumes its path of progress and practices its pivotal role in the region, voicing hope that Egypt is always stable and that the Egyptian people's aspirations are fulfilled.
Meanwhile, Sisi said relations between the two countries are special as there are several ties that unite them particularly due to the presence of a large Egyptian community across the UAE where they contributed to the latter's impressive progress.
The Egyptian president and the Dubai ruler also discussed regional developments and exchanged points of view regarding mutual affairs, Youssef said.
This article is also available in Arabic.