Uber drivers in Egypt to get anti-sexual harassment training
Under the new project, all trained drivers will receive a certificate of recognition
In an effort to counter one of Egypt's biggest social issues, U.S.-based ride service Uber is rolling out a scheme that will train drivers in the capital Cairo to take steps against sexual harassment.
The private car service announced it will be teaming up with Harassmap - a online social initiative which employs an SMS system for reporting incidences of sexual harassment in Egypt - to educate its drivers against the social issue.
"Sexual harassment is a known problem in Cairo especially in public transport so as a technology company working in the transport space, we wanted to be pro-active against the issue," regional Uber spokeswoman Shaden Abdellatif told Al Arabiya News.
"We thought that we could train our partner drivers, who are already getting weekly trainings to use the app, against sexual harassment," she said, adding as a result of the training, drivers will know how to recognize, prevent, and take positive action against harassment.
A Reuters survey described Egypt has been described as the worst country in the Arab world to be a woman, while a separate report by the United Nations published earlier this year showed that 99.3 percent of Egypt women and girls had been subjected to sexual harassment.
Under the new project, all trained drivers will receive a certificate of recognition and have a sticker in their car pledging to take positive action against sexual harassment.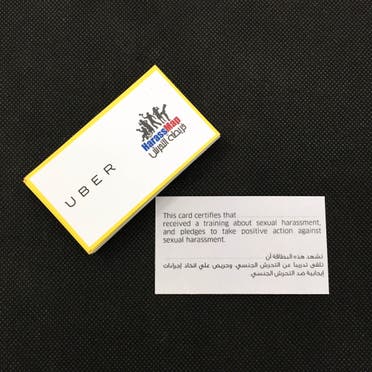 Positive step
Human rights groups called the move a positive step.
"The Uber initiative will lead to a behavior change in the society, which can really help combat sexual harassment," said May el-Sheikh, a Cairo-based U.N. official. explaining that sexual harassment is just one form of violence against women.
"For even better results, we must develop a common belief that women have the right to live free from violence but also raise awareness, inform the public and educate them against the issue," said Sheikh, who is also the communications director of Egyptian Initiative for Personal Rights.
In June, Egypt rolled out a new law which punishes offenders with at least six months in jail or fines of at least $370.