From Japan to Sweden, global publishers gather at top UAE book fair
The international publishers, although having the promotion of their own cultures in common, come to the annual event with a variety of messages
From Canada to Sweden and Japan, book publishers from all corners of the globe gathered this week for the 34th the Sharjah International Book Fair in the UAE.
The international publishers, although having the promotion of their own cultures in common, come to the annual event with a variety of messages.
"We are here to bring Swedish literature and culture to young Arabic speaking readers while promoting the Arabic language," Heba al-Nedef, the bureau chief of the Sweden-based publishing house Dar Al-Muna, told Al Arabiya News.
"The idea started by simple translation of books for children from Swedish to Arabic as we realized that Sweden, like many other European countries, was famous for its literature for children unlike the Arab world where it is rare to find good literature for young people," she said.
Nedef added that Dar Al- Muna's work has mainly focused on children and youth literature but recently started expanding to a larger age group.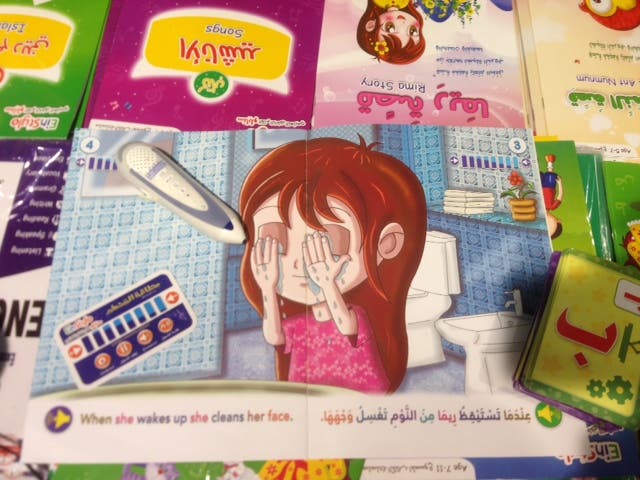 Meanwhile, Osama al-Shannaq, the executive president of the Jordan-based Al Khatib for Marketing and Production told Al Arabiya News: "We aim through our digital books … to help Arab kids, who are living in a digital age, learn in both English and Arabic."
"We are bringing the technology from Canada and the content from Jordan to children between 3 and 12," Shannaq, said explaining that his company is collaborating with EinStylo, a Canadian educational supplies provider.
The two companies are offering a range of digital products - which include books, posters and cards - that help children learn thanks to an interactive pen.
Shannaq added that he hopes the fair will allow for the expansion of the products, which are currently available in Saudi Arabia and the UAE, as it is "struggling because of its cost."
Arab values
Other publishers focused on comics, rather than books.
"We are trying to promote our comics culture, which is very popular in Japan," Ian Eleria, the senior operations manager for ComiCave, told Al Arabiya News. Eleria said the publishing house is relying on a wide range of products, ranging from books to toys and games.
"We are participating in the fair for the first time as the representatives of Diamond Comic Distributors, - the largest comic book distributors in North America – in the Middle East," Eleria said.
Eleria added that the comics industry in the Arab region has flourished in recent years and that the readers' respond has been "very positive."
The book fair, which was inaugurated last week by Sharjah ruler, Sheikh Sultan Bin Mohammad al-Qassimi, and Prince Khalid al-Faisal, adviser to Saudi King Salman bin Abdulaziz and governor of Makkah Province, is welcoming publishers from 64 countries.
The 10-day event features 1.5 million titles available in 210 different languages.