Over 2,300 confirmed malaria cases in Saudi Arabia last year
According to the United Nations, malaria deaths worldwide have fallen by 60 percent since 2000
Saudi Arabia's Ministry of Health recorded a total of 2,305 confirmed cases of malaria in various parts of Saudi Arabia last year, Makkah daily reported on Wednesday quoting medical sources.
The sources said the Eastern Province had the highest number of cases with a ratio of 25.2 percent followed by Jazan with 21.6 percent cases. They said no cases were reported in Bisha or Tabuk.
Thousands of malaria cases confirmed in Saudi Arabia last year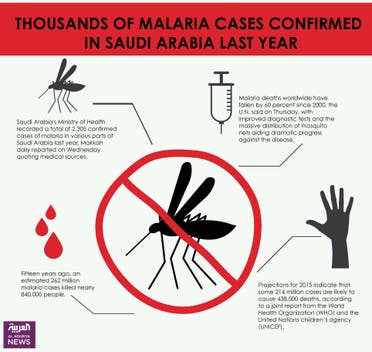 Malaria deaths worldwide have fallen by 60 percent since 2000, the U.N. said in a report in September, with improved diagnostic tests and the massive distribution of mosquito nets aiding dramatic progress against the disease.
Fifteen years ago, an estimated 262 million malaria cases killed nearly 840,000 people.
Projections for 2015 indicate that some 214 million cases are likely to cause 438,000 deaths, according to a joint report from the World Health Organization (WHO) and the United Nations children's agency (UNICEF).
(With AFP)
A version of this article first appeared in the Saudi Gazette on Nov. 12, 2015.