Monuments light up red, blue and white in solidarity with France
New York lit One World Trade Center red, white and blue in solidarity with France after attackers killed at least 140 people in Paris
Monuments including One World Trade Center in New York, the San Francisco City Hall and Toronto's landmark CN Tower were lit red, white and blue in solidarity with France after attackers killed at least 127 people in Paris.

The World Trade Center lights were a powerful symbol of U.S. friendship and support for the French, made from the tallest building in the United States, which was built on the site of the 9/11 attacks on New York.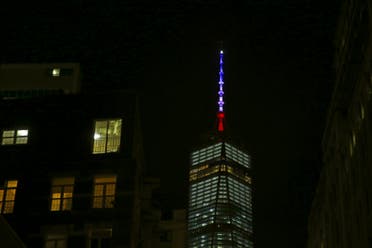 Its 408-foot (124-meter) spire is so large it can be seen across much of America's largest city and across the Hudson River in New Jersey.

"Today, and in the days ahead, New York will light One World Trade Center in blue, white and red as we stand in solemn solidarity with the people of France," Governor Andrew Cuomo said.

"We join them in mourning those who were killed and in praying for those who were injured or lost loved ones. And we continue to stand side by side with them in our commitment to a free and peaceful world."

The French attacks are among the deadliest in the West since the September 11, 2001 terrorist attacks on New York, Washington and Pennsylvania.

Other U.S. buildings also lit themselves in the colors of the French flag, including city hall in San Francisco and the Omni Hotel in Dallas, Texas.
Infographic: Seven deadliest attacks in Europe in decades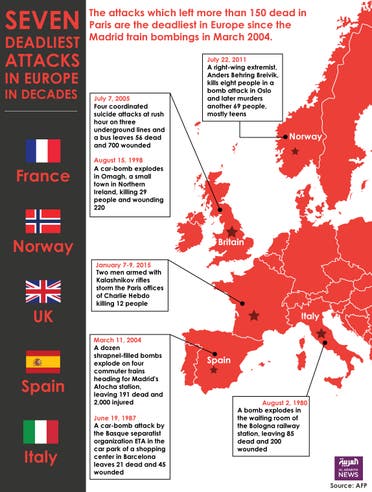 New York police went on heightened alert, deploying counter-terrorism reinforcements to crowded places and outside the French mission to the United Nations, and the French consulate.

The New York police department said the reinforcements were made "out of an abundance of caution" to reassure the public.