Actor Paul Walker's father sues Porsche over fatal crash
Walker was on a break from filming the seventh film in the 'Fast & Furious' franchise when he was killed
Paul Walker's father sued Porsche for negligence and wrongful death Wednesday over the 2013 accident that killed the "Fast & Furious" star.
Walker's father, who is the executor of his son's estate, filed the lawsuit claiming that the Porsche Carrera GT that his son was riding in lacked safety features that could have saved the actor's life.
The lawsuit cites features included in other pending lawsuits against the automaker over the crash that might have saved the actor's life, including a stability control system, side-door reinforcements and a breakaway fuel line to help prevent the car from bursting into flames after a collision.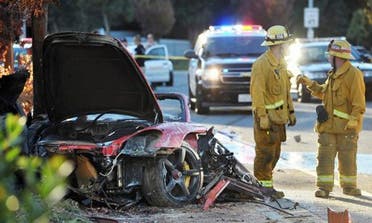 Walker was on a break from filming the seventh film in the "Fast & Furious" franchise when he was killed. He was riding in the Carrera GT driven by friend and business associate Roger Rodas when the car spun out of control, struck three trees and burst into flames on a street in Santa Clarita, California.
The lawsuit seeks unspecified damages.
An after-hours message sent to Porsche seeking comment was not immediately returned.
The car company has denied in other lawsuits, including one filed by the actor's daughter, that it is responsible for Walker's death.