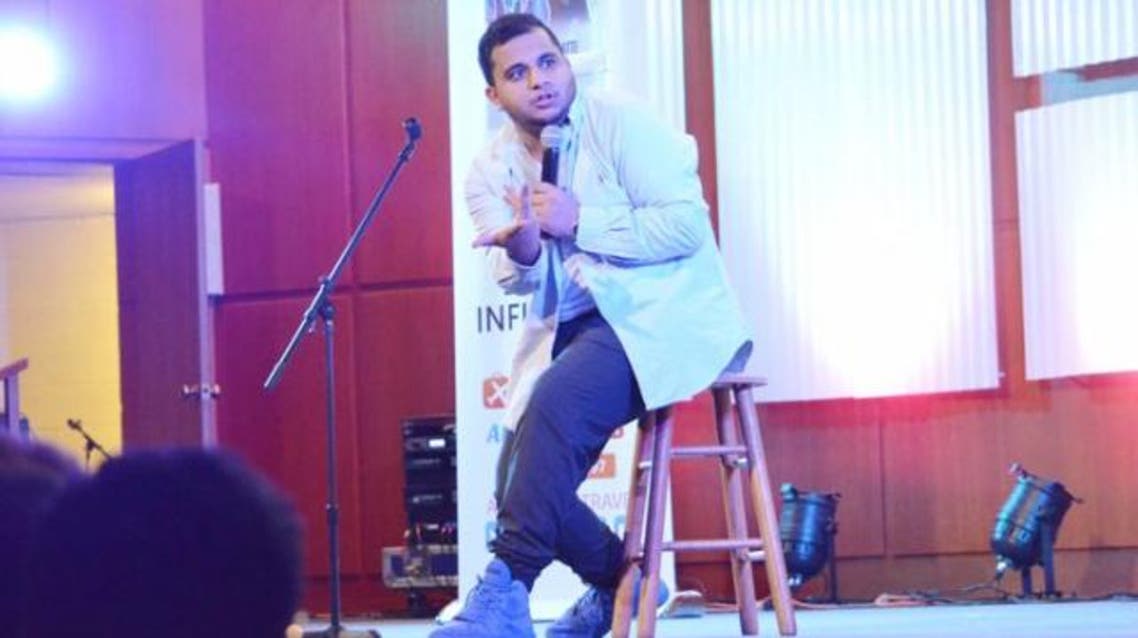 Saudi student in the U.S. hopes to be next Eddie Murphy
After arriving in the United States in 2010, Abdullah is currently studying business at university in New Hampshire but soon turned to comedy
Some of the most famous comedians in the United States all started in small stand up comedy clubs; they include Eddie Murphy, Jim Belushi, Robin Williams, and Chris Rock. These famous names all went on to be major movie stars and make millions of dollars. Now they have 24-year-old Abdullah Al-Kassen of Riyadh following in their footsteps.
After arriving in the United States in 2010, Abdullah is currently studying business at university in New Hampshire. It was when he transferred from Georgetown University in Washington D.C. to Northwest Community College in Fayetteville Arkansas that Abdullah decided to follow his dream of being a comedian.
Speaking to Saudi Gazette, he said: "There's really nothing to do there, so that's when I thought I really needed to study comedy. So I went to a small comedy club to try and improve my English and listen to the way other comedians told their jokes. I really loved being there. Then I told the manager that I could tell a joke in two minutes, and could he please give me a chance to perform. I hadn't told my friends I was at the comedy club, I told them I was at the library as I didn't want my friends to see me messing up. I always told them I was at the library."
Luckily for Abdullah, timing was everything, as a few days later Abdullah was standing on stage on a slow weeknight as the owner of the comedy club, "told me I wasn't good enough to perform on a weekend."
He also couldn't believe that Abdullah was from Saudi Arabia. During his interview with Saudi Gazette, Abdullah said, "Some Americans are amazed when they know that I'm a comedian from Saudi Arabia, and I tell them "yes we do joke and we do laugh too! They can't believe someone from Saudi Arabia is funny and from the Middle East."
Big break
His ability to tell a funny story earned Abdullah a call three weeks later when one of the comedians called in sick for his regular weekend performance. Now Abdullah got a break to perform to a packed house, and as luck would have it again, the president of the University of Arkansas was sitting in the audience too.
After the comedy routine finished, he invited Abdullah to perform on International Day. When he showed up there were 1,500 people at the venue, including lots of Saudi students. He quickly got more and more invitations to perform at campuses and comedy clubs around the United States, and started to upload shows on YouTube, and his name was appearing all over Twitter, Instagram and Facebook. In big demand, his comedy routines went from three minutes to an hour and fifteen minutes.
"It just feels priceless when you make people laugh. It's a passion I have, and with the encouragement from my close friends who saw that in me, I decided to try out and see how it would go. Fortunately, it's going great so far. The United States is the land of opportunities," Abdullah said.
As Abdullah's star continues to rise at sold-out shows in the United States, his comedy "hero" in some ways is Eddie Murphy.
"He did stand-up comedy and made it big. He's just so good, it's crazy. You feel he's a star. I am so happy to become a comedian, as my dream is to have the biggest audience ever Saudi Arabia. Ten thousand people."
This article first appeared in the Saudi Gazette on Dec. 4, 2015.