HaLOL! Muslim comedians hold Christmas Comedy night
Bringing a comedic take to the often complex mix of race, religion and British identity into stand-up routines
HaLOL comedy nights, which are fast becoming one of London's popular go-to Muslim comedy events in the city, have put on their first Christmas special show this week. Leading the night of festive cheer and laughter at London's Comedy Cafe was award-winning comedian Imran Yusuf who hosted a diverse line-up of stand-up talent.
Bringing a comedic take to the often complex mix of race, religion and British identity into stand-up routines, the ensemble of performers included Omar Hamdi, Sajeela Kershi, Bilal Zafar, Prince Abdi and special guest Brendon Burns.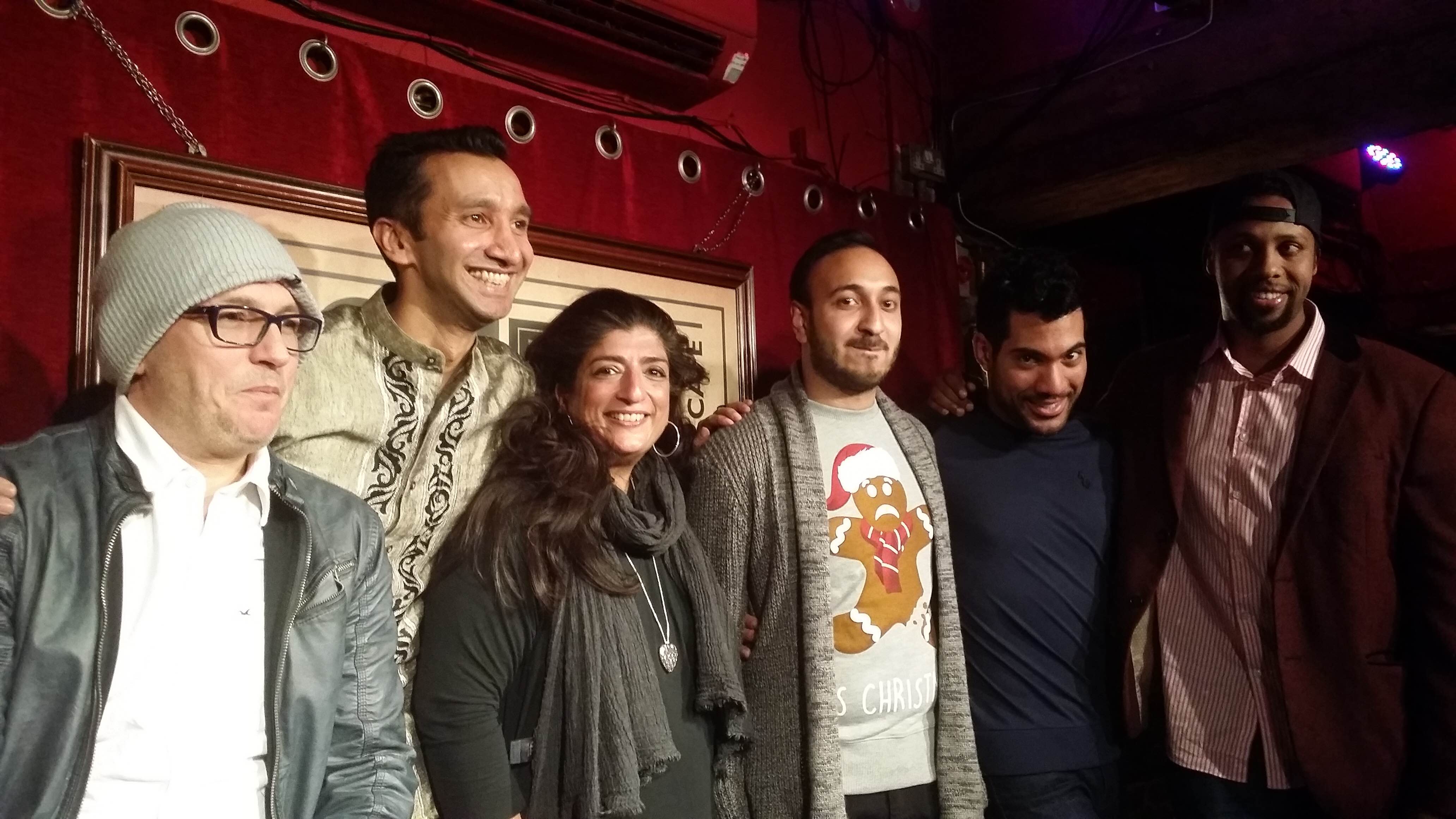 The jokes covered a breadth of Muslim experience, reflecting the community's diversity, intermittently sprinkled with tales from Christmas past. Sajeela Kershi, who has been performing on the hits shows "Immigrant Diaries" and "Shallow Halal" took to the stage to include some familiar tales of fitting-in dilemmas during school nativity plays and woes of missing Turkey meals and Christmas trees when growing up.
She spoke to Al Arabiya News before the show, to explain how "the negativity and the hideous homogenizing" of faith and immigrant groups "infuriates" her yet also motivates her to produce material about her own cultural background of hailing from a Muslim and Pakistani heritage.
But she's quick to add a cautionary note that she only speaks about her own experiences rather than represent the whole community.
Reactions from the audience proved it was as much a night of catharsis as it was comic relief, as the performers took to challenging stereotypes and misconceptions on the role of faith, multiculturalism, and values in Britain today.
Hassan Hoque who lives in East London watched the show and was full of praise for the performances: "It just felt so good to be able laugh about the issues that have been exhausting us over the past year - we often have to see ourselves through the lens of the other - but tonight we were humanized."
Many others took to Twitter to share their enthusiasm for the performers who maintained an honest edge with their comedy material for the predominately Muslim audience:
HaLOL comedy nights launched earlier this year in February. Imran Yusuf, who is currently starring in BBC Three's new sitcom FRIED and is one of the Directors of HaLOL Entertainment responsible for organizing the comedy night events, spoke to Al Arabiya News to explain the success of HaLOL over the past year:
"HaLOL has done extraordinarily well this year, better than we expected. Not only is there more Muslim talent coming forward but so is a Muslim audience who don't regularly engage in the arts. We've also seen a much more diverse British audience come out to watch and support us, which is incredible. HaLOL might be a Muslim comedy show, but is mainstream enough for a diverse audience to feel it is relevant to them.
"What makes us stand out is that we don't pull punches. The comics on the bill play the mainstream British and international circuit, we use adult language and vent our frustrations in being stuck between the hate the extremists in our midst spout and the hate perpetuated by the society we live in. We're left in a precarious situation and so we stand up for ourselves with the power of stand-up."
He also adds that "the success of the shows have surpassed expectations... and now we are planning the beginning of a small UK tour and an international one in the coming year with a rebranded show. We've had interest from the U.S. Middle East and Malaysia."