David Guetta, Jazzy Jeff among Dubai's top 5 New Year's Eve parties
With an astounding array of events to choose from, we nominate the top 5 venues to attend this Thursday
Looking for venues to celebrate New Year's Eve? Look no further. With an astounding array of events to choose from, we nominate the top 5 venues to attend this Thursday.

Dubai has the most prominent names when it comes to ending your year with a bang. All it takes is your clique, the right attitude and of course, the right place to celebrate.

Here's our selection for the hottest parties in Dubai.
Martin Garrix
19-year-old Dutch DJ Martin Garrix is set to inaugurate New Year's Eve at the Meydan Racecourse this year after a successful headline at Sensation event. His rise to fame came after his 'Animals' single secured first place on Beatport Top 100 charts. He has also featured Usher, Tiësto, Avicii and Ed Sheeran in the past year.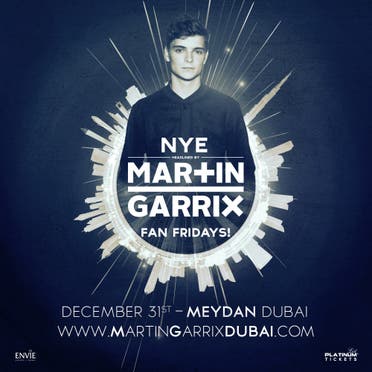 Price: General Admission (Dhs.599) | Deluxe Pass (Dhs.1,250)
Contact: +971 4 457 3212| Twitter.com/Envie_Events
Location: Meydan Racecourse
David Guetta
This New Year's Eve, renowned French DJ David Guetta will perform at the Media City Amphitheater after playing at the Dubai's Atlantis in 2014. With hits like 'Titanium' and 'What I Did For Love' featuring Emeli Sande, the chart-topper is expected to once again enthrall the eager crowd at the arena.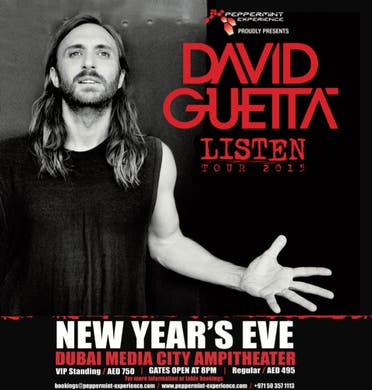 Price: Regular Admission (Dhs.495) | VIP Stand (Dhs.750)
Contact: +971 50 3571113, +971 50 1100678| Twitter.com/PeppermintDXB
Location: Dubai Media City Amphitheatre
Nervo
Australian DJ twins Mim and Liv Nervo will host a beguiling evening at the Eden Beach Club. They've had numerous collaborations with many artists, including Kylie Minogue, amid their repertoire of writing hits for Ke$ha, Britney and Armin Van Buuren. The Eden Beach Club is no stranger to prominent names at its venue.


Price: Ladies (Dhs.250), Gents (Dhs.350) | Table Reservation Available
Contact: +971 50 287 8703, +971 55 2771477 | Twitter.com/edendubai
Location: Eden Beach Club - Rixos hotel, East Crescent, The Palm Dubai
DJ Jazzy Jeff
Following his New Year's Eve party last year, the 'Summertime' DJ is set to return once again at Barasti for more record spinning. Last year, revelers were surprised with an impromptu performance of 'Gettin' Jiggy Wit It' when Hollywood actor Will Smith made his way on stage. Another DJ Jazzy Jeff and The Fresh Prince stage reunion this year? Perhaps.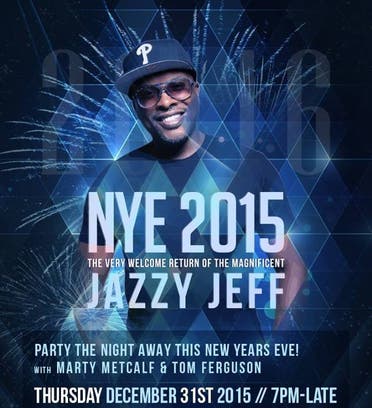 Price: General Admission (Dhs.250), at the gate (Dhs.300) | Table Reservation Available
Contact: +971 4 318 1313, +971 4 399 3333| Twitter.com/barastibeach
Location: Barasti Beach Bar, Le Meridian Mina Seyahi Beach Resort
Pete Tong and Duke Dumont
British DJ Pete Tong and Duke Dumont who are known for their notorious house music will be playing as part of a line-up at Zero Gravity. A cacophony of steady rhythms will surely fit the hyped-up crowd ready to welcome 2016 in.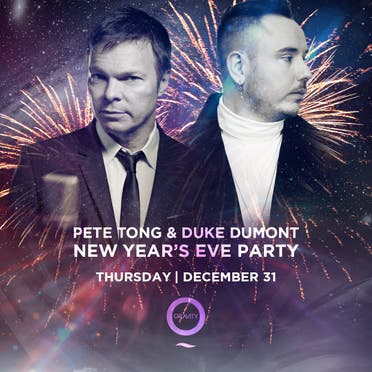 Price: General Admission (Dhs. 390), at the gate (Dhs.450) | Table Reservation Available
Contact: +971 55 500 9111, +971 4 399 0009 | Twitter.com/ZeroGravityDXB
Location: Skydive Dubai Drop Zone, Jumeirah Beach Residence (JBR)
Live Streaming
If you're keen on watching the Burj Khalifa fireworks without the hassle of traffic or expenses, you can access the live-streaming at www.mydubainewyear.com