'Al Faris:' Fantasy musical set to poetry takes to Dubai stage
A fantasy musical set to poetry by Dubai's ruler seeks to explain the secret of one of the Arab world's most compelling success stories
A fantasy musical set to poetry by Dubai's ruler seeks to explain the secret of one of the Arab world's most compelling success stories, promoting a style of government that creates wealth and ensures stability while avoiding political strife.
Lebanese director Marwan Rahbani insists the play, Al Faris or "The Knight", which premiered this month, describes general ideals of leadership and is not about Sheikh Mohammed bin Rashid al-Maktoum himself.
"The city is not Dubai, and the knight is not his highness Sheikh Mohammed. Anyone can have these attributes," he said.
But the government-sponsored production is certainly in keeping with the public devotion to the rulers of the stable though politically-closed Gulf, where little dissent is tolerated and Arab family dynasties keep a firm grip on power.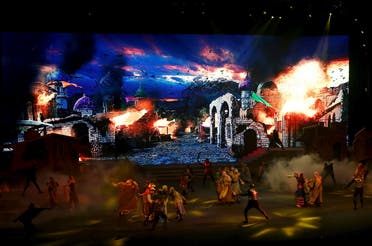 From Abu Dhabi to Manama, Doha to Riyadh, the images of rulers and kings are emblazoned on buildings and giant billboards, and their deeds dominate the media.
However the Dubai musical, which ran for four days at Sheikh Rashid Hall, adopts a more traditional form of celebrating family rule, showing an idealized Arab leader as a poet and horseman, both highly prized skills among Arabs.
The main character, whose close-clipped beard and headdress give him a resemblance to Sheikh Mohammed, wends his way through a make-believe universe of clanging sword battles and Arab folk dances in pursuit of a sweetheart abducted by jealous villains.
Soothsayers liken the poet-prince's quest to his desire to build his kingdom into a paragon of diversity and peace.
Like Dubai over the last decades, the glowing projected backdrop gradually morphs from a few stone minarets and candle-lit windows to a tidy high rise cityscape.
This is a homage to Dubai's transformation from desert backwater to a global financial hub, for which Emiratis still express gratitude to their ruling families, crediting them with putting an end to the harsh existence of their forebears.
"The play is a message of peace from Dubai to the world and reflects noble Arab values and tolerant Islamic culture," Mona al Marri, director of Dubai's media center, said on state media.
"It presents a call to the entire world to revive such values that can help nations overcome the difficult challenges they are facing today," she added.
Dubai's rise is largely credited to 66-year-old Sheikh Mohammed. During his 10-year reign, state funds were successfully used to jump-start the trading and banking industries, which turned the city into a tourist and business center where expatriate workers outnumber locals almost nine to one.
"Made civilized"
In this time, Dubai has also had its share of problems.
The emirate was forced to announced a debt standstill accord with creditors for $25 billion dollars, and faced criticism by campaigners demanding the repeal of what they consider oppressive labor laws affecting guest workers from Asia.
But the emirate prospered regardless, and the "Dubai model" became the envy of Arab states, especially as "Arab Spring" protests led to raging civil wars - something Gulf rulers were determined to avoid at home.
In 2013, the United Arab Emirates convicted 56 of its citizens in a mass trial for plotting to overthrow the government. Apart from this there has been little political strife in the seven-member federation, and as the play seeks to show, expatriates from a patchwork of less fortunate lands continue to thrive there.
Inspired by a visit to the market where the prince is serenaded by twirling foreign traders plying their wares - spices from India, fruits from Syria and fabric from Lebanon - Al Faris orders his chief merchant to welcome them.
"Sir knight, our people everywhere are full of sadness and worry, and collapse under the weight of hatred and strife!"
"Their troubles are our troubles, and what ails them ails us," the knight retorts, insisting that they together build "a city teeming with life and creativity, where there are no bandits, no monopolies, war or hate."
The audience, a sea of hundreds of black and white robe-clad Emiratis daubed in woody Arabic perfume, applauded.
"I'm so happy that a play like this could be brought together in Dubai," said Ahmed Awad, a Dubai policeman.
"It showed how a city can be built and made civilized."