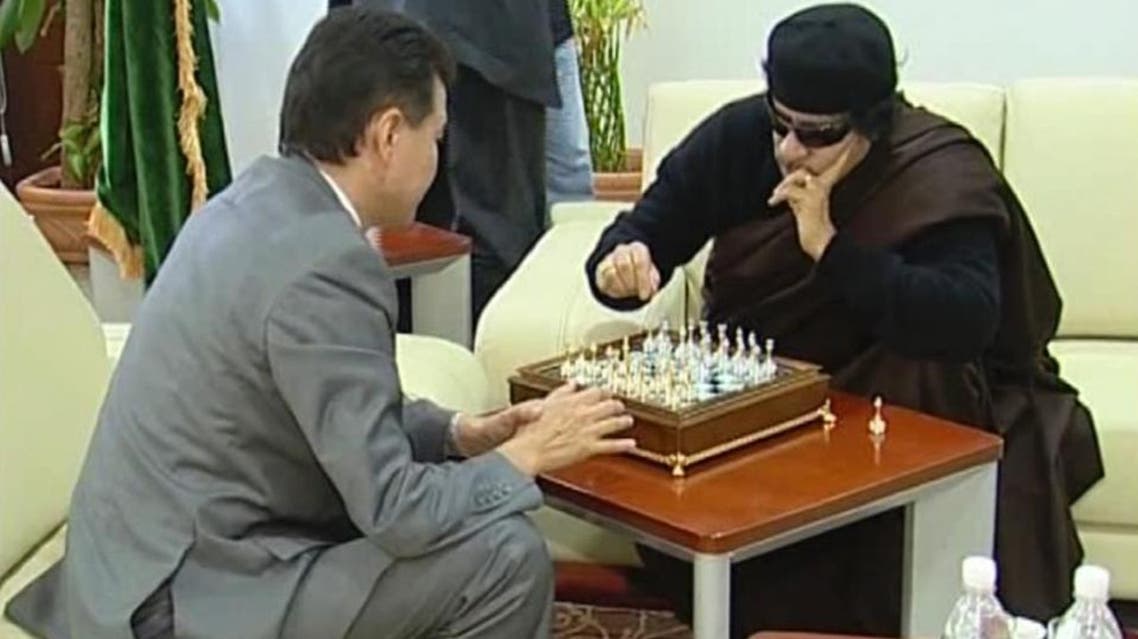 He played chess with Qaddafi, now this champ defends Assad ties
As world chess chief, Kirsan Ilyumzhinov rubbed shoulders with the reviled Muammar Qaddafi and Saddam Hussein
As world chess chief, Kirsan Ilyumzhinov rubbed shoulders with the reviled Muammar Qaddafi and Saddam Hussein and says aliens once abducted him, but it is his ties with the Syrian regime that finally landed him on a U.S. blacklist.
Two months ago, the colorful Russian business mogul was forced to temporarily transfer to his deputy most of his powers as president of the World Chess Federation (FIDE) for the last 20 years.
"These sanctions are a reward," he told AFP. "Not every person gets to be on a sanctions list."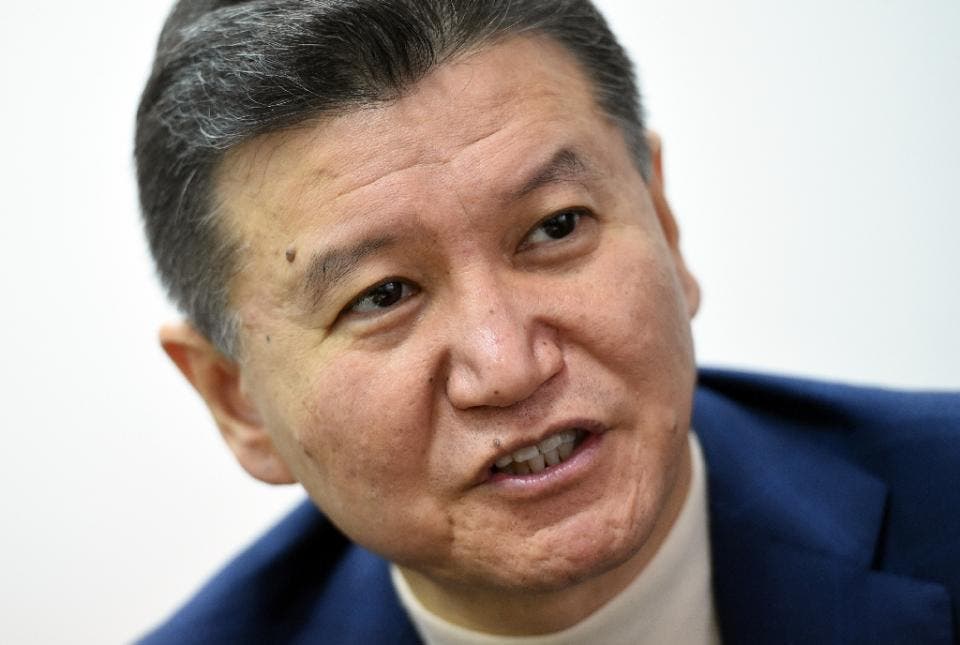 Ilyumzhinov's contact with Syria's embattled President Bashar al-Assad is the latest in a series of scandals and oddities that have marked his tenure as FIDE head -- and threaten to shake his grip on the sport.
But the 53-year-old confirmed Buddhist -- who for 17 years headed Kalmykia, Russia's only Buddhist region -- appeared undaunted during an interview in his Moscow office, serving tea under the gaze of the Dalai Lama, whose portrait adorns the wall.
In November, the U.S. Treasury added Ilyumzhinov to a punitive list over Syria, accusing him of "materially assisting and acting for or on the behalf of" the Syrian government as well as the central bank and its governor.
Ilyumzhinov told AFP he has "very good relations" with the Syrian leadership, having regularly visited the country since the 1990s and hosted youth chess tournaments there.
He said he met Assad in 2012 for a three-hour talk during which the Syrian dictator recalled his chess-playing days as a medical student in London.
"I have friends in Libya, Syria, Iraq, France, the U.S., and I don't hide it," Ilyumzhinov said. "I plan to go to Damascus again to see what the situation is like."
The chess boss, who made a fortune in the banking and auto industries when the Soviet Union collapsed, said he would now seek the "small sum" of $50 billion in compensation from the United States for his addition to the blacklist.
He called the U.S. decision was a "jab at Russia" and his own prestige.
Chess with Qaddafi
Ilyumzhinov is a divisive and often unpopular figure in the chess world. He famously claimed he was kidnapped by aliens wearing yellow spacesuits in 1997. He says he is also in his "69th life" thanks to reincarnation, and "stretches his days out to 25 hours" thanks to meditation.
He has been harshly criticized by world champions Anatoly Karpov and Garry Kasparov, who ran against him in the 2010 and 2014 FIDE elections, respectively.
The chess chief has mixed with some of the world's most dubious leaders, including Assad, Hussein and Qaddafi, precisely as they were facing strong international opposition.
During NATO's bombing of Tripoli in June 2011, Ilyumzhinov travelled to the Libyan capital to play a highly-publicized chess match with Qaddafi, awarding him the title of "International Grandmaster".
"Qaddafi and I signed an agreement on chess programs in schools," Ilyumzhinov said. "What's wrong with that? I was impressed with him. Did you know he wrote poetry?"
Ilyumzhinov -- who was chess champion of Kalmykia at age 14 but never challenged the sport's greats -- boasts he spends his fortune on promoting chess and spirituality instead of buying yachts and mansions on the French Riviera.
He views himself as a messenger of peace, likening himself to UN Secretary General Ban Ki-moon.
"If you want peace, you have to interact," Ilyumzhinov said. "I believe everything must be resolved around a chessboard or through negotiation."
Kasparov feud
Ilyumzhinov denies he is a friend of President Vladimir Putin and claims he has not had close ties with the Russian government since resigning as head of Kalmykia in 2010.
"We're colleagues," he said of Putin. "I don't drink tea with him everyday."
Ilyumzhinov beat Kasparov in the 2014 FIDE elections by a 110-61 vote, condemning his opponent for basing his campaign on anti-Russian sentiment.
Kasparov -- a firm opponent of Putin's rule -- has meanwhile accused Ilyumzhinov of corruption and channelling FIDE money to Russian secret services, charges the FIDE president denied.
"Ilyumzhinov has lied consistently, constantly, since taking over FIDE 20 years ago," Kasparov said in a Facebook post last month. "U.S. and European sanctions have made it harder for the KGB (currently known as the FSB) to move money to its assets and FIDE has proven to be a useful conduit."
Turkish President Recep Tayyip Erdogan has also accused Ilyumzhinov of involvement in illegal oil trade with the Islamic State (IS) group in Syria, countering Russian allegations that his own family was importing oil from the jihadists.
The sanctions against Ilyumzhinov forbid U.S. individuals or entities from doing business with those on the blacklist, restricting their access to international financial networks.
Ilyumzhinov said FIDE would nonetheless declare 2016 the "Year of Chess" in the United States. He added he was also contemplating opening a pro-democracy foundation there.
"I don't consider that the U.S. is against me," Ilyumzhinov said. "I'm in favour of America. They gave me sanctions, I gave them 30 chess tournaments."