10 world-famous celebs you didn't know were of Arab origin
Supermodel Gigi Hadid recently took to her official Instagram account to remind her fans that she's Palestinian and proud of it
Supermodel Gigi Hadid recently took to her official Instagram account to remind her fans that she's Palestinian and proud of it.
In a photo that showed her getting henna tattoos with friends, the stunning blonde captioned the pic: "Had the best night with some of my oldest friends last night. Feel so blessed to have a foundation of friendships that will bond us for the rest of our lives. (& before you go all 'cultural appropriation' in my comments, check out the last name. Hadid. Half Palestinian & proud of it)."
The 20-year-old model – whose real name is Jelena Noura Hadid – is the daughter of 'Real Housewives of Beverly Hills' star Yolanda Foster and Palestinian real estate developer Mohamed Hadid.
But she's not the first global celeb to hail from the Arab world. Here are ten more we bet you didn't know were from the Middle East.
Mika
The British singer – who found fame with hits such as 'Grace Kelly', 'Love Today' and 'Relax, Take It Easy' – was born in Beirut to a Lebanese mother and an American father. When he turned one, his family was forced to flee Lebanon during the war and moved to Paris. Later on, they moved to the UK.
Nasri
Known as Nasri Tony Atweh to his nearest and dearest, the Magic! frontman was born and raised in Toronto, Canada. However, his parents are Palestinian immigrants. The 35-year-old singer's band has released a number of singles, including the massively successful 'Rude', plus 'Let Your Hair Down' and 'No Way No'.
Salma Hayek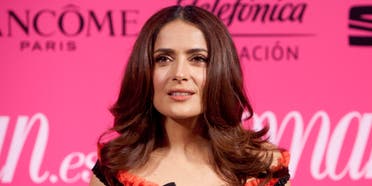 The 49-year-old actress and sex symbol was born in Mexico to a Mexican mother and Lebanese father.
In 2015, Hayek visited Baabdat, Lebanon – the home of her paternal grandfather – to promote her movie, Kahlil Gibran's 'The Prophet'. She also has Spanish roots from her mother's side.
Jenna Dewan Tatum
The gorgeous dancer and 'Step Up' actress – who's also the wife of Channing Tatum – was born to mixed heritage parents. The 35-year-old's father is of Lebanese and Polish descent, while her mother is German-English.
The Tatums recently broke the Internet thanks to their scorching performances on 'Lip Sync Battle'.
Shannon Elizabeth
Born Shannon Elizabeth Fadal in Houston, Texas, the 'American Pie' actress's father is Lebanese-Syrian.
Following the September 11 attacks, the now 42-year-old released a public service announcement, stating: "I'm half Arabic [sic], but I am 100% American. What is going on affects me the same as everyone else."
Apart from acting, Elizabeth is an animal activist, and according to her Instagram account, she is currently in Africa spending time at animal sanctuaries.
Rami Malek
The 34-year-old actor was destined for the celeb life, having been born in Los Angeles, California. Both of Malek's parents are originally from Egypt, however.
Late last year, the actor won the lead role of Elliot Alderson in the critically acclaimed 'Mr. Robot', for which he has received a Golden Globe and a Screen Actors Guild Award nomination.
Zoe Saldana
The 'Avatar' actress was born in New Jersey to a Dominican father and a Puerto Rican mother. However, Saldana has confirmed in interviews that she is also part Lebanese from her mother's side of the family.
Wentworth Miller
With the news that 'Prison Break' is set to return to our TV screens, one of the series' stars, Wentworth Miller is back in the limelight.
Born in the United Kingdom to American parents, the now 43-year-old's mother is of Syrian and Lebanese ancestry.
Alia Shawkat
Best known for her main role as Maeby Fünke in the Netflix series 'Arrested Development', Shawkat's father hails from Baghdad, Iraq.
Hoda Kotb
The American television presenter is makes up the famous duo with Kathie Lee Gifford on NBC's 'Today Show'. The 51-year-old was born to Egyptian parents and even lived in Egypt when she was younger.