Video of Egyptians giving police condom balloons goes viral
The video was filmed Monday, national Police Day and the anniversary of the 2011 uprising, which was inspired in large part by police brutality
A video purporting to show two young Egyptian men - a reporter and an actor who participated in the 2011 uprising - mockingly handing policemen condom balloons went viral.
But the joke, which has also been shared 15,000 times on Facebook, may backfire.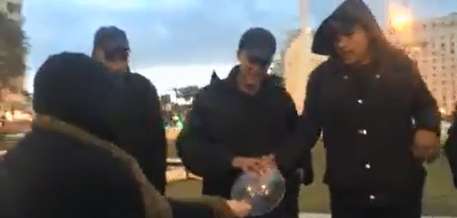 Prosecutors were on Tuesday reviewing several complaints against actor Ahmed Malek and reporter Shady Hussein that accuse them of insulting the police.
If charged and convicted, the two could face jail time.
The video was filmed Monday, national Police Day and the anniversary of the 2011 uprising, which was inspired in large part by police brutality.
Police melted away following daylong street battles with protesters on Jan. 28, 2011. It took them nearly two years to fully assume their responsibilities.