Classes suspended as cold wave grips Saudi northern borders
There was moderate snowfall in rural complexes and villages in the northern regions of Saudi Arabia
There was moderate snowfall in rural complexes and villages near Arar city and Hazm Al-Jalameed on Tuesday. There are chances of more snowfall due to the cold wave gripping the northern regions of Saudi Arabia, the Saudi Press Agency (SPA) reported on Wednesday.
The Saudi Red Crescent Society in the Northern Border Province has raised the readiness of its teams to meet any contingency. The Red Crescent ensured that there was sufficient fuel available, apart from all other preparations. This is due to the snowfall on the province Wednesday.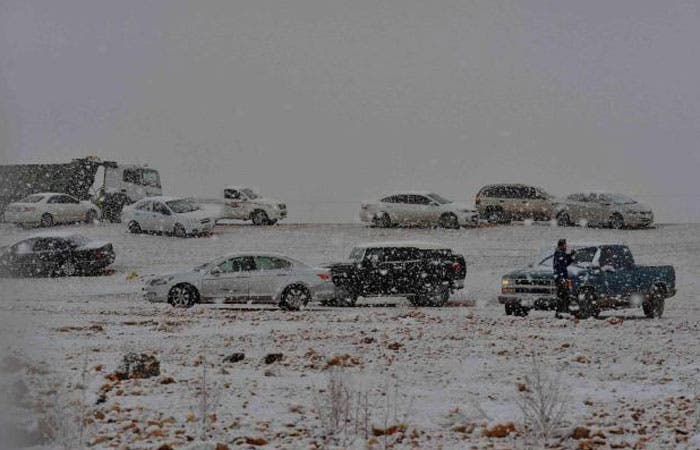 The Red Crescent called on citizens and expatriates to take precautions to prevent hazards due to the snowfall and cold weather. These include avoiding speeding while driving to avoid skidding as well as wearing sufficient warm clothes especially for children and old people.
Spokesman for the Red Crescent in the province Musaed Al-Enizi said the society's operation room receives calls at the number 997 round the clock.
The Civil Defense stressed the need to follow safety guidelines. People should not descend into the valleys and dangerous slippery places. It confirmed the readiness of its personnel and machinery. The Civil Defense said the command and control centers and operation rooms are ready to receive all reports. The field centers and units are also ready to deal with any accidents.
In its weather forecast, the Presidency of Meteorology and the Environment (PME) said there is the possibility of snowfall on the highlands in Haql governorate accompanied by a severe cold wave. Temperatures will drop to sub-zero levels with the cold wave expected to continue until Saturday. The Civil Defense in Tabuk Province has deployed patrol teams to provide assistance to the public in snowfall-affected areas.
The Education Administration in the Northern Border Province has suspended classes in all schools of the region on Thursday. The decision applies to female education supervisors as well. The suspension of classes is due to the inclement weather conditions prevailing in the province, a spokesman of the Education Administration in the province said on Wednesday.
This article was first published in the Saudi Gazette on Jan. 28, 2016.