Since being announced at an OSN press conference 18 weeks ago, 'Saturday Night Live Bil Arabi' – or 'SNL Arabia' – has received plenty of attention from the world's media and the public. How similar was it going to be to the renowned U.S. version? Was it going to be live? Who was going to guest star? Could they get away with controversial skits?
Well, Episode One finally got underway last night (Saturday 20 February), and for its first outing, it's certainly not a bad effort.
Those who tuned in will have noticed that the programme is often referred to 'Saturday Night Bil Arabi', omitting the word 'live' from the title. That's because the show is actually shot a few days in advance at Studio Masr in Cairo, recorded in front of a live audience. Although it hasn't been clarified why the show doesn't go out live like the U.S. version, some critics assume it has something to do with being able to monitor the output.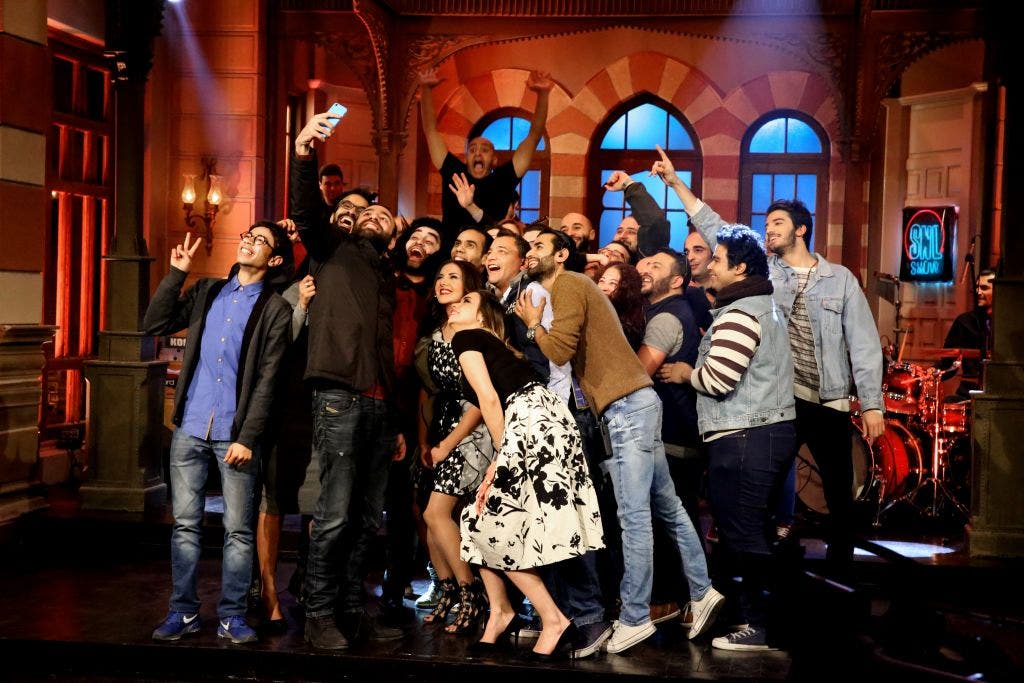 It's Saturday Night!
Even though televised on the UAE's OSN Ya Hala! HD channel, 'SNL Arabia' will probably appeal the most to Egyptians who are keen to get a fix of comedy following the cancellation of Bassem Youssef's 'Al Bernameg' in 2014. But those expecting controversial segments poking fun at the Arab political system – similar to the SNL cast in New York poking fun at Republicans and Democrats, for instance – will be disappointed. It's quite obvious that Arabia's writers – led by George Azmy and Sherif Naguib – have avoided anything too risky.
Guest starring Egyptian actress Donia Samir Ghanem, the debut episode opens with a sketch about Alexander Graham Bell, and the problems that have emerged in Egyptian society – such as cold calling and 'mo3aksat' – thanks to his invention of the telephone. It's funny enough and a good introduction to the type of sketches viewers can expect for the remainder of the 80-minute show.
As 'SNL Arabia' goes on, some sketches are funny, some are so-so, and some are a miss. But oddly enough, that has always seemed to be the case with U.S. version. It's never a perfect ten, so to speak.
What's right with it?
With critically acclaimed director Amr Salama at the helm, 'SNL Arabia' definitely packs high production value, and the cast – mostly made up of fresh new faces but includes 'Al Bernameg' alumni Shadi Alfons and Khalid Mansour – did incredibly well. I'll be very honest; I was expecting lines to be fluffed here and there, but all of those involved in the sketches pulled them off seamlessly.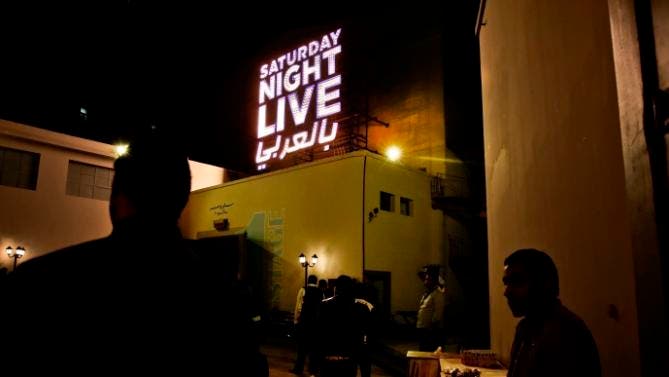 Ghanem was also a perfect choice for the first episode. Not only does she appeal to the masses and doesn't mind making a fool of herself, the Egyptian star is an all-round performer, so there's no doubt that she was one of the highlights of the first episode. Those familiar with her character in the film 'Teer Enta' will have been pleased to see her back with her brilliant accents, such as in sketch number three, where she takes on the roles of Lebanese, Moroccan and Khaleeji TV presenters named Joumana, Fatima and Anoud, respectively.
But it also highlighted some great new talent. While Alfons and Mansour need no introduction – which is perhaps why they are the faces of the Arab version of 'Weekend Update', the segment made popular by Seth Meyers in recent years – one of the stars of the night was Islam Ibrahim who was brilliant playing a managing director of an Egyptian studio in the same sketch.
The best segment came at the end, with an 'Egyptianized' version of 'Little Red Riding Hood'. If you missed it, then definitely look it up on YouTube.
What's wrong with it?
As mentioned above, I was disappointed with the lack of edgy jokes, particularly on 'Weekend Update'. Instead, the bit focused on international politics, with Alfons and Mansour poking fun at the likes of Barack Obama and Vladimir Putin. The only joke that was funnier than the rest was an interview with the newly appointed 'Egyptian Minister of Happiness' – who promises to rid the country of Hani Shaker and Mohamed Mohye songs, as they're too sad. The bit was inspired by the UAE's recent appointment of a real minister of the same name, so it was nice to see something in there that was recent and relevant.
Of course, 'SNL' is known for its guest performers, and the second song of the show was a duet between Ghanem and a trio called, erm, Boyband. Bad choice. They may have a fan base, but they lacked in performance. In fact, they were truly awful.
But if I could choose one thing for producers to change in future episodes, it would be the intro. While the U.S. version's intro is cool, fun and showcases New York, the Arabia intro is shot in a studio with the cast making funny faces in front of the camera a la an Egyptian commercial for Jelly Cola in the 90s. Why not shoot the cast around Cairo's hotspots, with a voice over introducing each one?
All in all, it remains to be seen how the rest of the season will fair and whether it will be renewed. But one thing's for sure – it's fantastic to see a different concept on our TV screens.