Egyptian MP lauded for throwing shoe at 'pro Israel' lawmaker
Kamal Ahmed made his moves after Tawfik Okasha met on Wednesday with an Israeli ambassador for dinner at his home
An Egyptian parliamentarian has garnered support on social media after throwing his shoe at a famous lawmaker once the latter entered the parliament on Sunday.
Kamal Ahmed made his moves after Tawfik Okasha, who is also a television presenter and owner of the Satellite political-commentary channel Faraeen, hosted an Israeli ambassador for dinner at his home on Wednesday.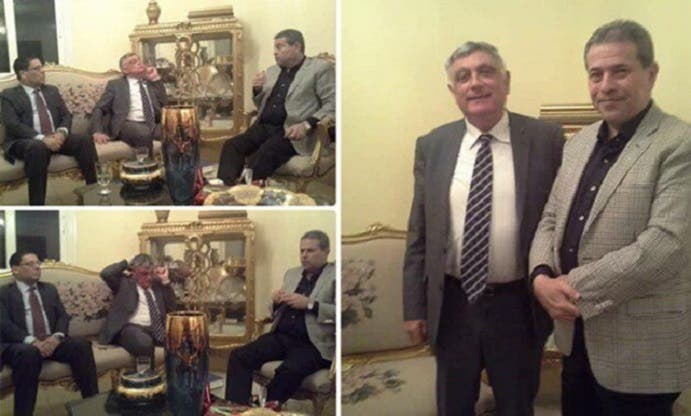 Local videos showed the aftermath of the incident, as other MPs tried to separate the two from clashing.
The two were later ejected from parliament, which was adjourned for half an hour because of the commotion.
On social media, Egyptians hailed Ahmed and likened him to Muntathar al-Zaydi, the Iraqi who later became famous for a 2008 incident when he threw his shoes at then-U.S. President George W. Bush during a Baghdad press conference, saying "this is a farewell kiss from the Iraqi people, you dog."
In a response to a Tweet saying that Ahmed's shoe should be put on auction, one Twitter user said: "Buy the respectable shoes of Kamal Ahmed who hit Tawfik Okasha with 5 thousand [Egyptian] pounds [$640]."
While another said: "Muntathar al-Zaydi's shoes against Bush and Kamal Ahmed's shoes against Okasha will stay as emblematic icons in history."
MPs wanted to grill Okasha over the meeting he had with the Israeli ambassador but the parliament chose to transfer his case to a special committee to probe the incident.
Mahmoud al-Sharif, one of the House of Representatives' deputies, said Okasha put the parliament and Egypt in an uneasy situation, which could spiral tensions between Cairo and Tel Aviv.
Okasha is not shy from making fiery statements in support of Israel. In 2015, Okasha urged Israel's Prime Minister Benjamin Netanyahu to bomb Iran. He said: "Put your trust in God and bomb it. We are with you. And if you need fuel for the jets, we will give it to you."