Tunisian soldiers take selfies with dead ISIS militants
Pictures of soldiers posing in front of dead ISIS fighters after a recent clashes have been widely shared on social media
Pictures of Tunisian soldiers posing in front of dead ISIS fighters after a recent clashes against the militants have been widely shared on social media.
In support of the successful offensive against the militants, one of the images was even made into a t-shirt, celebrating the victory of the Tunisian soldiers.
Many other graphic images of those killed have also been posted on social media, showing details of the wounds suffered by the dead.
During the clashes, which started on Monday in the southeastern city of Ben Guerdane, near the Libyan border, it was reported that the death toll reached 55, including 36 attackers.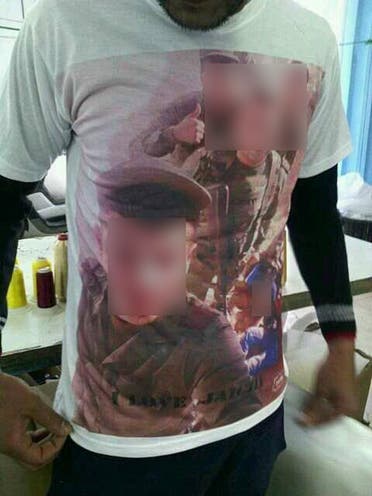 On Tuesday, Tunisia's premier confirmed that seven civilians and 12 members of Tunisia's security forces also died, with 17 others injured.
Only four out of the 36 attackers killed have been formerly identified. More details about the attackers' background were not given, but the premier said some came from Libya.
Tunisian forces have repeatedly clashed with miltants on the borders of Libya and Algeria in recent years, but Monday's fighting was unusually bloody.
Tunisia is especially worried about the ISIS presence in Libya after dozens of tourists were killed in attacks in Tunisia last year. ISIS extremists claimed responsibility for those attacks, and Tunisian authorities said the attackers had been trained in Libya.
Last week, Tunisian security forces killed five heavily armed men in an hours-long firefight after they crossed into the country from Libya with a larger group.