Kids and iPads: Does a tablet a day really keep the temper at bay?
It's an instant fix and something you've been using for months to enjoy dinner without the side order of shrieks
As the serenity of the restaurant is shattered by your toddler's piercing screams, you cower while glancing around the room.
The pressure is on as you search frantically for something, anything, to quieten him before finally resorting to the trusted iPad.
It's an instant fix and something you've been using for months to enjoy dinner without the side order of shrieks.
But experts warn that reaching for the computer in times of tantrum won't help your child in the future.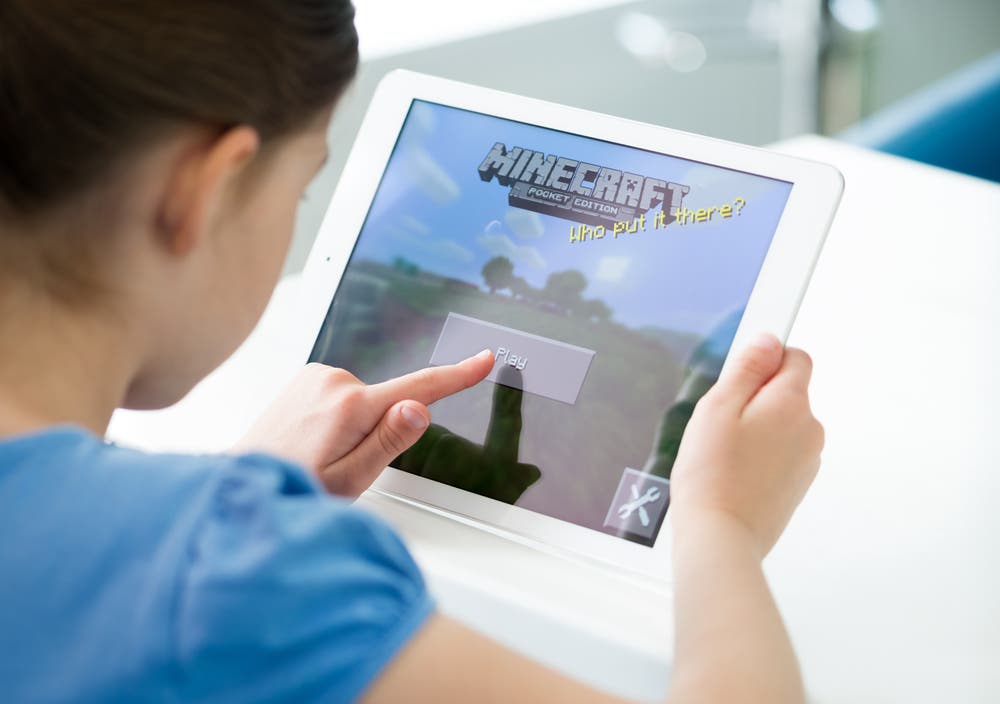 A team at Michigan University in the States assessed 144 families with young children aged between 15 and 36 months and found that smartphones or tablets were most likely to be used to comfort children with difficult behavior.
And psychologists have advised parents that handing a child a tablet each time they play up means they may never learn how to control their emotions.
It's something engineer Ayaz Chowdhury is skeptical about. As the father of an 18-month-old girl he often uses the iPad to calm and distract her when she's upset while out in public.
'Peekaboo'
"I really don't see how it will affect her ability to deal with her emotions in future," he explains.
"Sometimes I don't have the iPad and we're able to calm her down in other ways so she's obviously not dependent on it.
"The last thing you want if you're trying to eat out is your child screaming and disturbing everyone so, if it works, don't worry about it. We use an app called 'Peekaboo Barn' with our daughter and it's helped her learn the names of different animals so the iPad can be educational too."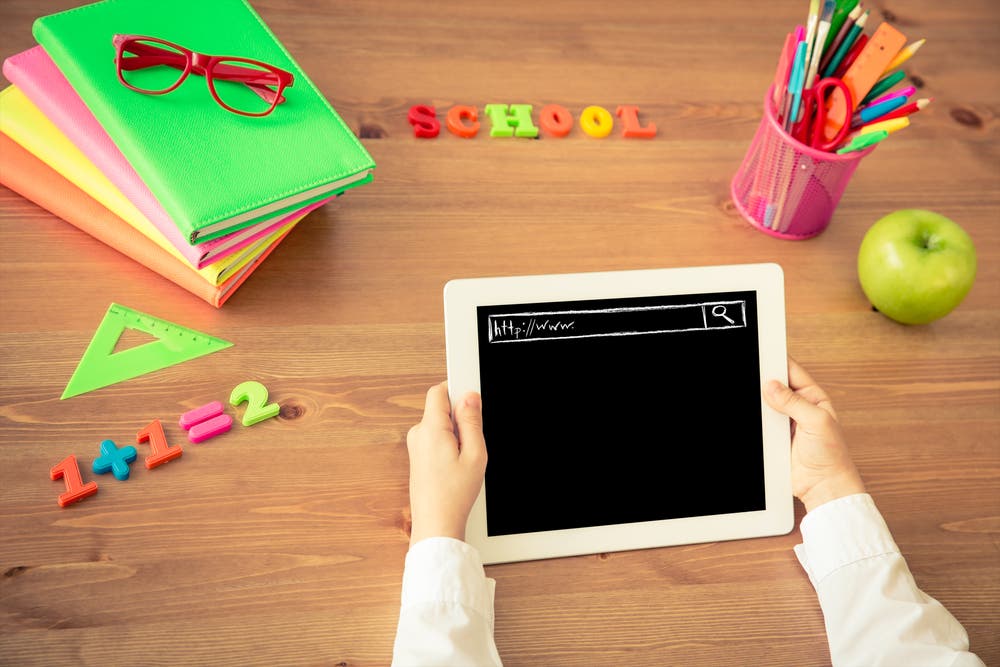 Accepting the educational benefits of technology for children, Service Manager and mum-of-two Katie Kay admits she does have reservations about the overuse of iPads.
While she doesn't allow her children Finlay, 7 and Matilda, 5 – to use them while they're out, Katie allows them to watch cartoons on her device at home to give her chance to do some housework but says she feels guilty from time to time about it.
"I feel kids can become very addicted to technology and this then prevents them from using other methods such as talking," she explains.
"I am very mindful of the overuse of iPads. It makes me cringe when we go to restaurants and the whole family is sat on some form of electronic device. We have rules around their use in our house - they can never be brought to the dinner table at home for example and we limit the usage. But sometimes playing a spelling game is good for them."
Addictive type behaviors
As a 'Parenting Educator' at Dubai's LifeWorks Personal Development Training Center, Carmen Benton runs courses to support families and help mums and dads improve their techniques. And she says computers shouldn't be brushed off as a harmless tool.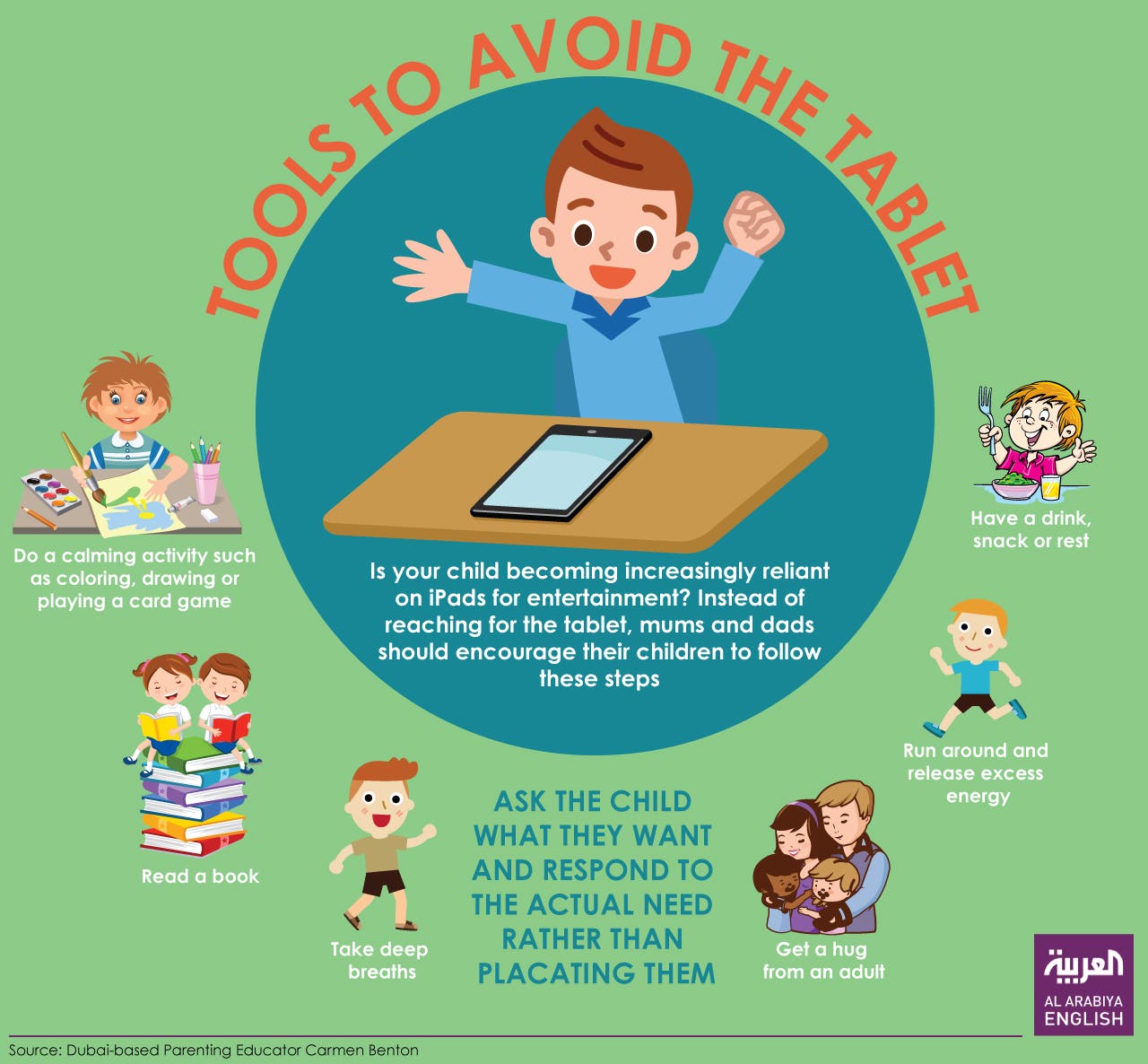 She explains: "More and more parents report that their child has become dependent on a screen for entertainment and is also displaying addictive type behaviors, such as becoming highly distressed if they cannot have a screen when they want one, or highly reactive when their screen is taken away from them."
As well as being a qualified counsellor, Carmen is also Managing Director of LifeWorks and has worked with plenty of families. She says screen time should be bottom of the list when it comes to managing children's behavior.
She adds: "Many parents say that if a child spends more than one hour in a given time on a screen that their behavior becomes more aggressive and demanding. I believe that we, as parents, need to use screen time as a last resort only and not as a norm. We also need to highly monitor our child's use of screen time and put in clear limits and boundaries around the use of it which we follow through on."
When it comes to calming your child there are other things you can do than hand them an iPad, explains pediatric nurse Clair Armitt. While she allows her fussy-eater two-year-old to watch the iPad at mealtimes to encourage her to eat, she won't use them when her daughter has a meltdown.
"When she has a tantrum, if she's smacking and scratching me, which is rare, I lie her on the floor and let her tantrum it out and I say 'Come back to me when you've finished'. She usually gets bored and snaps out of it," she says.
"Other distractions I use are getting a book she likes to read or giving her a change of environment – like if we are downstairs, I'll take her upstairs."