'The Muslims are coming!' US comedians fight hate with comedy
It's the ugly truth no one saw coming: Muslims have great frittata recipes.
It's the ugly truth no one saw coming: Muslims have great frittata recipes. Shocking, right? They also invented coffee, the toothbrush… and algebra. These facts and many more are part of a series of banner advertisements designed to fight prejudice and promote a greater tolerance of Muslims in the United States.
The brainchild of Muslim-American comedians Dean Obeidallah and Negin Farsad, the subway posters were created initially to support the 2013 theatrical release of their documentary, 'The Muslims Are Coming!' – a film centered around Muslim comedians visiting US cities to dispel preconceptions about the faith. Ironically, the adverts were banned after the New York Metropolitan Transit Authority (MTA) deemed them political in nature. What's even more ironic is that the MTA had approved anti-Islam adverts a short time before that.
However, following a long legal battle, a federal judge ruled that comedic mockery did not make the message political.
While the documentary has been long out – the film premiered at the Austin Film Festival in October 2012, where it received the Comedy Vanguard Audience Award – the messages of the posters couldn't be more relevant today, what with the current anti-Muslim rhetoric spread by US presidential candidates, including Donald Trump and Ted Cruz.
Al Arabiya English spoke to Farsad and Obeidallah to find out more.
For those yet to watch 'The Muslims Are Coming!' tell us a little more about it.
Negin: The movie follows a group of Muslim-American comedians as they travel through places like Alabama, Mississippi, Georgia and Tennessee – essentially places that aren't "known" for having a lot of Muslims. We did stand-up shows wherever we went, but we also did street actions where we could really meet people in the community. We would set up an 'Ask a Muslim' booth in the middle of a town square or invited people to 'Bowl with a Muslim'. We wanted to build a bridge between American-Muslims and mainstream Americans. We also got people like Jon Stewart, David Cross, Lewis Black, Janeane Garofalo and others to wax hilarious about the issue of bigotry.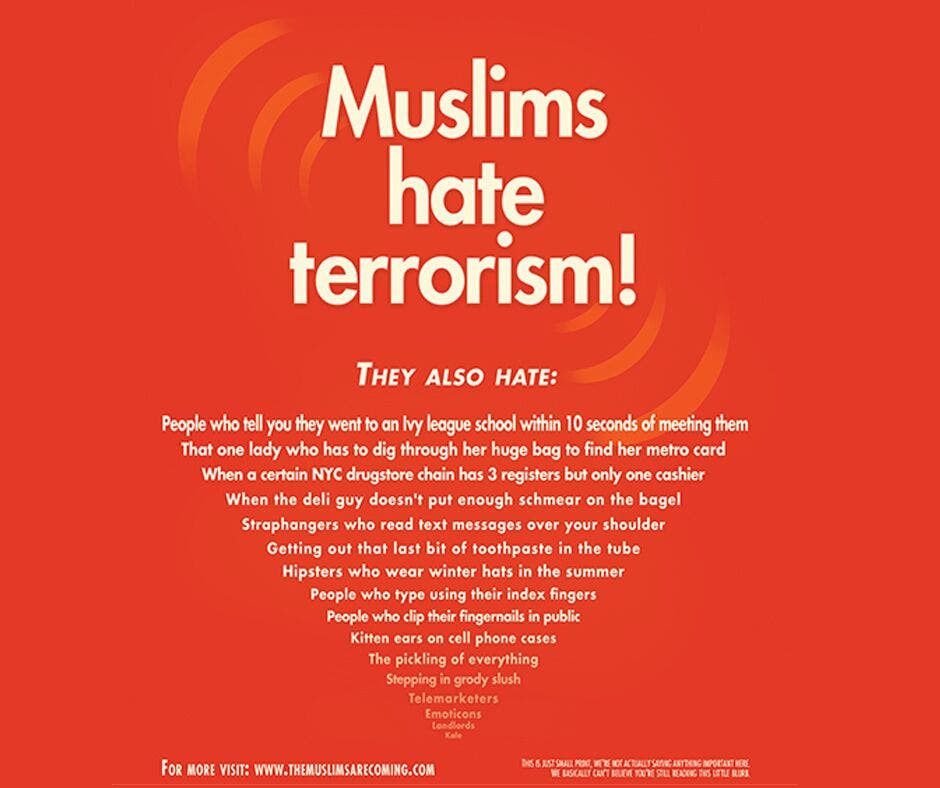 Your supporting ads were delayed quite a while – but fans have been quick to point out that they've actually come at a better time, what with the current political climate. Do you agree?

Negin: I would have loved to live a life that didn't include suing anyone so in that sense, I wasn't happy with delaying the posters. But this IS a charged time – we hear anti-Muslim campaign rhetoric almost daily. There has to be a counter-narrative to all the hate-filled garbage we're hearing and these posters are a – hopefully funny – counter-narrative.
Dean: Today anti-Muslim bigotry is at higher levels than 15 months ago thanks to ISIS's attacks and people like Trump scaring people even more. But the reality is that given the climate we see in the United States at this time, we need thousands of posters up every day! We need more Muslims in the news and entertainment media as well. So the posters play a small role in fighting misconceptions about Muslims but we have a lot more work to do

What has the reaction been like to the adverts?

Dean: Happily very positive. Friends have been taking photos of them when they spot them and sharing it on social media. And the media coverage in NYC has been very positive as well.
Negin: I've had the pleasure of watching people read the posters and then chuckle. A chuckle doesn't save the world but if you add enough of them up, that might amount to something.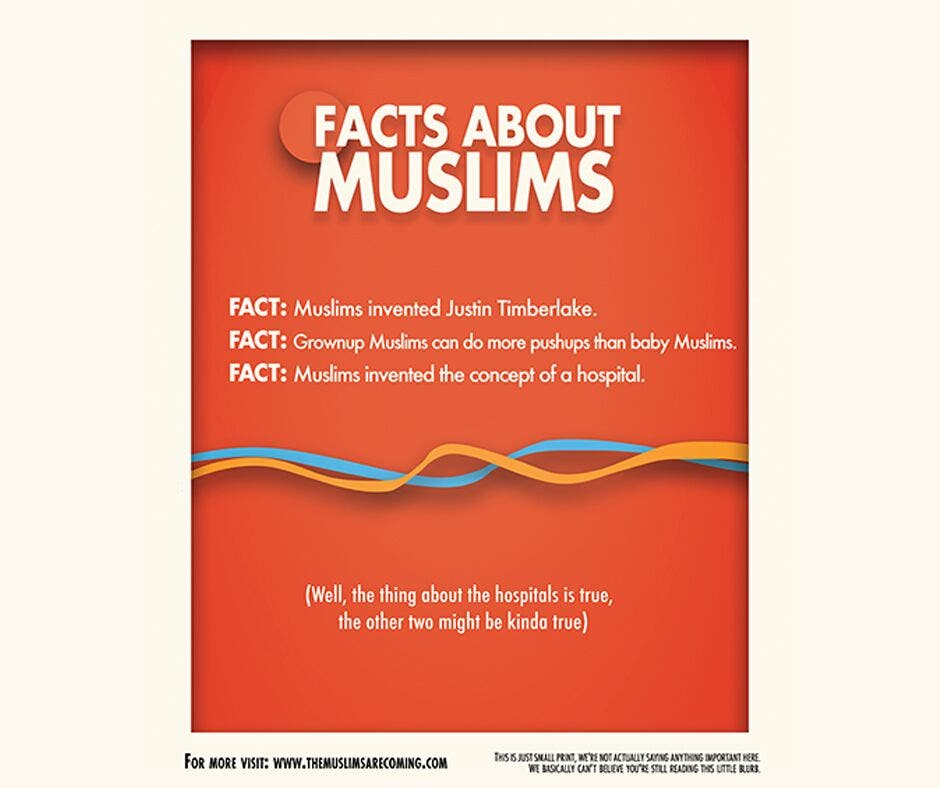 What do you make of the current anti-Muslim sentiment that is spreading in certain areas in the US?
Negin: It's scary. We've seen it before with other minority groups, and it doesn't end well. So I think the best we could do is a build a coalition with all the minority groups that suffer through this scourge of bigotry. It's a slippery slope; an attack one group does lead to attacks on others.
Dean: It's spreading everywhere in America. It's truly alarming. That is why President Obama made his first mosque visit last month – which I attended. His goal was to say clearly that American Muslims are part of the fabric of the country. Sadly I've spoken to parents who have told me their kids are getting bullied in school simply for being Muslim – it's heart breaking.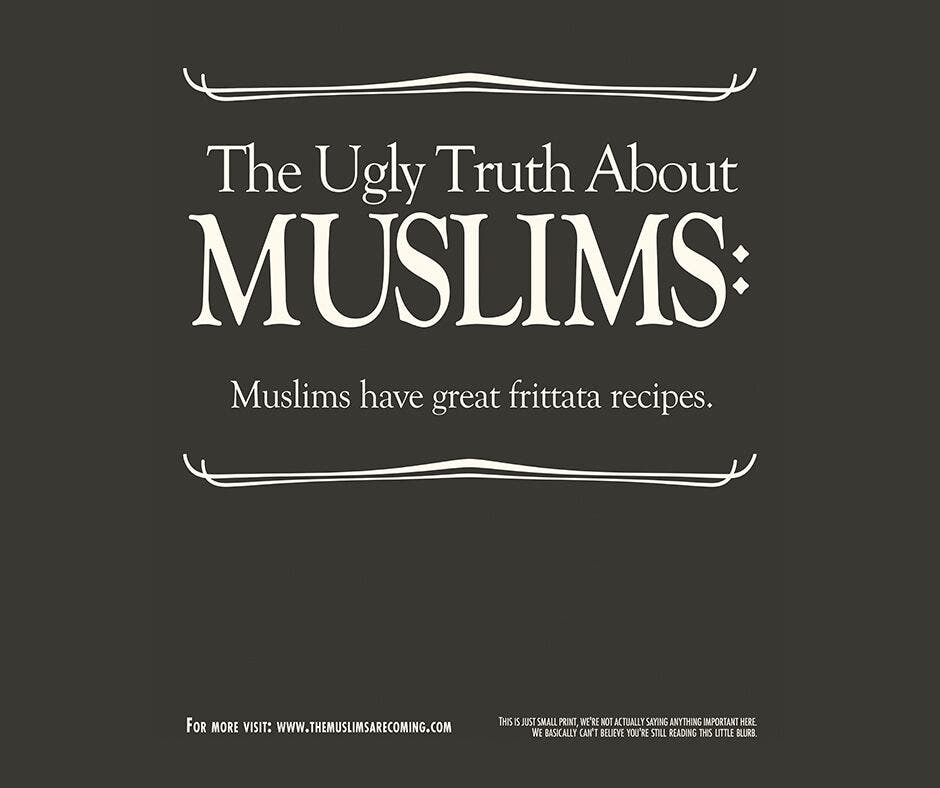 With all the attacks happening across the globe, some might say that comedy is not enough without Muslim communities condoning these acts. What is your take on this?
Negin: Comedy won't solve the issue; comedy doesn't solve most issues. But it does help shift cultural attitudes.
As for Muslims condemning terrorism, they do. There are countless Muslim groups that denounce it at every turn. It just doesn't get the kind of mainstream media traction that we hope it would.

Dean: If comedy was the only way we are tackling it that wouldn't be enough or even wise. But there are so many amazing Muslim American activists across America fighting against bigotry in all different ways. I happen to think comedy is a great approach because it makes people laugh together and that builds a connection,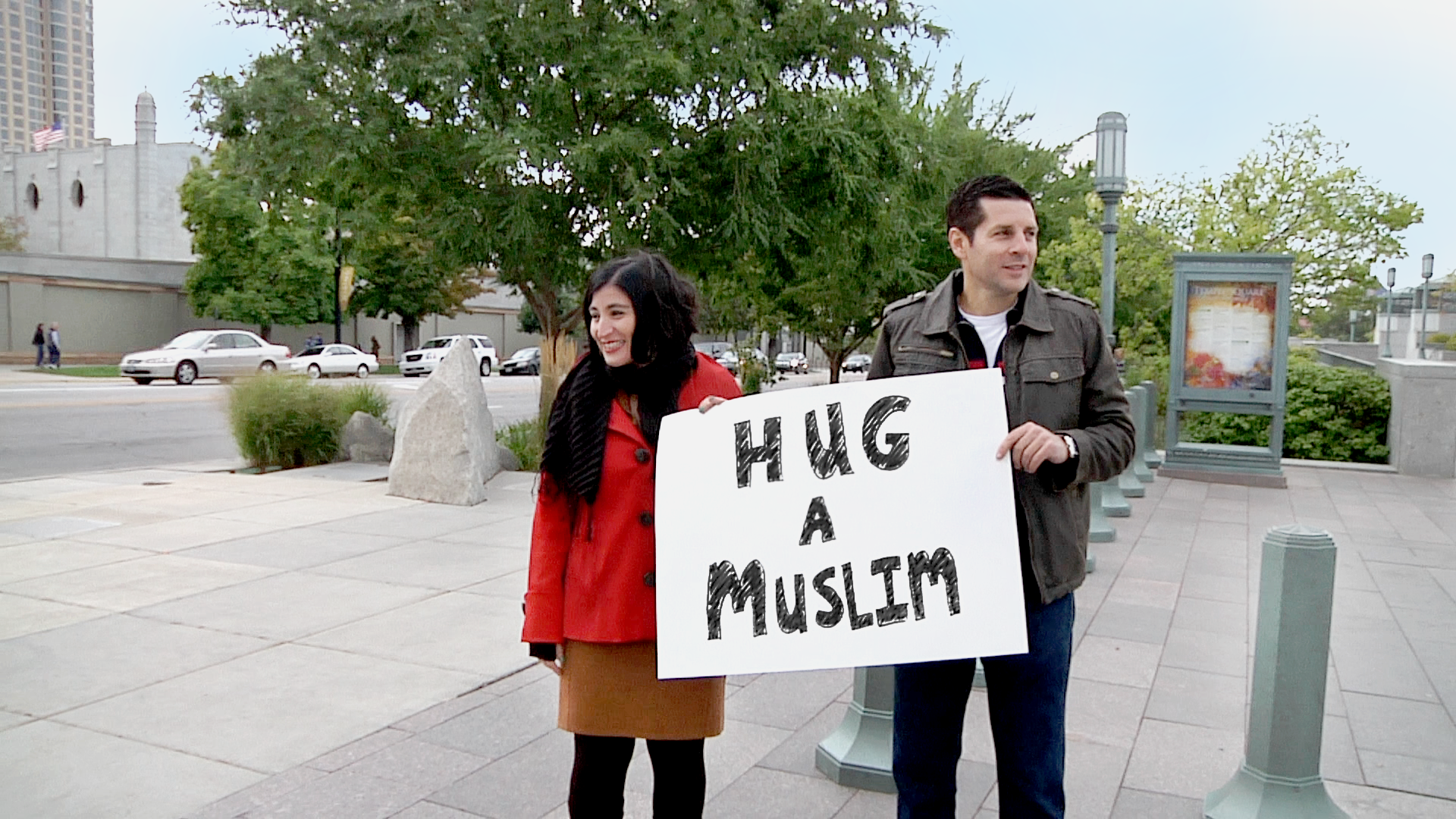 Dean, you wrote an article for The Daily Beast entitled, 'Trump Only Loves Rich Muslims Who Give Him Money'. Is he 2016's biggest hypocrite?
Dean: He is a horrible hypocrite. He praises Muslims in the Muslim world to make money, and then demonises Muslims in America to get votes. So yes Trump is 2015 and 2016's biggest hypocrite!
Negin: Trump is consistently inconsistent. We should just expect that whatever he says, there must be a business interest with exactly the opposite approach.

Who do you think will win the 2016 Presidential election?
Dean: Hillary Clinton, but it might be closer if Republicans nominated someone not named Donald Trump.
Negin: Hillary Clinton. I'd be very happy to see that.

Finally, what's coming up for you next? Any Middle East appearances?
Negin: No Middle East appearances on the docket, but I have a movie opening on April 29 called 3rd Street Blackout, and a book coming out on May 24 called How To Make White People Laugh.
Dean: I'm hoping to [visit the Middle East]. I have performed across the region – from Egypt to Jordan to Dubai. I have always enjoyed it, because the audiences are great. But no plans as of now.