Paul Walker crash judge rejects Porsche 'defect' claims
Walker was riding in the Carrera GT driven by his friend Roger Rodas when the car spun out of control, struck three trees and burst into flames
The widow of a man driving the Porsche that crashed and killed actor Paul Walker cannot prove the carmaker is responsible for the accident, a federal judge said.
There was not enough evidence in Kristine Rodas' claims that her husband died because the Porsche Carrera GT he was driving lacked several key safety features, US District Judge Philip S. Gutierrez ruled Monday.
He said there was no evidence the Porsche's suspension failed before the crash, as Rodas' lawsuit claimed. She also had alleged the rare sports car lacked a crash cage and fuel cell.
"Plaintiff has provided no competent evidence that Rodas' death occurred as a result of any wrongdoing on the part of defendant," Gutierrez wrote.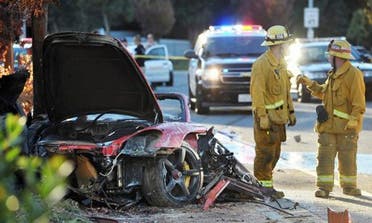 Walker was riding in the Carrera GT driven by his friend Roger Rodas when the car spun out of control, struck three trees and burst into flames on a street in Santa Clarita in November 2013. Walker was on a break from filming the seventh installment of the "Fast & Furious" franchise when he died.
The ruling has no bearing on two other cases against Porsche filed by Walker's daughter and father, which are both pending in Los Angeles Superior Court.
Meadow Walker's attorney said in a statement that while Rodas was killed instantly in the crash, Walker was still alive when the car caught fire.
"Meadow will continue the fight to hold Porsche accountable for selling a defective product that kills," attorney Jeff Milam wrote.
Porsche has denied wrongdoing in the design, manufacture or marketing of the Carrera GT. The company also contended in the lawsuit by Walker's daughter that the car had been altered and improperly maintained and that those factors contributed to the crash.
After Walker's death, his two brothers helped complete action scenes in "Furious 7," which earned more than $1.5 billion globally when it was released in April.