Ancient Syrian arch rises from ruins in London
The six-metre-tall scale recreation of the Palmyra arch - destroyed by ISIS - is made of Egyptian marble
A replica of one of the most iconic monuments destroyed by ISIS militants in the ancient Syrian city of Palmyra was being unveiled in London's Trafalgar Square Tuesday.
The six-metre-tall scale recreation of the Triumphal Arch is made of Egyptian marble and was carved in the northern Italian region of Tuscany using precision digital technology such as 3D modelling.

The project is the brainchild of the Oxford-based Institute of Digital Technology (IDA), a joint venture between a group of international academics.

"Monuments, as embodiments of history, religion, art and science, are significant and complex repositories of cultural narratives," said Roger Michel, director of the IDA, in a statement released before the event.
"No-one should consider for one second giving terrorists the power to delete such objects from our collective cultural record."
Palmyra, a UNESCO World Heritage Site northeast of Damascus known as the "Pearl of the Desert", was taken back by the Russian-backed Syrian army from ISIS fighters last month.
The city was a major tourist destination before the Syrian conflict erupted in 2011, known for its ancient ruins, colonnaded streets and 2,000-year-old temples.
ISIS seized Palmyra last year and beheaded its 82-year-old former antiquities chief three months later.
The militants destroyed some of the city's most striking monuments and used the ancient amphitheatre as a venue for public executions.
The remains of the Triumphal Arch, dating back to the era of Roman Emperor Severus in the third century, are scattered on the ground, with only the two columns that once sustained the central crown still standing.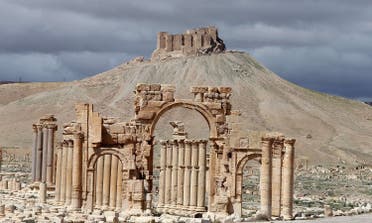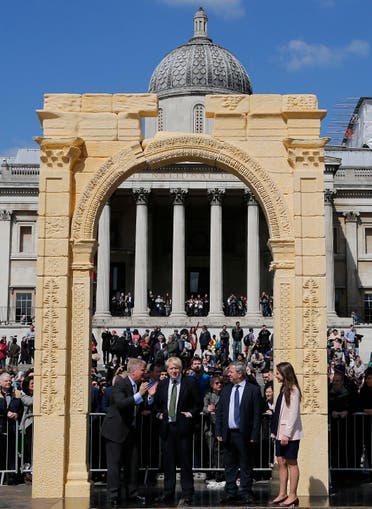 Construction of the replica arch in Trafalgar Square, in front of Britain's National Gallery, started on Monday. After being unveiled by London Mayor Boris Johnson, it will be on display until Thursday.
It will then travel to both Dubai and New York City for further public displays.