Graphic novel by Syrian artist tells of war's hell
The book shows how a group of people forced together in the hospital set up in a former restaurant turn on each other as the war drags on
Two nights after the Paris attacks in November, a young couple stripped to their waists and kissed in the rain on the Place de la Republique as crowds gathered to grieve and share their shock at the killings.
She was French and he Syrian, and the photo of them holding a handwritten placard saying "Love will always win" went viral.
"I knew it was bad when my friends began calling me from Syria asking if I was OK," said artist Hamid Sulaiman, of the terrorist attacks in which 130 people died.
The feeling that senseless death and fanaticism was following him was almost too much to bear, the 30-year-old said.
So he and his partner, theatre director Aurelie Ruby, wrote the gunmen and suicide bombers a message: "F*** OFF.
"As a French-Syrian couple every day we pay the price of terrorism, fanaticism, racism, borders, arms etc. Love will always win."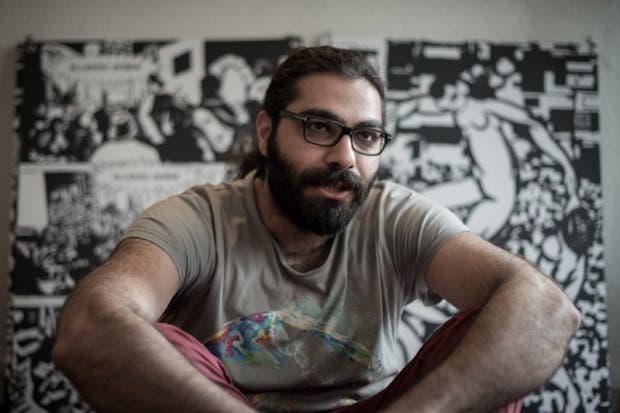 Then Sulaiman was then just an unknown refugee, another bearded face in the human tide which has spilled out over Syria's borders after five years of unending war.
Three months later his graphic novel "Freedom Hospital," which tells the story of an underground hospital in a besieged Syrian town, is being acclaimed in France and Germany.
By turns harrowing, heart-breaking and funny, it follows a group of wounded rebels and the staff of the field hospital who treat them as the revolution's idealism is drowned in a river of blood.
Tortured to death
Big, bearded and teddy bearish, Sulaiman is an unlikely revolutionary.
He took part in the 2011 Arab Spring protests, drawing them for the underground anti-regime media in his black and white cinematic style.
But he was soon picked up by the police and thrown in jail for a week. When the authorities released him unexpectedly a few days before he was to stand trial for "supporting terrorism", he took his chance and fled.
"I said goodbye to no one. I got a taxi straight to Jordan," said Sulaiman.
His friends have not been so lucky. "Freedom Hospital" is dedicated to his best friend Hussam Khayat who was tortured to death by Bashar al-Assad's secret police three years ago.
He was 24 and was "only staying to finish his studies. He was no longer taking part in any anti-regime activities," Sulaiman said.
"Just before they arrested him he told me that he just wanted to keep his head down and get out.
"We were five friends. Hussam was killed, another disappeared and another guy was found shot dead in his car. We don't know what happened. Another friend was in prison for two years and is now in Germany. I was very lucky to get out."
None of his middle-class family are still in Syria. They have been scattered to the wind. "It is not unusual now for Syrians to have a member of their family on all five continents," he joked.
But wherever they are, the war follows them.
"As a Syrian you cannot escape it," he told AFP. "I wrote 'Freedom Hospital' because it is impossible to ignore the war," he said.
From taxi driver to emir
The book does not flinch from showing how a group of people forced together in the hospital set up in a former restaurant turn on each other as the war drags on.
All of the Syrian mosaic is there - Sunnis, Kurds, Alawites, leftists, extremists and old-style nationalists who hark back to a time before Assad's father grabbed power in 1970.
And as every episode ends, the death toll ticker rises in the corner of the page.
But despite the bloodshed and chaos, the book shows that love and human decency are still possible even in the darkest and most desperate of circumstances.
"I don't think anyone can say what is really going on in Syria today, even people who are there," said Sulaiman.
"'Freedom Hospital' is my point of view. I don't try to be neutral and I cannot be. This is a homage to the people who have tried to do something, to help others."
Still the book does not flinch from reality. A fundamentalist taxi driver treated in the hospital ends up becoming ISIS emir of the city.
Graphic novels have the power to tell stories readers might be afraid to broach in other forms, Sulaiman argued, pointing to Joe Sacco's classic on the Israeli-Palestinian conflict, "Gaza 1956", and the success of "The Arab the Future" by Franco-Syrian Riad Sattouf.
"That's why in the book I always note where all the weaponry comes from - Russia, the US, France... because war is a business too," Sulaiman added.
"To be Syrian now is to live with a kind of madness. I am lucky because I can live in a place in my head where I can create. And I am happy there.
"I love and I am loved. And that is all that matters... From that you can built again."