George Clooney: Refugees 'are just people, like you and me'
Actor urges people to do more to help those in need, as he presents $1m Aurora Prize in Armenia
George Clooney said refugees should be viewed as "people, just like you and me" in a speech in which he urged for more help for those escaping war and persecution.
The American actor and rights advocate on Sunday revealed his own ancestors' struggles in fleeing famine in Ireland, describing the acts of kindness that ensured their survival.
Clooney was speaking at a humanitarian event in Yerevan, Armenia, in which prizes worth more than $1 million were awarded to those who have helped save lives.
"The Clooney family fled a famine in Ireland to come to the United States where their very survival required a room, a meal, a helping hand. We all stand on the shoulders of good people who didn't look away when we were in need," said the Hollywood star.
"If we are to survive as a people we simply can't look away. Not from the people of Syria or South Sudan or the Congo. We call them refugees, but they're just people, like you and me."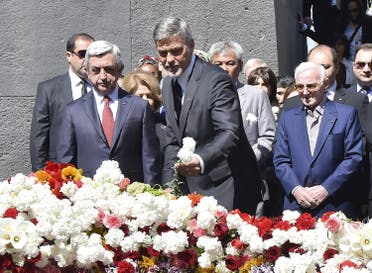 Clooney earlier on Sunday led a procession to a hilltop memorial in Yerevan to commemorate the 101st anniversary of the Armenian genocide.
Armenians say up to 1.5 million people were killed by Ottoman Empire forces during World War I, a claim supported by many other countries and historians. Turkey however fiercely rejects the 'genocide' label, estimating that between 300,000 and 500,000 Armenians died.
Clooney said that 'genocide' is the only word to describe the massacre.
"We honor those lives by calling their tragedy by its true name. Genocide. The Armenian genocide," said Clooney. "Hitler once famously said, 'but who remembers Armenia?' The answer is the whole world. That's who."
Clooney on Sunday presented the inaugural Aurora Prize, for which he is co-chair of the selection committee. The prize was set up on behalf of the survivors of the Armenian genocide and in gratitude to those who helped the refugees 101 years ago.
Marguerite Barankitse from Maison Shalom and REMA Hospital in Burundi, who has helped save the lives of 30,000 children, was named as the inaugural prize laureate. She was personally given $100,000 and awarded a $1m grant to donate to charities.
Three finalists for the Aurora Prize were each awarded $25,000 in honor of their humanitarian efforts: Dr. Tom Catena, from Mother of Mercy Hospital in the Nuba Mountains of Sudan; Syeda Ghulam Fatima, the General Secretary of the Bonded Labour Liberation Front in Pakistan; and Father Bernard Kinvi, a Catholic Priest in Bossemptele, Central African Republic.
Earlier in the evening journalist Rukmini Callimachi of The New York Times was awarded the inaugural Integrity in Journalism Award, part of an initiative set up by the International Center for Journalists (ICFJ) in partnership with the Aurora Prize. "Journalism, in my opinion, is the first line of defence against atrocities," said Callimachi.
The Aurora Prize will be awarded annually on April 24 in Armenia.