Lebanese band denounces 'systemic prosecution' after Jordan ban
The band is known for controversial lyrics covering homosexuality, gender equality, and political and religious freedom
Right now – as this article is being written - members of Lebanese band Mashrou' Leila (Overnight/Leila's Project) should be preparing to board a flight to Amman, Jordan, to perform their music to adoring fans. But that concert is not to be.
The band, along with countless fans online, reacted with shock at the last-minute cancellation by Jordanian authorities of the concert at the famed Roman amphitheater in Amman.
The band said the official explanation was that its music was at odds with the "authenticity" of the site, despite having performed at the venue three times in the past.
"Of course it was shocking to us that the authorities cancelled our show because Amman was one of the first cities to host us outside of Lebanon. It is one of the countries where we have a very close relationship with as our lead singer Hamed's mother is from Jordan, his family is Jordanian and he spent a lot of time there," Firas Aboufakher, the band's keyboardist and guitarist, told Al Arabiya English.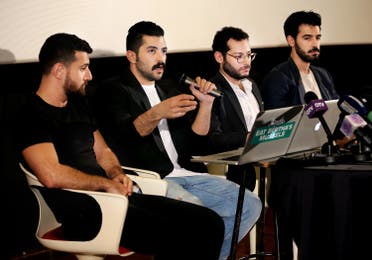 We've performed more than six times in the past in Amman, including the Roman Amphitheater where we were supposed to play on Friday," he added.
Mashrou' Leila's lead singer Hamed Sinno is openly gay - and the band tackles topics considered taboo by conservative Arab societies. Songs often take on controversial subjects such as corruption, censorship, state violence and sexual freedom.
The five band members, all former students at the American University of Beirut, came together in 2008 and have amassed a large following across the region.
Jordan, along with the band's country of origin Lebanon, is considered one of the Arab world's most liberal countries.
'Political pressure'
In a post on its Facebook page, Mashrou' Leila announced that it would not be able to play at Amman's amphitheater this week as scheduled, citing the organizers as saying the "performance would have been at odds with what the ministry of tourism viewed as the 'authenticity' of the site".
That's the official reasoning. Unofficially, band members were told something else.
"Informally, our understanding is that said authorities have pressured certain political figures and triggered a chain of events that ultimately ended with our authorization being withdrawn," the band added.
"We also have been unofficially informed that we will never be allowed to play again anywhere in Jordan due to our political and religious beliefs and endorsement of gender equality and sexual freedom."
This was corroborated when Amman governor Khalid Abu Zeid told the Associated Press that the group had been banned because its songs "contradicted" religious beliefs, and not because its music went against the amphitheater's historic ambience.
Some fans on Twitter, including lead singer Sinno's Jordanian mother, have planned for protests on Friday with the hashtag "we want Mashrou' Leila in Amman" trending most of the day on Thursday.
"We'd like to thank everybody who's planning on showing their support. I think it's very important for people to practice their rights to protest and justify their ideas and express their feelings toward a subject," Aboufakher told Al Arabiya English.
'Systemic prosecution'
Mashrou' Leila denounced what it called the "systemic prosecution" of voices of political dissent and of advocates of sexual and religious freedom, and the censorship of artists.
But the band also asked the Jordanian government to "reconsider its stance".
"It is shocking as Jordan is a country that is known for its tolerance, and it preaches religious and cultural differences in its society. So it was quite a surprising decision," Aboufakher said.
"We're still hoping that the Jordanian government and authorities realize the graveness of the situation and the weight of such a decision in their own country," he added.
The five-piece band had no problem performing in other Arab countries lately, most recently in Dubai.
"Very disappointed in Amman's decision to cancel concert by progressive Lebanese band @mashrou3leila this week (they just performed in Dubai)," prominent UAE blogger Sultan al-Qassemi tweeted.
The band's cancelled performance in Amman was the last scheduled stop in the Arab world before they head to Germany first next week and then begin a month tour of North America.
Aboufakher told Al Arabiya English that the cancellation of the Amman show was especially disappointing as the band would have loved to play in front of an authentic Arab audience before heading overseas.
"It's different playing for an Arab audience in the Arab world versus playing in front of the diaspora in North America. This will only be our second tour in North America whereas we've been playing in the Middle East for almost eight years in front of an audience that knows and loves our music," he said.