'Dads don't babysit, it's parenting:' The role of modern men in family life
'Modern dads are more active in family life, it's out of date to assume the mum is the primary caregiver…'
'Modern dads are more active in family life, it's out of date to assume the mum is the primary caregiver…'
That's the opinion of Al Ferguson from The Dad Network.
The British dad was in the news recently as a picture of him wearing a T-shirt bearing the slogan: 'Dads don't babysit, it's called parenting' was shared online.
He told the BBC he was frustrated with people asking him if he was 'looking after the kids today' or mocking his paternal abilities with phrases such as 'I can tell you've dressed the baby'.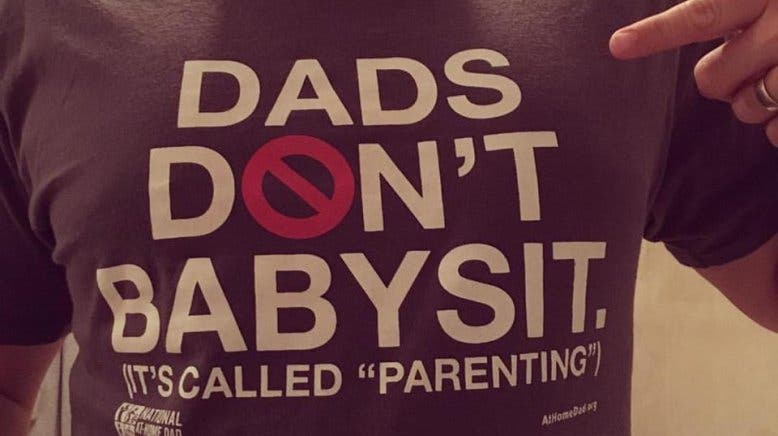 It led to other dads sharing their stories on the Reddit. One father explained how, when he was a new stay-at-home dad, people would ask if he was babysitting and it would almost make him cry that they couldn't see him as a caretaker.
Another dad vented about the 'ridiculous commercials' where they make it seem like dads don't know how to take care of their kids while mom is away. He said: "They make a mess, kids go crazy, they don't know how to cook, clean, change a diaper...where's all the outrage?"
It's not something that British dad Mark Drinkwater has found though.
Dad to two year old William, Mark wonders if the men who said they were frustrated about people doubting their parenting skills were being over dramatic.
He says: "I wonder who it was who said he was babysitting. I doubt it's a phrase he comes across every day and it's often not said in a derogatory way.
"I wonder if the men who were bothered about it were perhaps younger and more precious about things than say older men like me. If you think about it, the amount of sexist phrases women still have to put up with on a day to day basis now, men don't face anything like that."
Mark admits he has felt a divide as a dad on occasion. However, rather than putting it down to sexism or anyone assuming he was less of a parent because he was male, he believes it's to do with women simply wanting to talk to each other without a man's input.
He adds: "When I was doing my Masters, most Fridays I would take William to a play group. I could tell I was treated differently as a man but it didn't bother me and nobody was rude to me at all. I just realized that sometimes mothers need that space to talk when men aren't around. I get that and I didn't want to encroach on that mother time."
While we couldn't find any dads who admitted to seeing their parenting as babysitting, Iraqi dad of two Ali says he does see caring for children as a woman's job.
He explains: "I used to change my son's nappy when his mom wasn't around but when she was around it was her job. It's related to the Iraqi culture that it's the mother job to change the nappy and take care of the baby. We share a balance caring – I read stories to him and play with him when I'm home from work - but it is her doing most of the job.
"My culture has taught me that and I have always seen my mom dealing with us not my father. The man has the responsibility to work and support the family."
Culture and upbringing
Culture and upbringing play a big part in forming opinions, says mum of one Olivia Jennings. That's why she's frustrated to have a mother in law who doesn't share her belief that caring is a dad's duty and not a favor.
She explains: "I remember when my husband was bathing our baby and his mum started telling me how lucky I was that he was doing it because his father had never helped her. I was fuming. It was only a couple of weeks after I'd had an emergency C Section. I was breastfeeding so I was up in the night alone and running a house as well and I was being told I was lucky the child's father was bathing her."
There is still a stigma about dads being the primary caregiver and the reason is because it takes time for things to change. That's the opinion of British dad Sean Luckett who believes the more men do it the more it will be accepted.
He also feels that stay at home dads are only looked down on in the same as stay at home mums.
He says: "The only people who look down on someone who stays off work to care for a child clearly have no idea how hard that job is. Sadly looking after kids is never going to be looked on as a worthwhile job. It just isn't for whatever reason and I don't think it's sexist, just stupid.
"Rich people pay other people to bring up their children - nannies, boarding schools, tutors etc. The poor who don't work at all are with their kids all the time."