Egyptian political thriller 'Clash' widely acclaimed at Cannes
Egyptian film critic Magda Khairallah said the film is a major accomplishment for the country
Egyptian political thriller "Eshtebak" received international praise after it was screened at the Cannes Film Festival this week as part of the festival's director-focused program "Un Certain Regard."
"Eshtebak" (Arabic for "Clash"), by Egyptian director Mohamed Diab, is set entirely at the back of a riot police van.
The film portrays Egypt in the wake of the 2013 military ouster of the country's first freely elected president, the Muslim Brotherhood's Mohammad Mursi, following a turbulent year in power.
It tells the story of demonstrators from different political and religious backgrounds who were arrested, some of them at random, and thrown into the back of a police van.
Co-written by Diab and his brother Khalid, "Clash" portrays a microcosm of modern Egyptian society.
Since its screening in Cannes, "Clash" has been showered with praise by critics, with one saying the movie "will be remembered as one of the most telling depictions of modern Egypt yet filmed."
Another critic described the film as "a seriously outstanding film that goes above and beyond the confines of the paddywagon."
Egyptian film critic Magda Khairallah said the film is a major accomplishment for the country.
"Having the film screened at Cannes, one of the world's most acclaimed film festivals, and under the category Un Certain Regard, where it was assessed by juries, is an achievement worth being proud of," she told Al Arabiya English.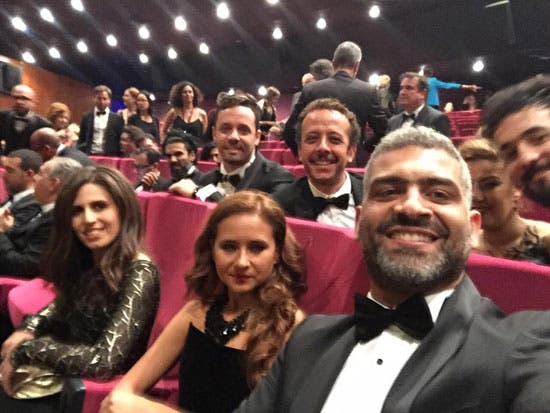 But a surprise announcement about one of the film's producers, who was found to be an Egyptian Islamic preacher, triggered little controversy back home.
While on the red carpet at Cannes, Diab and his brother released a video along with television presenter and Islamic preacher Moez Masoud, saying the film is a joint production between the preacher and other international producers.
Masoud said in a tweet "I am privileged to have produced 'Clash'" along with other producers, and dubbed his participation in another tweet as "his message to humanity in which he would express through reputable programs, songs, TV serials and films."
The announcement triggered a wave of controversy in Egypt with some criticizing the preacher for venturing into the entertainment issues.
However, the backlash went largely unnoticed and has not marred the film's great success.
Diab is a common face from Egypt's 2011 uprising which toppled longtime autocrat Hosni Mubarak. His first film "Cairo 678" focused on the sexual harassment of women in Egypt.
In response to a question by the Huffington Post, Diab hoped audiences would take home a few messages from "Clash."
He said: "There is definitely the message about co-existence, there is the message about humanity, you don't know anyone until you are really close to them. Understanding people, motives, one of the most important things in the film is the vicious cycle of violence, how it starts and how it never ends."