From high life to farm life, Ashton Kutcher tells us all about 'The Ranch'
How many of us can relate to life on a farm in Colorado?
We spoke to co-stars Ashton Kutcher and Danny Masterson about their new Netflix sitcom "The Ranch"
How many of us can relate to life on a farm in Colorado? Well, according to Ashton Kutcher and Danny Masterson, Netlfix's latest sitcom "The Ranch" is not only funny and dramatic, it's truly relatable for a global audience
For Colt and "Rooster" Bennett, family life is anything but straightforward. The two brothers, played by Kutcher and Masterson, are at the heart of new Netflix sitcom-cum-drama, featured alongside a selective cast that includes veteran actors Debra Winger and Sam Elliott as the Bennett parents, as well as other very familiar faces, such as Elisha Cuthbert from TV's 24 and The Girl Next Door.
So, what can viewers expect? Anyone familiar with the "Scrubs" style of bittersweet comedy will be right at home with this melee of mirth and melodrama, which packs countless sardonic wisecracks into each episode, all mixed with tense and very convincing confrontations. The show's first 10 episodes are already available to Netflix subscribers worldwide, so we sat down with the co-stars to find out how it may fare in the Middle East.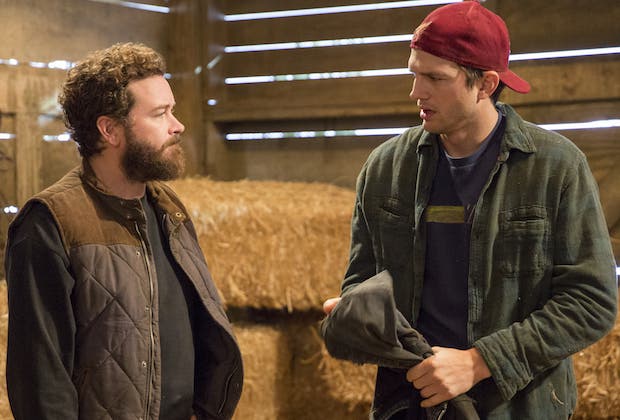 "They're a different breed of family" is the tagline of the show – can you elaborate on what that entails?
Danny Masterson: The "different breed" represents the fact that these are four completely different, dysfunctional family members that are living together. We have two 35-year-olds and an elderly father who treats them like 10-year-olds and they go to a bar to get advice from their mother. So it's a little different from your average family, but that's where the comedy comes from. Yet, it's also relatable because families do have these difficult relationships with one another, whether it's with fathers, mothers or brothers.
Ashton Kutcher: Typically all the things that you see in media and television are shows that try to be sexy or metropolitan in some way. It's [usually] four people in an apartment somewhere in New York, but we realized that everyone in a big city comes from somewhere and they often come from small towns. There's a lot of people in those small towns around the world that see a lack of content that relates to them and their lives – so it's different in that way.
You're touching on the appeal to a global audience. Do you think viewers in the Middle East can generally relate to the themes of family and relationships within the show?
Danny: Yes, because we've partnered with Netflix and we've never worked with a company like that before. For one, there's the creative freedom but we also know that when we launch our show it launches simultaneously in 190 countries. So while we're telling a story about conservative America, really it's about small town life and the relationships within a family, which most people can relate to. Most people live in or started in small towns where there is no city to entertain you – so you have to entertain yourselves.
Ashton: At it's core the show is about the adult relationships between siblings and parents. Another massively globally relatable thing is kids going off to college, getting degrees and trying to find jobs and realizing it's a struggle and that if you experience any failure along then that's when parents realize they're not done being parents and kids realize they're not done being treated like kids and they still have that dependency.
How relatable are these characters for you both?
Ashton: I certainly had a period of time in my adult life when I realized I still needed my parents, and that they had wisdom I hadn't unlocked yet, that reconnecting with them would provide. I didn't get to the point of needing to move back home or rely on them financially but definitely emotionally I got to that point and I think it's an interesting thing and a misconception that when kids leave the house that the parents have done their job.
This show is essentially a play in terms of how it's filmed and it's comedic beats and pauses. Did you prepare for it in that way?
Danny: We shoot in front of a live audience. We have 300 critics staring at us on a Friday night telling us if we're doing a good job or not…
Ashton: Between us we probably have around 800 episodes of sitcoms. We love this art form but we realised when we set out to do this that it hasn't changed. You're putting it up in a week; you get a script on Monday, we work on it all week and then by Friday we shoot in front of a live audience. So there's not a lot of nuance you can put into that, so we started to challenge those conventions from the word go, which we could do with Netflix.
We realised we could light this thing differently, we could take our time, we could put in the effort and not worry about a 22-minute box with commercials, tell more of a story and develop the characters. We can do things with music, we can hire the actors we want and so we're going to keep pushing those conventions because we love this art form but we want to see it grow and it's incumbent upon us to try and mature that art form.
Do you think about the fact that Netflix is changing the way people consume comedy – largely viewed in isolation?
Ashton: You do have to be mindful of that. The most valuable thing about Netflix is the next episode and we're figuring out ways to bridge the stories over multiple episodes and even at the 10th episode you can call back to the beginning because it probably hasn't been six months since you started. That changes the storytelling. It's written as a drama dressed with comedy and the writers keep in mind the serialized nature of content, very much cognisant of the viewer and how they're viewing it.