Israeli-Arab crowned winner of first transgender beauty pageant
Ta'alin Abu Hanna, 21, is a Christian Israeli-Arab from Nazareth who described her victory as 'historic'
Talin Abu Hanna was crowned the first 'Miss Trans Israel' on Friday at Israel's national theater in Tel Aviv.
Abu Hanna, 21, is a Christian Israeli-Arab from Nazareth who described her victory as "historic" and said it promoted equality, according to the Times of Israel.
"I'm proud to be an Israeli Arab," she told reporters.
Her reward for winning the pageant? She'll take home $15,000 worth of plastic surgery treatments from a hospital in Thailand, plus airfare and a hotel stay during the treatments and recovery.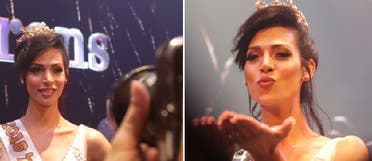 In what organisers described as an ethnic "mosaic", the 12 contestants vying for the Miss Trans Israel 2016 crown included a Jewish confectioner from an Orthodox Jerusalem family, a Muslim belly-dancer from Tel Aviv and a Christian ballerina from Nazareth.
Abu Hanna, won and will represent Israel at the Miss Trans Star International pageant in Barcelona in September - a role she said she will evidently relish.
(With Reuters)