Syrian woman seen throwing off niqab after ISIS leaves village
The village, on the outskirts of the large town of Manbij, in the northern province of Aleppo, was snatched from ISIS on Friday
A Syrian woman has been pictured joyfully throwing off her niqab - the face-covering veil made compulsory by ISIS - after her village in northern Syria was freed from the control of the militants.
The village, on the outskirts of the large town of Manbij, in the northern province of Aleppo, was snatched from ISIS by the US-backed Syria Democratic Forces on Friday after soldiers gained control final road leading into the ISIS-occupied city.
A day after the pictures were taken by a Reuters photographer, the SDF, which is made up of a coalition of Kurdish and Arab fighters, encircled Manbij after over a week of advances.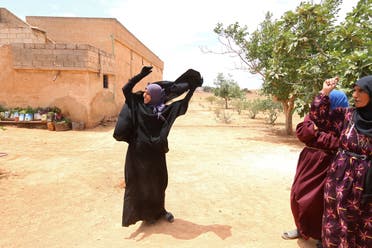 On Saturday, the SDF made fresh gains against ISIS, moving closer to within 17 km from al-Bab, an ISIS stronghold located around 50km away from Manbij.
Despite being poised to take the town, which has around 5,000 residents ISIS have reportedly set booby-traps in many homes there, and have been burning tyres to obscure visibility and prevent air strikes by the US coalition.
Last week, the UN warned that the battle for Manbij battle could uproot more than 200,000 Syrians.