Cannes top picks: 'Divines,' a moving gender-bending girl buddy film
Divines is partly a coming-of-age story with a "girl power" angle, that viscerally and touchingly explores the joys of teenage female friendship
Director: Houda Benyamina
Writer: Houda Benyamina, Romain Compingt, Malik Rumeau
Cinematography: Julien Poupard
Running time: 107 min.
Cast:
Dounia: Oulaya Amamra
Maimouna: Déborah Lukumuena
Rebecca: Jisca Kalvanda
Djigui: Kévin Mischel
Dounia's mother: Majdouline Idrissi

Cannes 2016 will be remembered not only for embracing social activism, but also for being a year when women's films made a big splash on the Croisette.
A total of 12 entries by women directors competed at Cannes this year, many featuring strong, independent female characters that broke stereotypical conventions, and Divines is no exception.
Not surprisingly, the film brought its French-Moroccan director Houda Benyamina, the Camera d'Or, the festival's top prize in the Directors Fortnight section where the film competed. Benyamina is a largely self-thought director and this is her first feature-length film, making her accomplishment that much more impressive.
Divines is partly a coming-of-age story with a "girl power" angle, that viscerally and touchingly explores the joys of teenage female friendship. In a gender-bending role-reversal, in Divines, it is the women who are the ambitious street-smart gangsters, and the men who are the chauffeurs, bumbling goons, sex objects and even dancer love interests.
In one scene, Dounia (Oulaya Amamra), the film's central character, saves a male dancer (Kévin Mischel), who later becomes her love interest, from falling to his death, and in another she outsmarts and beats up a thuggish male drug dealer and steals his money. Rebecca (Jisca Kalvanda), the tough local drug dealer whose crew Dounia is trying to join, is shown slapping her chiseled boy-toy boyfriend's behind, in a clear gesture of sexual dominance. Divines will no doubt make some viewers just want to scream out loud "you go girl!!"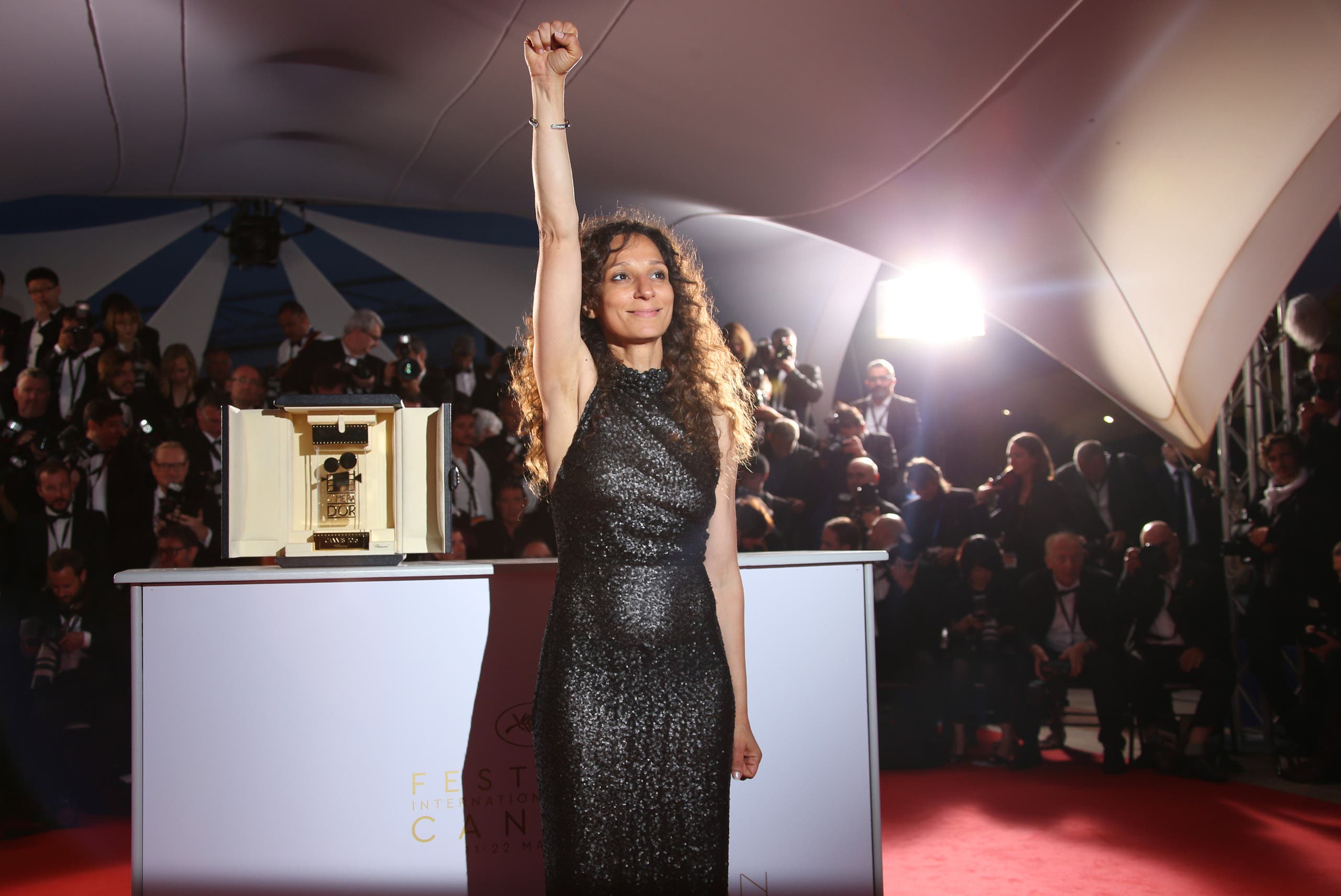 Yet, Divines doesn't overwhelm with what some may call a "feminist" agenda because at its core it is a tender and often humorous film about the friendship between two teenage girls who are trying to navigate the dangerous waters of growing up in France's banlieues.
The film is as much a story about love and friendship as it is a biting social commentary on the deplorable conditions of the youth of immigrant descent living in France's impoverished banlieues and shantytowns on the outskirts of its great cities, and the decisions they have to make to survive. Divine will definitely show you a side of Paris that is shockingly different from the wide boulevards and lovely classical architecture you are used to seeing in most films.
Benyamina was inspired to create Divines after the French banlieue riots of 2005 that, according to her comments in our interview, expressed much anger and frustration, but ultimately were "aimless and self-destructive and didn't create any real political movement."
It was also a personal story as she herself was a troubled and asocial teenager who dropped out of school at a young age, traits mirrored by the main character of Dounia. The name "Dounia," said Benyamina in our interview, means "life on earth" which is symbolic for the human life that is "a constant struggle between the material and the spiritual," a struggle that is a key element of this story.
The film's heart and soul is undoubtedly Dounia, played with tremendous passion and energy by Oulaya Amamra, who also happens to be the director's little sister in real life. Benyamina was at first reluctant to cast Amamra, not only because she was her sister, but also because she didn't seem tough enough for the role (she's cute, petite and went to Catholic school).
Incidentally, Amamra trained as an actress at 1000 Visages (1000 Faces), an acting workshop started and run by Benyamina with the goal of democratizing cinema. But after auditioning thousands of other girls, Benyamina decided her sister had what it took, and indeed she did! After watching the film, it is difficult to imagine Divines without the brilliant performance of this young actress. Amamra is a firecracker, a force of nature who delivers her lines with fierce conviction and a genuine emotion that is rare in any actor, much less one her age. We will undoubtedly see more of this refreshing newcomer in the years ahead.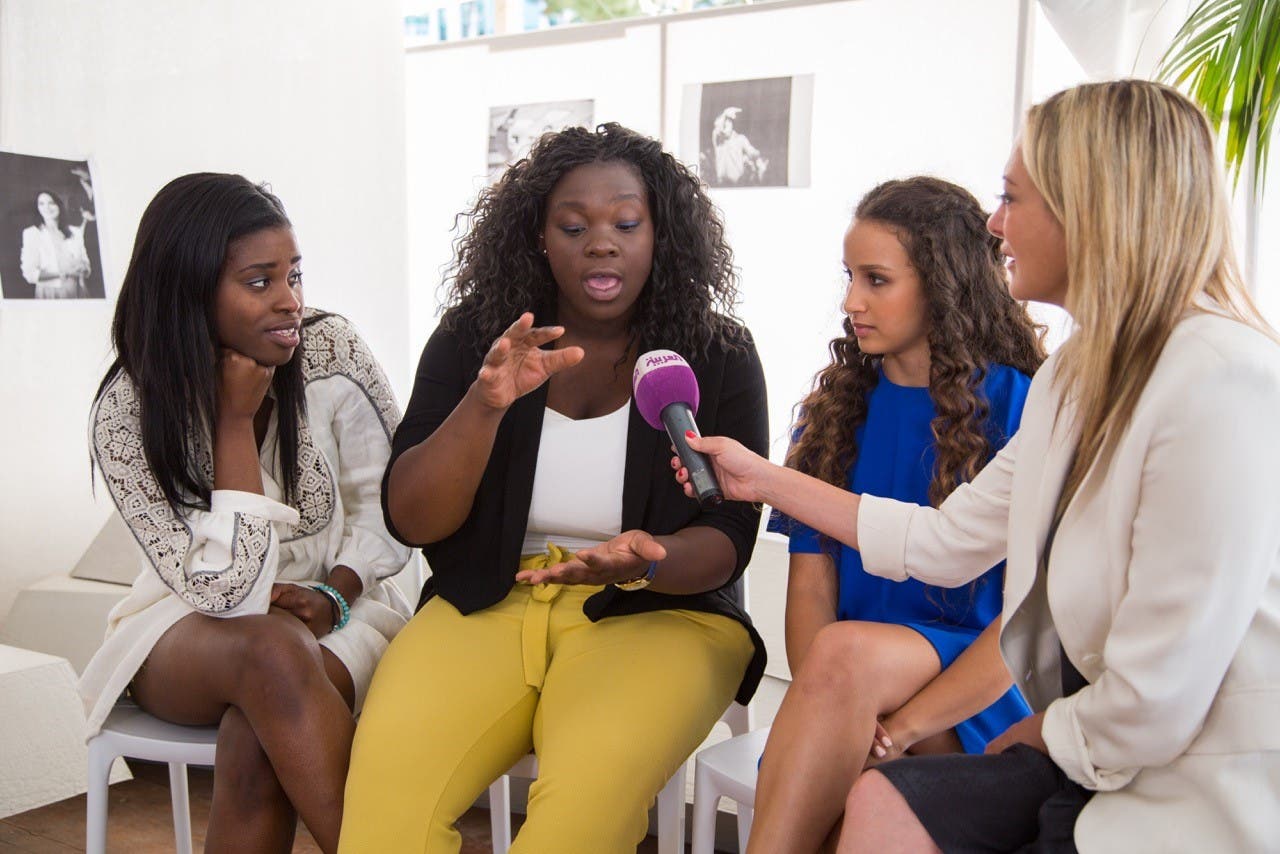 Daunia is a smart, feisty and fast-talking tough girl with great ambitions to escape her impoverished life in a squalid shantytown on the outskirts of Paris where she lives with her alcoholic and promiscuous mother, and a transvestite who might be her brother. Her bestie sidekick and partner in crime is Maimouna, who is played with vivaciousness and humor by Deborah Lukumuena.
With Dounia being a feisty, bossy petite girl of Arab descent, and Maimouna being a sweet, heavy-set black girl, the pair makes for an amusingly endearing sight. This was a calculated move by director Benyamina who wanted to show the diverse faces of the banlieues, while injecting a touch of humor inspired by the imagery and comical hijinks of Laurel and Hardy. The girls are inseparable and together beat the streets and engage in various mischievous activities like shoplifting goods from a grocery story by hiding them under their oversized traditional garbs, and selling them to children in the school yard.
Along the way, Daunia meets Djigui (Kévin Mischel) who is a security guard by day, and a modern street dancer by night. Djigui exposes Daunia's vulnerability and her yearning for love and a real life, which stands in stark contrast to her material pursuits and the thuggish persona she is trying to develop. Djigui's sensual dance numbers (Mischel is actually a real dancer who took acting lessons to play this role) also bring a surprising and beautiful esthetic balance to the film's otherwise raw and often violent imagery. With the character of Djigui, Benyamina is perhaps also trying to remind us that profound beauty often lives in the least likely places and people.
The story takes an ominous turn when Daunia decides that school and the straight and narrow path is not for her, and joins the crew of a local female drug dealer called Rebecca, recruiting Maimouna in her efforts. Rebecca, powerfully played by Jisca Kalvanda, is a formidable figure who rules her turf with an iron fist and intimidates all around her, a persona Daunia tries to emulate. In a whimsical and lyrically filmed scene, the viewer celebrates our protagonists' newfound path to riches by taking a ride with Daunia and Maimouna in their Ferrari – windows down, wind in their hair, pop music blasting, boys staring, while they are sipping on champagne. The only problem is that the Ferrari is imaginary. The girls are actually sitting in the dirty parking lot of a shabby housing project daydreaming, and we daydream with them.
Soon enough, money does come their way, and our girls take a real top-down ride through Paris, albeit in a slighter lesser Mini convertible. But their newfound "success" comes with a life of escalating crime and violence that spirals towards an inevitably tragic climax. Benyamina never glorifies this life, and the film's final painful lesson carries a message that self-inflicting violence is not the path out of the despair of the banlieues, if such a path is possible at all.