Authentic Iraqi main course and dessert recipes to try during Ramadan
Nawal Nasrallah is author of the award-winning "Delights from the Garden of Eden"
Nawal Nasrallah, author of the award-winning "Delights from the Garden of Eden," offered Al Arabiya English two authentic recipes from her cookbook detailing Iraqi cuisine, especially for those observing the Muslim fasting month of Ramadan.
Nasrallah picked the two recipes, red rice with chicken as main course, and yellow and white rice pudding for desert to follow, which she described both as "light" and "suitable" for those breaking their fast amid summer's scorching heat.
"When we break our fast, we have lentil soup, but it is not enough as we need more liquid," said the New Hampshire-based Iraqi American, whose book contains more than 400 recipes.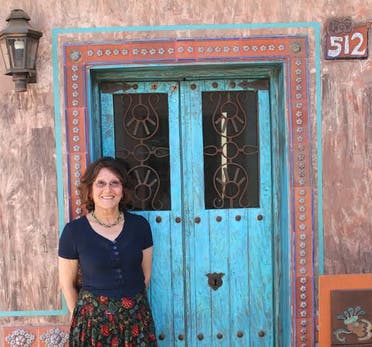 So here are the two recipes from Nasrallah's book: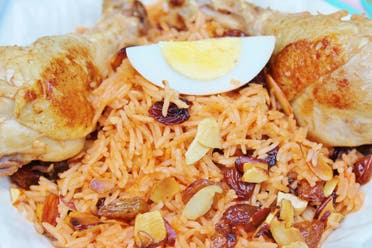 Red Rice with Chicken
'Timman Ahmar bil-Dijaj'
(Makes 6 servings)
6 chicken pieces (about 3 pounds)
2 tablespoons oil
1 medium onion, coarsely chopped
3 heaping tablespoons tomato paste (one 6-oz can) diluted in 6 cups hot water
1 teaspoon prepared noomi Basra (dried lime)
1 teaspoon crushed coriander seeds
1teaspoon salt
½ teaspoon black pepper
4 to 5 cardamom pods
1 bay leaf
2 cups rice, washed, soaked in cold water for 30 minutes, and drained
1 tablespoon oil
½ teaspoon salt
For garnish: sliced boiled eggs, toasted sliced almonds, fried briefly in a little oil with raisins
……………………………………………………….
1. In a non-stick skillet, brown chicken pieces in oil, turning once. Let it brown on both sides (about 6 minutes). Arrange the browned pieces in bottom of a heavy medium pot.
2. In the oil remaining in skillet, fry the onion until it looks transparent, about 5 minutes. Scatter it all over the chicken pieces in the pot.
3. Add to the pot the diluted tomato paste, noomi Basra, coriander, salt, pepper, cardamom and bay leaf. Bring to a quick boil, and then reduce heat to low, and simmer until chicken is tender, about 30 minutes.
4. Take out chicken pieces, and set them aside at a warm place until serving time. Measure the remaining liquid. You need 4 cups for cooking the rice; the rest can be served in a bowl as extra sauce. Put the drained rice, 1 tablespoon oil, and ½ teaspoon salt in a heavy medium pot. Pour the measured 4 cups of liquid, and bring to a quick boil, about 5 minutes. Reduce heat to low, fold rice gently, then let it simmer, covered, for about 20 minutes, folding rice gently 2 or 3 times to allow it to fluff.
To serve, put rice in a platter and surround it with chicken pieces. Garnish it with egg halves, almonds and raisins. Put any leftover sauce in a bowl and serve it with the rice. Also, serve with it a bowl of yogurt.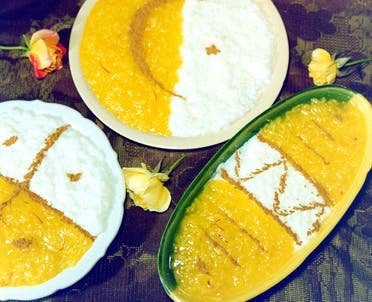 Yellow and White rice Pudding
'Zarda w'Haleeb'
(Makes 6 servings)
For the white pudding:
½ cup rice, washed and soaked in water for 30 minutes
3 cups water
¼ teaspoon salt
2 cups milk
1 tablespoons sugar
1tablespoon rose water
For the yellow pudding:
½ cup rice, washed and soaked in water for 30 minutes
6 cups water
¼ teaspoon salt
1 teaspoon saffron, steeped in ¼ cup hot water
¼ cup cornstarch dissolved in ½ cup cold water
1¼ cups granulated sugar
1 tablespoons rose water
For garnish: ground cinnamon
1. To prepare the white rice pudding: Rub rice grains between your fingers to break them slightly, and put them in a medium heavy pot, along with water, and salt. Bring to a boil. Reduce heat to medium and simmer 15 to 20 minutes, or until liquid is absorbed. Stir 2 to 3 times while simmering. Add milk and sugar and simmer gently, stirring occasionally, until pudding is of medium consistency, about 15 minutes. Stir in rose water.
2. Meanwhile, prepare the yellow pudding: Rub rice grains between your finger to break them slightly, and put them in a medium heavy pot, along with water, and salt. Bring to a boil, then reduce heat to medium, and boil gently until rice is thoroughly cooked, 20 to 25 minutes. Mash saffron in hot water with a spoon to get as much color from it as possible, and add it to the cooked rice. Add dissolved cornstarch and sugar (a wire whisk will be useful here), stir well and resume cooking gently on medium heat. Stir occasionally until pudding nicely thickens, about 15 minutes. Add rosewater.
3. To assemble the dish: Fill half of a somewhat flat plate with the white rice pudding and the other half with the yellow saffron pudding. Decorate surface with ground cinnamon. Enjoy eating it in spoonfuls, which combine the two puddings.