Naughty grandparents: Are your kids picking up mischievous traits?
What happens when these precious well-trained infants visit grandma and grandpa's house?
Whether it's getting little ones to bed at a decent hour or only allowing them sweets on special occasions, the majority of parents would agree rules are vital when it comes to raising children.
And while enforcing routine and restrictions may not be easy, if mum and dad are in it together it makes the task a lot easier.
But what happens when these precious well-trained infants visit grandma and grandpa's house? It seems that the effect of those who should know better is, well, not really that helpful after all!
Indeed, parents across the globe are witnesses to those who introduced them to discipline encouraging their offspring to rally against it.
Dubai-based radio presenter Louie Da Costa says her father always goes against the rules – but she just laughs it off.
"If we go shopping and I tell the kids they've had enough sweets for the day, they bug me at every candy store we pass but I keep saying no, trying to be the constant mom.
"But then, when I was shopping with the family, I spotted a sale so my mom and I checked it out while the kids stayed with my dad and when I stepped out they each had a bag of sweets, a toy each and mouth stuffed with candy!"
Louie, who is Filipino and works on Dubai's Tag91.1 station says she looked at her two children and reminded them what she had said about more sweets but they simply said 'But popsie said it was OK'.
She adds: "I suppose he does it because he doesn't live with the kids and misses them. Also, because financially they're better off now since I'm not dependent on them.
"I tease them and say I get jealous. I ask why I didn't get all this when I was younger and mom gets all emotional saying how much she loves me. But then the kids come in the room and they forget I'm even there!"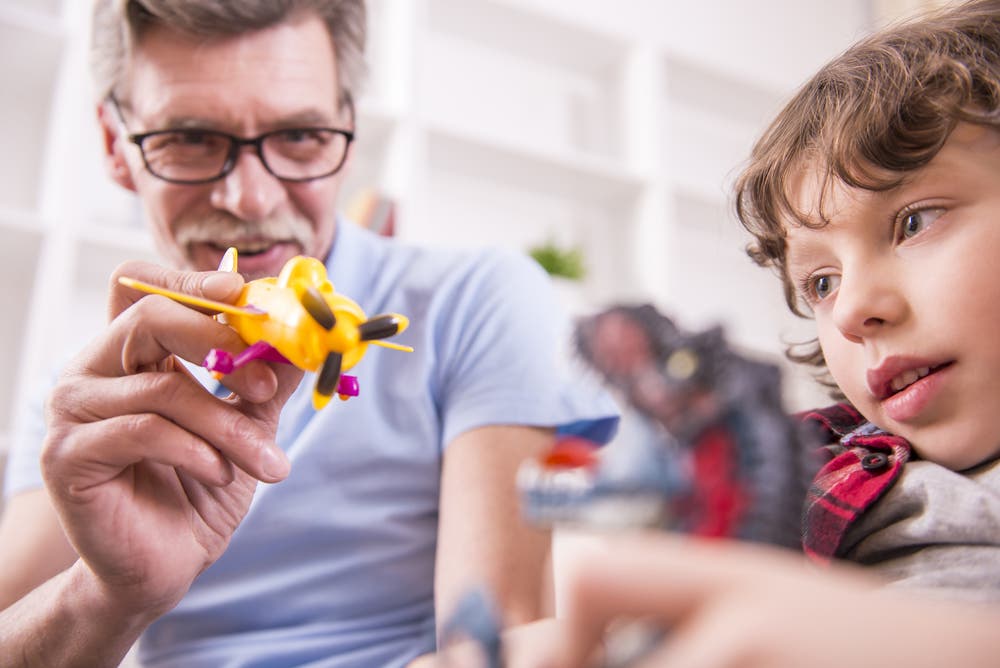 A study carried out a few years ago found that 83 per cent of parents admitted their children were regularly spoilt by their grandparents with plenty of chocolate or cakes being the most common treat.
Kate Wright has nicknamed her father 'The chocolate dealer' for his insistence on giving her two-year-old daughter Phoebe sweet treats. And it's a real turn up for the books for a man who was once so strict, says Kate.
She explains: "My dad used to restrict everything we ate as kids – he even used to check our cups of tea to make sure there was no more than one sugar in it. You had to ask for treats and only got one a day. This week he brought round his laptop bag and told Phoebe to pick a pocket. There was a Milky Way and a bag of chocolate in there."
And it's not only treats of the sugary kind either. Kate adds: "The very first time I left Phoebe overnight my mum sent me pictures of her wide awake on her iPad at 11pm. She said she didn't want to go to sleep. That would never have happened with us.
"He says that grandchildren are like your own but someone else has to do the parenting so you can mess about and give them back."
Spoiling the grandkids
That's exactly how grandma-to-be Joanna Sarginson-Harris feels. She says it's a grandparent's prerogative to spoil their grandkids.
She explains: "My own children were never allowed fizzy drinks, were in bed by 7pm every night, had to learn a musical instrument, do their homework, brush their teeth, drink carrot juice and eat apple purée as a treat and write a journal about every country we visited. Yet already with three months to go before my daughter has my first grandchild, I'm looking forward to not being the disciplinarian. I will allow sweets, stay up late on a sleepover, skip homework, forget the flute practice and just generally have fun and do all things mum and dad can't or shouldn't. And why? because it won't be my job to stress over discipline, to instill routine, to encourage a doctorate and to warn against the horrors of the real world.
"I will be spoiling my grandchild so she thinks I'm the coolest grandma in the world and loves me for me. Meanwhile, behind the scenes, I will be doing what I've always done by gently reminding my daughter of the rights and wrongs, and guiding her into motherhood, so I can sit back and enjoy my beautiful granddaughter!"
For American mum Eva, grandparents spoiling their grandchildren is just something you have to accept.
She explains: "When my little girl was very young it would drive me crazy that I was trying to get her used to rules and routine and then my parents and mother-in-law would come in and break them all. It is possible to take it personally, like an attack on your parenting. I've since tried to relax about it as it's difficult to accept help when you need it in the form of babysitting for example, while criticizing how they treat your child. I've realized there's nothing I can do about it and while it can be annoying, I keep reminding myself they do have my child's best interests at heart."