Get fit, mommy! Secrets to cramming in exercise for new parents
When it comes to my own health and fitness, I couldn't care less.
If a day goes by and I haven't taken my toddler swimming or let her have a run around at the park, I feel like a terrible mom.
After all, children need to engage in physical activity for tonnes of reasons. From building muscle strength to burning carbs and giving them a mental boost, I know it's essential not to keep my daughter cooped up in front of the TV all day.
But when it comes to my own health and fitness, I couldn't care less.
Days go by and while I may be cleaning and walking on a never-ending circuit to the kitchen and back to meet my two-year-old's needs, that's often all the exercise I get. And I can feel it. Permanently tired and stressed, I know a release of endorphins would do me the world of good, as would finally losing some of this baby weight, yet I never make time for it.
But one Australian mom is showing parents around the world that getting fit with a baby in tow is possible.
Anna Strode from Melbourne, who is known as 'Fit Twin Mommy', often shares her workouts on her Instagram account.
Regularly using her one-year-old twin boys as weights, she wants to show stay-at-home parents that they needn't join gyms or take hours out of their day to exercise by incorporating quick home-based workouts into your day.
And while I spend my time in the kitchen reaching for extra carbs to give me an instant boost, just recently Strode uploaded a video of a workout she devised and performed in the kitchen while her two boys were eating.
She said doing the little workouts snap her out of low moods and help her feel like she's done something for herself.
It's something running coach Liz Goodchild can completely identify with.
Explaining that, like Anna, she takes at least 20 minutes a day to exercise, Liz, who is a mother herself and also works as a life coach, says it makes her a better mom as it makes her more patient and energized.
She says: "Having children is all encompassing and the days and years can pass by without you giving a moment's thought to your own needs. Exercise gives you that opportunity, to take time out for yourself, even if it's just 10 minutes to do something that's emotionally and physically nourishing for you. There'll always be something else to do; the shopping, washing, hoovering and yet, when you take the time to exercise for yourself, you're not only sending yourself the message that you are important too, but also you're sending the message to your child that you also have needs."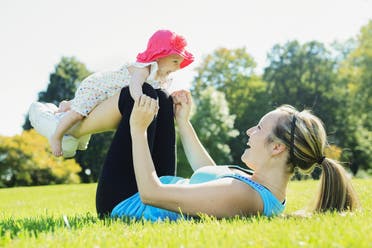 When you stay active you're also setting a good example to your children says Jemima Steinhart, the Founder of Dubai-based personal training business My 30 Minutes.
She explains: "Incorporate children in a healthy routine like regular and healthy eating and remember that children copy their parents' behavior.
"Workouts have a lot of other positive effects other than just burning calories - they lift the mood, make moms more conscious, they feel in control of their lives and have more power for the daily challenges."
From doing push ups on the bath while her sons play in the water and getting in some lunges while they ride trucks in the garden, Anna Strode is trying to encourage parents to
squeeze in exercise where they can.
Admitting this is the fittest she's ever been, Anna stresses that her focus is mental health.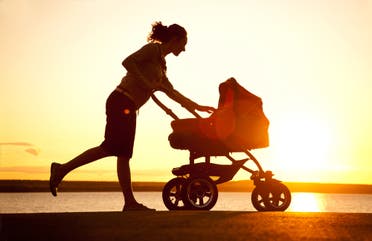 She has previously been quoted as saying: "At the end of the day when I look back on all the dirty nappies I've changed, hours spent breastfeeding, endless loads of washing and folding and constant housework, I can remind myself that I still did something for me, and that feels really good."
It's not selfish to realize that you need that time to boost your own health, says British mom Emma Hixon. Having always enjoyed keeping fit, now she has two sons under four years old she recognizes the benefits even more.
She says: "It makes me feel loads better. It releases stress and therefore makes me cope with being a mom better. When I first had George I'd put him in the baby carrier and walk with him three or four times a week, then in the pram when I was pregnant with Harrison, then double pram with them both. It was always nice for me and the kids getting out and getting some air or them a sleep. Now I go to the gym, which is also good for them as they get to get out the house and see other children in the crèche. I don't struggle to find time to exercise. For me it's a priority.
And don't forget, there's a social side to exercise as well. The Club Manager at Dubai's Tribe Fit, Sarah James, stresses that joining a gym can help moms make new friends and provide an obvious outlet from the ongoing pressures of parenthood.
She explains: "There are a number of fun activities like 'Bounce' (trampolining) and paddle boarding that can be enjoyed with your children as well.
"You don't have to work out in the gym for hours on end. Incorporate exercise in your lifestyle. You can take a walk, play in the park or, during the hotter months, go swimming. Make sure you make time for yourself and try attending a group exercise class where you can work out and make friends in a fun, motivating environment."