Healthy 15-minute dinner recipes that will make you want to cook
A long hectic schedule can leave you feeling drained and ravenous, and before you know it, you're mindlessly munching
If you struggle with eating healthy dinners on weeknight, then you're surely not alone.
A long hectic schedule can leave you feeling drained and ravenous, and before you know it, you're mindlessly munching on whatever you can get your hands on, fast – often standing up.
Rarely does this kind of eating leave you feeling satisfied. In addition to no providing you with proper nutrition, it often allows you do over your calorie intake.
For this reason we've cooked up these speedy recipes for one that will take you 15 minutes or less of hands-on-work to prepare.
These recipes use convenient ingredients you can easily get your hands on making them the perfect hassle free mid-week meal you can enjoy just for yourself.
Stuffed caprese chicken
Inspired by @lois_walkingonsunshinerecipes
If you're trying to cut down on carbs, then this simple recipe is just for you, and it uses only 3 main ingredients. For fewer calories, eat half the portion.
Ingredients
• 2 chicken breasts
• 2 fresh mozzarella cheese balls, sliced (0.5 cm thick slices)
• 6 Grape tomatoes; sliced in half
• 6 Basil leaves
• 2 teaspoons Italian seasoning
• Salt / pepper
• 2 teaspoons olive oil
Method

1. Place the chicken breasts on a cutting board. Using a sharp knife, cut slits across the chicken breast about 3/4 of the way through the chicken breast being careful not to cut all the way through. Depending on the size of your chicken breast, you're going to want around 6 slits per chicken breast.
2. Stuff each slit with a slice of mozzarella cheese, half a grape tomato and a basil leaf.
3. Place chicken breasts in a baking dish that has been coated with non-stick baking spray. Brush each chicken breast with olive oil. Sprinkle each chicken breast with salt, pepper and Italian seasoning.
4. Bake in a preheated 230°C (400°F) oven for 30 minutes or until the internal temperature of the chicken reaches 75°C (165°F)
Nutrition per recipe
Calories: 473kcal – Protein: 65.4g – Fat: 21g – Carbs: 5.4g
Chili Lime Salmon with Avocado Mango Salsa
Inspired by @lovelylittlekitchen
If you're on the search for a hearty meal, then look no further. This fresh and light recipe is rich in antioxidants and hearty fats.
Ingredients
For the Salsa
• ½ avocado, pitted, peeled and diced
• 1 mango, pitted, peeled and diced
• 1 jalapeño, seeds and membranes removed, diced finely
• 2 teaspoons honey
• 1 tablespoon fresh lime juice
• 2 tablespoons fresh cilantro, chopped
• Sprinkle of sea salt
For the Salmon
• 2 (60g) salmon filets
• Sprinkle of sea salt
• 1 teaspoon chili powder
• Squeeze of lime
• 1 tbsp olive oil
Method
1. In a medium bowl, mix together diced mango, avocado, and jalapeño. Drizzle honey and lime juice over the mixture and toss in fresh cilantro. Season with salt according to taste. Set aside until salmon is ready.
2. In a large pan, put 1 tbsp olive or canola oil over medium high heat. Sprinkle chili powder and sea salt on both sides of the salmon filets. Place filets in the pan, and cook for about 4 minutes per side, or until the salmon has a slightly flaky texture (exact time will depend on the thickness).
3. Plate the salmon and squeeze lime juice over each filet, and then top with the mango salsa.
Nutrition per recipe
Calories: 524kcal – Protein: 29g – Fat: 22.4g – Carbs: 54.5g
Chicken broccoli pasta
Inspired by Good Food Middle East
In the mood for some pasta but no for the guilt that follows? Here's a low-fat, high fiber pasta dish you'll surely enjoy eating.
Ingredients
• ½ cup whole grain farfalle pasta (200 calories, 1g fat, 41g carbs, 2g protein)
• 2 cups broccoli, cut into small florets (34 calories, 0.4g fat, 7g carbs, 2.8g protein)
• 1 tbsp olive oil (120 calories, 13.5 g fat)
• 1 skinless, boneless chicken breast, cut into bite-sized chunks (124 cal, 1.4g fat, 26.1g pro)
• 2 Garlic cloves, peeled and crushed
• 2 tbsp wholegrain mustard a l'ancienne
• Juice of ½ an orange or ¼ cup orange juice
• Salt, pepper
Method
1. Cook the pasta in plenty of boiling salted water according to the packet instructions. Three minutes before the pasta is cooked, throw the broccoli into the pasta water and continue to boil.
2. While the pasta is cooking, gently heat the oil in a large frying pan. Add in the diced chicken and fry, stirring occasionally, until the chicken pieces are cooked and golden, about 8-10 minutes, adding the garlic for the last 2 minutes.
3. Mix the mustard with the orange juice in a small bowl. Pour the mixture over the chicken, and gently simmer for a minute or two.
4. Drain the pasta and broccoli, reserving 3 tablespoons of the pasta water. Toss the pasta and broccoli with the chicken, stir in the pasta water, season well with salt and pepper and serve.
Nutrition per recipe
Calories: 478 kcal – Protein: 30.9g – Fat: 16.3g – Carbs: 48g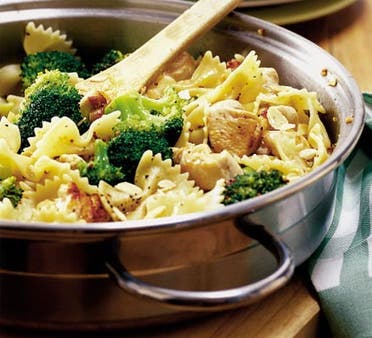 Pita bread pizza
Inspired by Australian Healthy Food Guide
How do you get a healthy version of pizza that tastes as great? Make whole wheat pita pizzas!
And you can load it up with any toppings you have on hand or any leftover roasted vegetables: tomatoes, peppers, onions, spinach, kale, roasted potatoes, artichoke hearts, and butternut squash.
Top it off with mozzarella and you're good to go. If you want to reduce the fat and calories content even more, replace mozzarella with low-fat feta or ricotta cheese.
Ingredients
• 1 small zucchini, cut into ribbons
• 2 brown mushrooms, sliced
• ¼ large yellow capsicum, thinly sliced
• 1 brown pita breads
• 2 tablespoons tomato and basil pasta sauce
• ¼ cup reduced-fat grated mozzarella
• 2 cherry tomatoes, sliced
• 3 small basil leaves
Method
1. Preheat oven to 180°C (350°F). Preheat grill to medium-high heat. Cook zucchini, mushrooms and capsicum, turning, for 5 minutes or until tender. Transfer to a plate.
2. Place pita onto a lined baking tray. Spread sauce over pita and sprinkle with cup cheese. Top with grilled vegetables, tomatoes, and remaining cheese. Bake for 12–15 minutes, or until bases are crisp. Sprinkle with basil and serve.
Nutrition per recipe
Calories: 362 kcal – Protein: 31.2g – Fat: 9.8g – Carbs: 33.6g