Bearded woman makes it into the Guinness World Records
The model described her beard as part of a quest to overcome years of bullying to cope with her appearance
According to Guinness World Records, a model with 6-inch-long facial hair has become the youngest woman in the world to have a full beard.
Harnaam Kaur, who is 24 years old, said to the BBC that it was "humbling" to be included in the Guinness Book of Records.
The model described her beard as part of a quest to overcome years of bullying to cope with her appearance.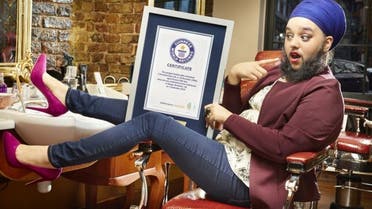 Beard that was listed the Guinness records
Kaur has suffered from the polycystic ovary syndrome, which is a hormonal condition that can cause the growth of excess facial hair.
In March 2016, Kaur became the first female to have a beard to walk on the runway at the London Fashion Week, arousing the jealousy of many others.