The tragic reality of abandoned pets in the UAE
The issue of pet abandonment appears to be one that will continue to plague communities
Frightened, she was shivering with her tail tucked in between her legs. Late in the evening and with no one to be seen on my neighborhood's quiet street, the Golden Labrador looked bewildered. As I walked towards her – whilst looking around for her owner – I could sense she was relieved to be found but terrified as I was a stranger.
After checking to see if she was hurt, I allowed her to sniff my hand and ushered her to follow me back into my front garden. When she calmed down a little and didn't look so terrified, I checked her collar and found a phone number.
Unfortunately, after dialing the number, the phone did not ring, instead it went straight to: "Sorry, the person you are calling is unavailable. Please try again later." And after several attempts with no luck, I began to worry that this would be yet another tragic case of an abandoned pet in the UAE.
Lack of responsibility
The issue of abandoned pets is a worldwide phenomenon not unique to the UAE. There are countless pets that are abandoned and at times put to death every year, and it all boils down to one reason – lack of responsibility.
"A dog is for life, not just for Christmas," became one of most successful slogans to raise awareness on the issue. Clarissa Baldwin, former chief executive of a British animal welfare charity, Dogs Trust, thought of it almost 40 years ago, yet it seems the statement still rings true today.
The UAE is just one of many countries where the issue of abandoned pets is a tragic reality. Hundreds of unwanted pets are abandoned and left homeless each month, leaving animal shelters over crowded.
Rayan Moghrabi, who owns an adoption center for pets in Sharjah, says that she only receives around two to three animals a week because her shelter is self-funded, where as in the governmental shelter where she used to work, 10 would be handed in a day.
"People need to understand that animals are not disposable objects, they're living things that feel pain," Moghrabi said.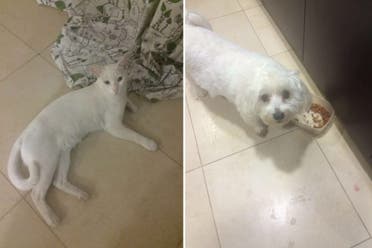 Research has shown that dogs form an attachment to their owners and can suffer from separation anxiety and although cats are known to be more independent than dogs, they too form bonds with their owners.
British expat Bella Legard said her rescued Bichon Rise-Maltese "gets very scared if voices are raised and would not walk on a lead for a long time." Legard explained that she had adopted Jack when he was 10-months-old from a family who did not want him anymore five years ago.
Shortly after adopting Jack, Legard found a "very skinny" abandoned white kitten that would always come to her flat.
"It was so frightened it would not let me near. However, every night I would see it in the balcony," she said, but after taking her to the vet, was shocked to find out that the cat was three years old and a neutered boy who had previously been owned by a family.
Over breeding
Adoption center owner Moghrabi says one of the main causes of abandoned pets is over breeding. Hundreds of pets are put to death because people over breed to try to make money.
"People irresponsibly breed their animals and end up with dozens they can't take care of," Moghrabi said.
Dora Toki who works with a local pet rescue organization says many illegal breeders sell pets to anyone for a profit where in most cases are later abandoned as they were given to the "wrong kind of people," while others kick pets out "because they don't want to pay vet bills."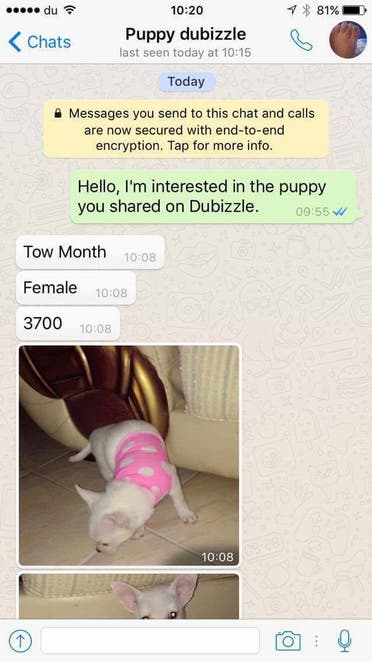 'Heartless'
The issue of pet abandonment appears to be one that will continue to plague communities, causing many to say that a nation-wide awareness campaign is needed to educate people on animal welfare. Yet to me it is difficult to understand how pet owners who abandon their pets can be so heartless.
Before migrating to Dubai with my family, leaving behind our four-legged family member was out of the question – even if it meant having to pay all the expensive fees for vaccinations and paper work to take her from one country to another.
After having Precious in of our lives for almost six years, our little American Eskimo is well and truly considered part of the family. And as I watched Precious play with the Labrador, I couldn't help but feel hopeless for the lost dog.
Lucky it didn't turn out to be another tragic story of an abandoned dog. After a few more attempts of calling the number, I finally got through and the owners were soon on their way to pick up the lost-no-more Labrador.