Conjoined twins separated in Saudi hospital operation
Al-Arabiya has recorded the emotional moment the parents of the conjoined twins Eylan and Eleen came out of surgery
Al-Arabiya has recorded the emotional moment the parents of the conjoined twins Eylan and Eleen came out of surgery that separated the two that was undertaken in Riyadh on Thursday.
In the video, Dr Abdullah al-Rabiah, head of the medical team, who carried out the the separation surgery, handed the twins Eylan and Eleen to their parents who were watching the operation live from a room specially prepared for them.
The parents witnessed worrying moments throughout the operation that had an 80 percent risk ratio. The doctor went to the parents and handed the two babies to them after establishing that the operation was a success. This is the 41st separation operation carried out by Saudi medical teams.
The operation was completed in record time; the medical team finished the operation in 5 hours – two hours sooner than initially expected.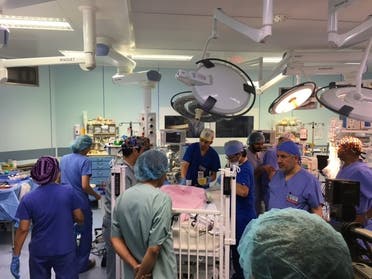 Dr Abdullah al-Rabiah told Al-Arabiya: "The process has gone through six stages and the operation was completed in a record time, two hours before the expected time. We separated the liver, the abdominal wall and the lower chest.
"We did not face significant problems except in the liver part as the conjoined twins are still very young and they weigh together just 4 kgs. This was a big challenge for the medical team members who proved that they are up to the mission. The twins are now fine and were put in the intensive care for observation."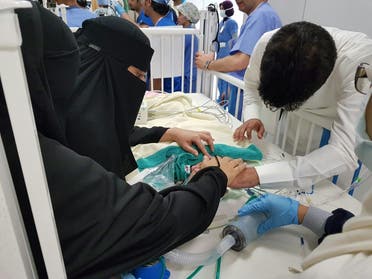 He added: "We talked with the twins' parents and they are very happy; God willing, they will be happier when their twins get out of the hospital."
Eylan and Eleen had arrived earlier on Thursday to the hospital to be prepared for the separation surgery. The Surgical and medical team were present and participated in the surgery in in King Abdullah Specialist Children's Hospital (KASCH) at King Abdul Aziz Medical City.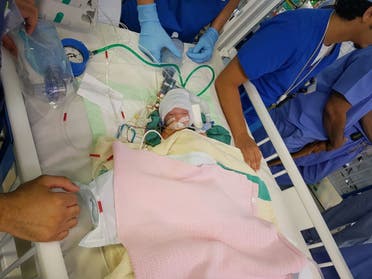 The conjoined twins, who weighed 3.6kg at birth, were delivered via a caesarean section in the 34th week of pregnancy at King Abdul Aziz Medical City in Riyadh.